Meghan Markle's Father Thinks Her Mother, Doria Ragland, Should Walk Her Down the Aisle
Thomas Markle confirms he won't be at the Royal Wedding.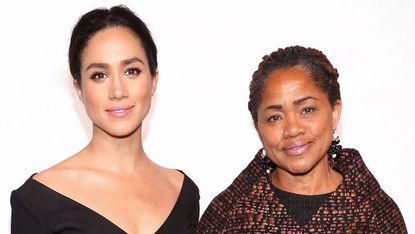 (Image credit: Getty Images)
Following news that Meghan Markle's father will not (opens in new tab) attend the royal wedding (opens in new tab) this weekend, Thomas Markle has said that he thinks Meghan's mother, Doria Ragland (opens in new tab), should be the one to give their daughter away (opens in new tab).
According to TMZ (opens in new tab), Markle said his ex-wife "is a good choice for walking Meghan down the aisle."
With Meghan's father deciding not to come (opens in new tab) to Meghan and Prince Harry's wedding just days before the big event, it leaves a question mark as to who will walk Meghan to the altar of St. George's Chapel.
"Normally it would go to the next male in line in her family, but I understand her brother is not coming (opens in new tab)," says Marie Claire's royal expert, Caroline Castigliano (opens in new tab), who calls it "a very difficult situation."

RELATED STORIES
Kensington Palace stated (opens in new tab) just over a week ago that both Meghan's parents would play a role in the big day, with Thomas Markle giving his daughter away. "On the morning of the wedding, Ms. Ragland will travel with Ms. Markle by car to Windsor Castle," read the statement. "Mr. Markle will walk his daughter down the aisle of St. George's Chapel. Ms. Markle is delighted to have her parents by her side on this important and happy occasion."
Thomas Markle now reportedly won't attend the wedding because (opens in new tab) he "doesn't want to embarrass the royal family or his daughter" after it was revealed he had staged paparazzi photos (opens in new tab) showing him preparing for the wedding.
According to initial reports (opens in new tab), Meghan actually wanted her mother to walk her down the aisle. A source told E! that the former actress was hoping to buck royal tradition and have her mom, whom she's very close to, walk beside her as she makes her way down the aisle of St George's Chapel. But according to Castigliano, the reason Meghan decided to have her dad do the honor could have been out of respect for the Queen.
"I think Harry would want to do what his grandmother sees as appropriate as a sign of respect to her," Castigliano explained (opens in new tab) after the original announcement. "They just wouldn't have her mother walk her down the aisle because it wouldn't be what made the Queen feel comfortable, especially at her age."
But now that all that's changed, Meghan and Harry will have to figure out what will work best for them on their big day.