13 Crazy Behind-the-Scenes Facts About Blake Lively's Shark Movie, 'The Shallows'
There's so much to know about Steven Seagull.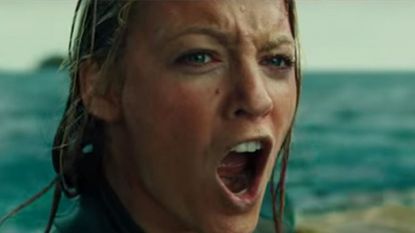 (Image credit: Sony)
Blake Lively's insanely entertaining shark-attack movie, The Shallows, is in theaters June 24. Here, producer Matti Leshem (who co-produced with his wife Lynn Harris) shared some behind-the-scenes highlights:
1. Steven Seagull, Blake's acting partner and the breakout star of the film, was almost a CGI bird. "In the beginning, we didn't really know what we were going to do—the suggestion was that we were going to have this CGI bird or a puppet. Lynn and I are both incredible animal lovers, and we were really horrified by the notion of a puppet or CGI bird. But the truth is that you really can't train seagulls—that's what we were told. [Then] we go out on a [location] scout and we were having lunch somewhere, like a fish place in Australia, and there are all these seagulls, like, eating french fries out there, and I was inspired. I went down there and I said to [director] Jaume [Collet-Serra], "Let me see if I can feed the seagulls out of my hand." And so I'm literally crouching on the ground getting these seagulls to eat out of my hand, and Jaume takes out his iPhone and starts shooting it, and we look at each other, and we're like, 'We're going to do this.'"
2. Steven Seagull's name in real life is Sully. He lives (to this day) in a seagull sanctuary in Australia. "He is really the Marlon Brando of birds. You've seen him in the movie, so you know what I'm taking about. He is such an incredible actor and I personally worked very closely with him to get him to the performance, because I knew what Jaume wanted. I've got to tell you, in many years of producing, it was one of the most satisfying experiences with an actor."
3. Blake came up with the name "Steven Seagull." "She really made her own relationship with Sully. There's a moment in the film where she's fixing the wing and the bird really bit her. I would say that their relationship was complex in the sense that there was a lot of love there and they really bonded, but there were moments where you could see Sully really lashing out. Obviously she was trying to help him, but I think the complexity and deep emotional bond that they have between them is the thing that makes this movie great."
4. Sully had three understudies. "[They] were all good, but not nearly as good as him. Peggy was the vocal one, the very squawky bird. Gaviota, [which] means "seagull" in Spanish, I think he's almost 30. [Editor's note: Sully is estimated to be about 15 or 20.] The most challenging thing about Sully as an actor is that seagulls are remarkably clean, they self-clean a lot, so the blood on Sully—obviously fake blood—he kept wanting to clean it off. So we had to deal with that."
5. Part of the movie was shot in Lord Howe Island, a World Heritage Site that's about a two-hour flight from Sydney, Australia. (The rest of the time, they shot in a tank the size of a football field. In total, they shot for 47 days.) "Lord Howe is 11 square miles—it's a speck of dust in the middle nowhere, and it is the most beautiful place you've ever seen. However, there's virtually no infrastructure. There's no cell service because the 350 people who live on the island voted not to have any. There's very poor internet. We had to barge in a complete movie operation, bring everything in. We had to crane a massive rock into the ocean, into a protected marine wildlife park, so everything was very, very carefully done."
6. They had to ride bikes to the set every morning. "We weren't allowed to have too many vehicles on the island, so essentially everyone had to ride their bikes to set every morning. But because we needed all the daylight to shoot in, we were riding in the dark. And in order to get close to the set, we had to get off our bikes and walk to the beach, because there's a Muttonbird, kind of like a black seagull [population]. And it's an endangered species and 20,000 of them were nesting exactly at the time we were shooting the movie, and they're incredibly fast in the wind but when they're on the ground, they're like drunken ducks, so if you're riding a bike, you could easily run them over. We were warned under no circumstance could we hurt a single Muttonbird and [we didn't]."
7. Designing the look of the shark took "thousands of hours" of research. "I can't even tell you how painstakingly that shark was created. All of us [watched] every Shark Week. She's a female shark, we know exactly how much she weighs. Every scar that she has has a story behind it. It's really an incredible job of artistry and research. That is the shark that's in Jaume's head."
8. Blake did many of her own stunts. For example, that was really her jumping off the dead whale. (The whale was a mix of CGI and prop.) "She would do stuff that you'd think you'd need a stunt person for. She's like, 'No, I'm going to do that,' and she would just do it. She did a surf double, Isabella Nichols, who is the no. 1 junior champion surfer in the world."
9. Some of the crabs that surround Blake on the rock are real. "We're not allowed to harm any animal, so there were no live crabs, but we did send our art department out in the mornings to go find crabs that had died naturally on the beaches, so there's a couple of those in there."
10. Blake shot the jellyfish scene, in which her character is surrounded by hundreds of jellyfish, in pitch black water. "She was in a tank that was completely blacked out. The cinematographer and Jaume had these lights that were underwater, just underwater bulbs, and they're essentially where the [CGI] jellyfish are. Blake was willing to get into a pitch dark tank and get underwater. She also has an uncanny ability to hold her breath. I think she was holding her breath well beyond a minute. She's like a superwoman."
11. Blake's bikini bottom was a gift from Tory Burch. "We scoured the earth to find the right bikini and the right top and everything, and in the end, Tory Burch had given Blake a bikini bottom—and that's what she wore in the movie."
12. Her hair stylist, Rod Ortega, got into the tank to do Blake's hair. "He basically spent 30 days in the tank with her—like, in the water the entire time. He was doing her hair from the water; he was like a fish."
13. Blake almost broke her nose shooting one of the final scenes. "That scene where she smashes her nose against the buoy, and then she comes up, right before the end? That's real blood. And she just continued on."
Follow Marie Claire on Facebook for the latest celeb news, beauty tips, fascinating reads, livestream video, and more.
Celebrity news, beauty, fashion advice, and fascinating features, delivered straight to your inbox!
Patti Greco is a freelance writer and editor based in Brooklyn. She was formerly the entertainment director of Cosmopolitan.com and a staff editor at New York Magazine and Vulture.