Kate Middleton Wore a $25 Pair of Pants from The Gap and Made Them Look Like a Million Bucks
Looking like a princess has never been more affordable.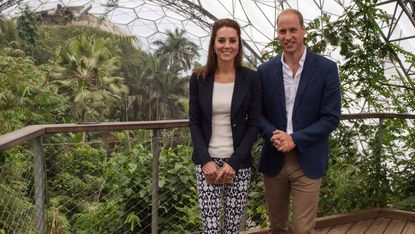 (Image credit: Archives)
Every Brit knows to "mind the gap," but Princess Catherine's latest outfit might just inspire you to "wear The Gap" instead.
While visiting the Eden Project in Cornwall, England with Prince William on Friday, the Duchess of Cambridge wore a simple white top with a navy blazer and grey wedges, along with a pair of printed pants that left many fans of her style swooning. But lest you, too, wanted to recreate the outfit and were worried that the pants were completely unaffordable, Refinery29 (opens in new tab) reports that they're actually from The Gap, and cost a mere $25 (opens in new tab).
Alas, it appears that the exact print Kate Middleton was wearing is currently sold out, but if you want to feel one step closer to royalty, the ankle-length trousers are still available in 15 different colors and patterns right here (opens in new tab).
Follow Gina on Twitter (opens in new tab).
Gina Mei is a writer and editor based out of Los Angeles. When she isn't writing, reading, and lost in an Internet vortex, she can usually be found petting the nearest dog.