17 Celebrities Who've Clapped Back at Donald Trump
In the wise words of Chrissy Teigen, "lol no one likes you."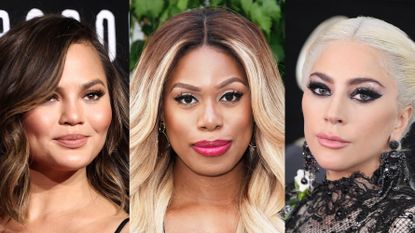 (Image credit: Getty Images)
Marie Claire Newsletter
Celebrity news, beauty, fashion advice, and fascinating features, delivered straight to your inbox!
Thank you for signing up to Marie Claire. You will receive a verification email shortly.
There was a problem. Please refresh the page and try again.
It's 2018 and Donald Trump is the President of the United States. Thankfully, in addition to our country's hardworking activists, there are a ton of celebrities using their social media presences to speak out against his atrocities. Below, a roundup of some of the most epic celebrity clapbacks directed @realDonaldTrump, from Chrissy Teigen, Laverne Cox, LeBron James, and more.
Chrissy Teigen
Chrissy Teigen isn't shy about her disdain for Trump—take one glance at her brutally honest (and highly entertaining) Twitter feed, and you'll find a beautiful crop of 240-character messages directed at the POTUS. Best of all, Teigen's extensive portfolio of clapbacks proved successful when a very-insulted Trump blocked her in 2o17 (a move that has since been deemed unconstitutional, by the way).
Alyssa Milano
Alyssa Milano has been openly anti-Trump from the get-go—and she shows zero sign of slowing her roll (especially after joining forces with activist Tarana Burke to spread the #MeToo campaign) Exhibit A: When Trump behaved *questionably* during his first official meeting with Queen Elizabeth, Milano promptly took to Twitter to air her grievances.
LeBron James
Last fall, Trump disinvited Stephen Curry to the white house via Twitter (as the President does). But LeBron James had the last word—the NBA star jumped into the conversation with an epic clapback directed at the POTUS that proved Curry wasn't even going in the first place.
J.K. Rowling
Settling on just one of J.K. Rowling's Trump disses is tough, but her epic, laughing rant following one of the President's typos (your classic pour v. pore mixup) takes the cake in my book. Notable mention: the time she said Voldemort was "nowhere near as bad" as Trump.
Laverne Cox
Following Trump's deplorable plan to prohibit transgender Americans from serving in the armed forces, Laverne Cox Tweeted a series of powerful messages. "To all the trans folks currently serving in the military thank you for your service," she wrote. "I am sorry your 'commander in chief' doesn't value it."
Lady Gaga
Lady Gaga also took to social media to protest Trump's transgender military ban, highlighting the possible effects his actions could have on people's mental health.
John Legend
Much like his wife, John Legend is a known opposer of Trump. But rather than type up quick zingers à la Chrissy Teigen, Legend infuses his Twitter feed with lengthy, no-bull-shit aphorisms. After Trump referred to Haiti, El Salvador, and African regions as "shithole countries," Legend immediately called out the president's racism.
Chelsea Handler
No one does a clapback quite like Chelsea Handler. Case in point: The comedian responded to Trump's illogical remarks about global warming with some sound advice.
Elizabeth Banks
Among the many celebrities that described their outrage while watching Trump's State of the Union address in January, Elizabeth Banks summed up her thoughts pretty perfectly. "Now I am listening to Tom Petty and am a better American for it," she wrote.
Alicia Keys
Trump's inauguration was a disheartening day for the many Americans who fought to keep the reality-star-turned-politician out of office. The evening prior, Alicia Keys took to Twitter to share some words of wisdom.
Jimmy Fallon
Everyone already knows that the POTUS has a habit of starting Twitter feuds with celebrities (is a sentence I never thought I would write). A personal favorite? Trump's jab at Jimmy Fallon, which was complete with laughable accusations and outdated, gendered language. Fallon clapped back like a boss by making a donation to The Refugee and Immigrant Center for Education and Legal Services.
Olivia Wilde
After Trump's August 2017 rant (the artist formerly known as speech) in Phoenix, Arizona, Olivia Wilde posted a scathing response on Instagram. "His speech last night only confirmed what a pathetic, petulant, dishonest pig he is," she wrote.
Lin-Manuel Miranda
Lin-Manuel Miranda—the genius behind Hamilton—is a bit of an Instagram poet, so it makes sense that he delivered a harsh-yet-eloquent clapback following Trump's comments about the mayor of San Juan. Here's hoping this one makes it into Miranda's book of Tweets this fall!
Sarah Silverman
Following the massive turnout of the Women's March across the country, comedian Sarah Silverman took a quick jab at Trump via Twitter. "Look at all these PAID ACTORS!!!" she joked.
Chris Evans
After Trump and Vladimir Putin's controversial summit in July 2018, celebrities including Chris Evans spoke out immediately (and honestly). We need you, Captain America!
Mia Farrow
Mia Farrow took to Twitter following the Supreme Court's decision to uphold Trump's travel ban. "We need laws to govern a tyrannical president," she powerfully wrote.
Josh Gad
Let us not forget Trump's horrifying Twitter war with Kim Jong-un just two days into 2018 (word for word: "I too have a Nuclear Button, but it is a much bigger & more powerful one"). Leave it to actor Josh Gad to compose the perfect response.
Celebrity news, beauty, fashion advice, and fascinating features, delivered straight to your inbox!
Ruby was the beauty editor at Cosmopolitan, where she covered beauty across print and digital. Her work has appeared on The Zoe Report, Fashionista, and StyleCaster. Follow her on Instagram.