Prince Harry Has a Sweet Nickname for His Sister-in-Law Kate Middleton
Awww.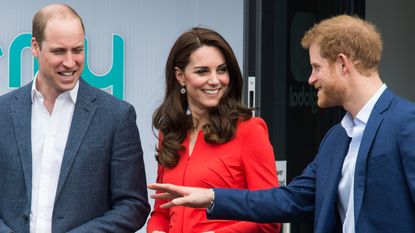 (Image credit: Mark Cuthbert)
The world may know the Duchess of Cambridge as Kate Middleton, but her brother-in-law calls her by another name. It turns out, Prince Harry fondly refers to his brother's spouse as "Cath," a shortened version of her full name Catherine, reports Ok!.
In 2017, Prince William and Kate sat down with BBC Radio 1. Radio host Scott Mills said he listened to a podcast with Prince Harry where he refers to the couple as "William and Cath."

"Is this a thing just in the family?" he asked the Duchess.
"Yeah, I'm not sure," she says. "I'm not that familiar with it I have to say, but I'll answer to most things to be honest."
This isn't the first time personal nicknames from the Royal Family have been revealed. In a 2016 interview for Queen Elizabeth II's 90th birthday, Kate Middleton said that Prince George calls the sovereign (his great-grandmother) "Gan-Gan."
A similar story was reported of Prince William when he was a toddler, saying that he called his grandmother "Gary," when he couldn't pronounce "Granny."
"The Queen was on hand after William fell over at Buckingham Palace, bawling: 'Gary, Gary'. A guest who went to help asked who Gary was, assuming it must be a member of the royal household. 'I'm Gary,' explained the Queen, as she scooped him up. 'He hasn't learned to say Granny yet,'" said journalist Richard Kay in the Daily Mail.
Another famous royal nickname was one that the late Princess Diana had for her older son William. She started referring to him as "wombat" when he was two years old, after a trip to Australia where they saw the cute native creature.
"When we went to Australia with our parents, and the wombat, you know, that's the local animal. So I just basically got called that. Not because I look like a wombat. Or maybe I do," William said in an interview on the 10-year anniversary of her death.