Blake Lively Is Trolling Husband Ryan Reynolds on Instagram Again, and It's TOO Good
😂😂😂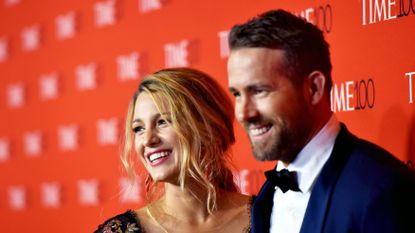 (Image credit: Sean Zanni)
It looks like Blake Lively is putting up some stiff competition in the fight for who in the Reynolds/Lively clan is funnier on social media. (And Ryan is not going to go down easy—he is currently feuding with Paddington Bear on Twitter.)
Blake pulled out some of her best comedic material after Ryan posted this #sponcon of his face on a truck:
And while I'm not sure what I would have done if I saw my S.O.'s face blown up to be three feet tall and plastered on the side of a moving vehicle, Blake chose the moment to joke about how "huge" her husband was, commenting: "Who needs a mimi van?! I'm driving this from now on. Subtle, gorgeous, and OHMYGAWNYOUREHUGE." LOL.
This isn't the first time that the couple have trolled each other on social media, and hopefully it won't be the last, because I am enjoying their Internet relationship much too much.
And hey...next time you see the Aviation Gin truck rolling through your neighborhood, be sure to look in the drivers seat—it might be Blake!

Celebrity news, beauty, fashion advice, and fascinating features, delivered straight to your inbox!
I'm a writer and editor based in New York City. I love a good coat, a well-articulated feminist rant, and face masking (yes, that's a verb) like it's nobody's business.