Emilia Clarke and Henry Golding Are Here to Make Your Christmas Rom-Com Dreams Come True
Santa, you're too good to us!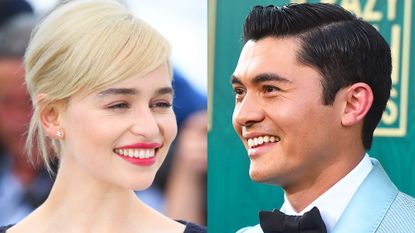 (Image credit: Getty Images)
That sound you hear in the distance is me shrieking, because my Christmas dreams have actually come true: my best friend Emilia Clarke and my boyfriend Henry Golding are starring Last Christmas, a holiday romantic comedy (opens in new tab) co-written by Bryony Kimmings and Emma Thompson(!!!!) and directed by Paul Feig (Bridesmaids). I never knew I wanted something so much until it was actually a possibility, but this actually sounds like...dare I say it...a Christmas Miracle?
According to The Hollywood Reporter (opens in new tab), the movie is a holiday romantic comedy set in London, but all other details are being kept hush-hush, because it's not Christmas if you know what your presents are beforehand, right? However, it seems that George Michael had some level of involvement before his passing in 2016.
Yes, the Wham! singer whose song has infected your brain since you read "Last Christmas" in the first paragraph of this article collaborated with The Queen of Romantic Comedies herself, Emma Thompson and her husband, Greg Wise, on the project. I mean, she would know. Have you seen the scene where she cries listening to Joni Mitchell (opens in new tab) in Love Actually? I think about it at least once a week.
Kimmings told the Radio Times (opens in new tab), "When I came on board, George was up for it, he'd already signed something to say yes, but he'd passed away," Kimmings went on, "and Greg and Emma were still very keen to write it."
Well, I'm very keen to see it. I couldn't have asked for a better Christmas gift. I'll be there with my Christmas sweater and eggnog opening weekend!
RELATED STORY
Amanda Mitchell is a writer and podcaster with bylines at Marie Claire, OprahMag, Allure, Byrdie, Stylecaster, Bon Appetit, and more. Her work exists at the apex of beauty, pop culture, and absurdity. A human Funfetti cake, she watches too much television, and her favorite season is awards season. You can read more of her work at amandaelizabethmitchell.com or follow her on Instagram and Twitter @lochnessmanda.