Hilary Duff's Low-Carb Hacks That Keep Her in Insane Shape
Because apparently carbs are "so yesterday."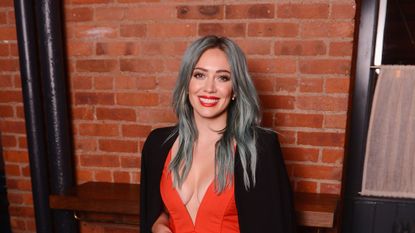 (Image credit: Getty Images)
There's one Hollywood trend Hilary Duff can't get on board with. The actress knows it's trendy, but she refuses to cave to peer pressure. She's just too obsessed with it to give it up.
"I drink cow's milk; it's so rebellious. I feel like everyone's like, cow's milk?!" she laughs, leaning back in her chair and clutching her chest in mock horror. "But I love it."
Nowadays, with the rise of paleo and other diets, it seems more popular than ever to cut out sugar, dairy and carbs. The Younger star eats the first two in moderation, and tries to limit carbs as much as possible, though she's not opposed to treating herself at the end of the day, or during a special occasion—like having a glass of Stella Artois at the party she hosted with the brand last night.
Just before the party started, we sat down with the singer, actress and mom to find out what fuels her throughout a typical day—which can involve filming until 5 in the morning, as it had the night before—and get the story behind the secret ingredient in her chocolate cake.
She Keeps 3 Fast Breakfasts on Rotation.
Duff typically starts the day in one of three ways: oatmeal, toast or a shake. But these aren't your typical microwaved instant oats or buttered bread. She puts a twist on each to make it extra-healthy—and extra-flavorful.
If she's having oatmeal, Duff will swirl in a little almond butter—for protein—and golden raisins and maple syrup, just to sweeten things up a bit.
Toast can go one of two ways, either topped with eggs whites and cheese, or covered in avocado and tomato. Either way, she'll skip plain white bread in favor of flour-free Ezekiel bread, which also gives her a boost of protein, fiber and vitamins B and C.
She Shakes It Off Like No One's Business.
Duff prefers two kinds of shakes: A green drink, which features a mix of spinach, romaine lettuce, celery, cilantro, pear, apple, half a banana and "a big thing of lemon," she says; and a protein shake, which combines protein powder, blueberries, ice, almond milk, and occasionally, a splash of—gasp!—cow's milk.
"Sometimes I'll add some avocado in there to add some fat," she explains.
As for her go-to protein powder, she swears by an egg white-based brand that's vanilla-flavored. "I can't remember the name of it, but you can find it at Whole Foods."
She Keeps It Lean at Lunch.
Whether she's on set or at home, Duff usually has a salad for lunch, topped with some kind of protein.
"I'm not an 'I love chicken breasts' kind of girl," she says. "I love a turkey burger on top of a salad, or, like a piece of fish on top of a salad. I love French fries with salad. If I'm ordering a salad and it's really healthy and clean, I'll always be like, 'and can we have an order of French fries for the table?'"
She Kicks Back at Dinner.
When it comes to dinner, Duff's diet relaxes a bit. She often goes out to restaurants, or cooks meals side-by-side with her 4-year-old son, Luca. That might mean making paleo scallops in a curry-like sauce, or grilling up a skirt steak with pineapples or peaches.
"Pineapple is really easy to grill, and it tastes so good," she says.
If she's going out to eat, she might order a cocktail. At home, she tends to drink beer or wine, and she doesn't hold back.
"I like to have a beer, or a glass of wine—or two, or three," she laughs. "I don't put myself on strict rules, unless I'm getting in shape for something." (And in that case, she'll sometimes order meals through a food delivery service, cutting out temptation completely. "I block that out of my memory," she says.)
Her All-Time Favorite Food Grosses People Out Sometimes.
"I'm a Texas girl, so I love a good steak," Duff says. "I like a very rare steak, so a lot of my friends don't like sharing steak with me."
Her other favorite foods are a little easier to share with a crowd, anyway. "I love French fries and a good cheese plate too," she adds. "I don't discriminate. I like every kind of food."
She Skips Pasta for the Most Part.
If Duff's in Italy, she'll make an exception, but for the most part, Duff doesn't really cook pasta. "I make rice instead of a carb," she says, though she'll sometimes make buttered noodles with parmesan cheese for Luca.
The (Healthy Living) Struggle Is Real.
When your sister has her own Cooking Channel show and a food blog, staying in shape can be tricky. "My sister's like, 'come over! I'm doing recipe testing.' There won't be, like, one dish to try. There will be three different versions of those meals, and we'll have to test them to see which one she's going to make on the show or on her blog," Hilary says. "There's always food flying around."
Her sister, Haylie, says the real challenge is Hilary's baking. "She tends to bake, and that's where she gets me in trouble," she told us last July. "She makes really great lace cookies, and she makes this black bean chocolate cake that's amazing."
Black bean chocolate cake? It doesn't taste anything like black beans, the Duff sisters swear. But the black beans are a fiber-rich substitute for flour, making this treat gluten-free. You could also use avocado, Hilary says, and no, it won't make the cake taste guac-y.
In fact, the cake is so delicious that Haylie's fiancé, a notoriously picky eater—according to Hilary—ate it and loved every bite. "He devoured the whole thing," Hilary says. "He's such a cake and sweets connoisseur, and he had no idea [it had black beans in it]."
Follow Marie Claire on Facebook for the latest celeb news, beauty tips, fascinating reads, livestream video, and more.
Marie Claire email subscribers get intel on fashion and beauty trends, hot-off-the-press celebrity news, and more. Sign up here.
Candace Braun Davison writes, edits, and produces lifestyle content that ranges from celebrity features to roll-up-your-sleeves DIYs, all while relentlessly pursuing the noblest of causes: the quest for the world's best chocolate chip cookie.