This 'Harry Potter' Star Is Now Posing in Playboy
You might say that she's Slyther-in' into the magazine's pages.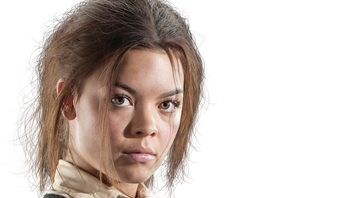 (Image credit: Harry Potter Wikia)
This one's for Harry Potter fans: remember Pansy Parkinson, the Slytherin who was kind of dating Draco Malfoy? I mean, she was kind of evil and totally down to give Harry back to Voldemort that one time just before the Battle of Hogwarts but whatever, the past is the past.
And like Neville Longbottom, Viktor Krum, Gregory Goyle, Padma Patil, and other minor characters from the beloved movie series, Scarlett Byrne, the actress who played Pansy (in the the Half Blood Prince and both Deathly Hallows movies at least) is looking extra fine these days.
So fine, in fact, that she's in the upcoming March/April issue of Playboy. She shared a photo from her shoot on Instagram earlier this week, and it's enchanting.
Better still than the tasteful nudity (remember, Playboy is cool with nudity again) is that according to her caption, the photo is accompanied by a "short essay" she wrote called "The Feminist Mystique"—presumably a riff off Betty Friedan's classic Feminine Mystique. The essay isn't yet online, but we can't wait to read it because if there's one thing we know about Slytherins, they're stellar at looking out for their own:
Follow Marie Claire on Facebook for the latest celeb news, beauty tips, fascinating reads, livestream video, and more.