We *Finally* Have More Details About the Charles and Diana Season of 'Feud'
"It starts with the filing of divorce papers."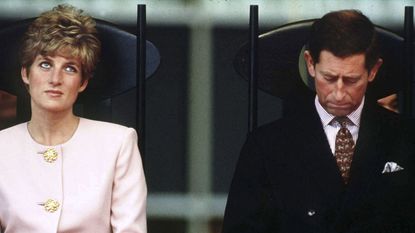 (Image credit: Getty Images)
Even before the first season of Feud aired, it was picked up for a second season. While the show is currently exploring the trouble that bubbled between Bette Davis and Susan Sarandon, its next focus will be the story of Prince Charles and Princess Diana, who married when Diana was 20 years old.
"Charles and Diana's story literally begins with filing the divorce papers," executive producer Ryan Murphy said at FX's event on Saturday night in Los Angeles. "It's about that pain of the dissolving of a fairytale, particularly for Diana. It starts with the filing of divorce papers and takes you up until her death."
One of the issues that split the couple up, according to Diana at the time, was Charles' secret love for Camilla Parker-Bowles, the woman who would eventually become his second wife.
While Murphy hasn't revealed the cast yet, if season two is anything like the first one, which stars Susan Sarandon as Bette Davis and Jessica Lange as Joan Crawford, then it'll be brilliantly acted and thoroughly researched.
The season one story of the decades-long battle between Hollywood legends Davis and Crawford sees the women fight ageism, sexism, and misogyny–a story that still seems horribly pertinent today.
Murphy, who is also behind American Horror Story and The People v. O.J., said of the current season, "We shot the first four episodes thinking that Hillary Clinton was going to win, so those first four episodes were, 'Haven't we come so far!' Then halfway through the shooting, the other scenario happened. It was a bracing slap of, You know what? Nothing has really changed. It's so hard to bring about that change that we all feel is necessary with how women are treated in our society. We worked harder at those things because it's such a large story even today."
The finale of Feud: Bette and Joan airs on FX April 23rd at 10 PM ET.
We're nominated for a Webby Award—but we need your vote to win! Vote for the Women and Guns project here.
Antonia Blyth is a British writer based in LA, who writes about entertainment and celebrities. A journalism graduate of Goldsmith's College, London, she has written for Deadline, ELLE, The Guardian, and InStyle and has a New York Times bestselling book. She also appears on French TV as an entertainment expert.