Angelina Jolie Says She Left Brad Pitt "for the Wellbeing of My Family"
"It was the right decision," the Oscar-winner revealed in a new interview.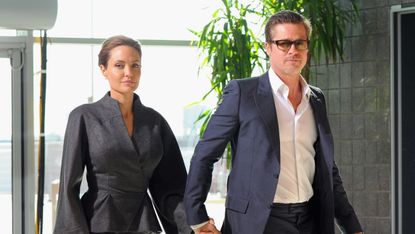 (Image credit: Eamonn McCormack)
Angelina Jolie has opened up about her split from Brad Pitt in a new interview.
The actress revealed that she "separated for the wellbeing of my family."
Her focus continues to be on her children, whom she calls "six very brave, very strong young people."
Angelina Jolie and Brad Pitt's split shocked fans around the world. However, the actress is now making it clear that she's moving on from her marriage, and putting her children first.
In a new interview with Vogue India, Jolie was candid about why she chose to divorce Pitt. The Oscar-winner was asked how she sustains "a healthy environment" for her six children amid the high-profile split. Jolie replied, "I separated for the wellbeing of my family. It was the right decision. I continue to focus on their healing."
She continued, "Some have taken advantage of my silence, and the children see lies about themselves in the media, but I remind them that they know their own truth and their own minds. In fact, they are six very brave, very strong young people."
The actress and activist previously revealed to Harper's BAZAAR that she currently lives in the United States so that her children can be close to their father. Jolie said, "I would love to live abroad and will do so as soon as my children are 18. Right now I'm having to base where their father chooses to live."
"My body has been through a lot over the past decade, particularly the past four years, and I have both the visible and invisible scars to show for it," Jolie revealed.
The 40 Biggest Celebrity Breakups of the Decade
Image 1 of 40
Angelina Jolie and Brad Pitt
It truly felt like the end of an era when Angelina Jolie split from Brad Pitt in September 2016. Having met on the set of Mr. & Mrs. Smith in 2004, while Pitt was still married to Jennifer Aniston, the couple went on to have six children together: Maddox, Pax, Zahara, Shiloh, Knox, and Vivienne Jolie-Pitt. They got married in August 2014 after almost a decade together.

In an interview with NPR in September of this year, Pitt revealed, "A breakup of a family is certainly an eye-opener that as one—and I'm speaking in general again—but as one needs to understand, I had to understand my own culpability in that, and what can I do better."
Channing Tatum and Jenna Dewan
Jennifer Aniston and Justin Theroux
Jennifer Lopez and Marc Anthony
Before J.Lo's fairy-tale romance with Alex Rodriguez, the singer was married to Marc Anthony for the good part of a decade. After walking down the aisle on June 5, 2004, wearing Vera Wang, Lopez gave birth to twins, Emme and Max, in February 2008.
However, in July 2011, Anthony and Lopez announced their split to the world. In a statement, via the Daily Mail, they said, "This was a very difficult decision. We have come to an amicable conclusion on all matters."
Ashton Kutcher and Demi Moore
According to E! News, Ashton Kutcher first met Demi Moore at a dinner in 2003. They would go on to marry in September 2005, but their marriage was hit with rumors of infidelity.
In November 2011, Moore released a statement (via People) that said, "It is with great sadness and a heavy heart that I have decided to end my six-year marriage to Ashton. As a woman, a mother, and a wife there are certain values and vows that I hold sacred, and it is in this spirit that I have chosen to move forward with my life."
Ben Affleck and Jennifer Garner
Anna Faris and Chris Pratt
Katie Holmes and Tom Cruise
Katie Holmes and Tom Cruise's romance once seemed picture-perfect, with the couple marrying in Italy in November 2006.
Holmes reportedly told Cruise she was filing for divorce during a phone call in June 2012, according to People. The publication also noted, "With help from her hard-charging attorney dad, Martin, she engineered a dramatic exit, which included moving apartments, changing cell phones and hiring new security."
Most importantly, Holmes gained primary custody of the couple's daughter, Suri Cruise. Mother and Daughter live in New York.
Katie Holmes and Jamie Foxx
Miley Cyrus and Liam Hemsworth
Robert Pattinson and Kristen Stewart
The former costars had one of the most magical relationships of the decade, or so Twilight fans thought. Being cast as star-crossed lovers Bella Swan and Edward Cullen in 2008, it's unsurprising that Kristen Stewart and Robert Pattinson reportedly had chemistry from the start. At the time, Stewart was still dating Michael Angarano, per E! News, but once that relationship tailed off in early 2009, the costars became inseparable.

Their relationship first encountered trouble in 2012 when Stewart was photographed kissing movie director Rupert Sanders. Despite a brief reconciliation, Stewart and Pattinson split for good in May 2013. In an interview with Howard Stern in November of this year, Stewart revealed, "We were together for years, that was my first [love]."
Naomi Watts and Liev Schreiber
Hollywood stars Naomi Watts and Liev Schreiber announced their separation in September 2016 after 11 years together. In a joint statement, via The Telegraph, they revealed, "It is with great love, respect and friendship in our hearts that we look forward to raising our children together and exploring this new phase of our relationship."
The couple co-parents two children, Alexander "Sasha" Pete and Samuel "Sammy" Kai. Watts has since started dating Billy Crudup, with whom she costarred in Netflix's Gypsy.
Jude Law and Sienna Miller
The stars met while shooting the 2003 movie Alfie, while Jude Law was going through a divorce from Sadie Frost, per InStyle. In early 2005, Law's rep revealed that the actor had proposed to Sienna Miller on Christmas Day in 2004, per People. But by July 2005, Law was forced to apologize to his fiancée when it was revealed that he'd had an affair with his children's nanny (Law shares three children, Rafferty, Iris, and Rudy Law, with ex Frost).
However, the high-profile pair revealed they'd reconciled on the Met Gala red carpet in 2010 [pictured], much to the delight of many. But by early 2011, Miller and Law had split for good.
Gwyneth Paltrow and Chris Martin