The Best Outfits Katie Holmes Has Ever Worn (and How to Copy Them)
You can easily achieve her effortless style.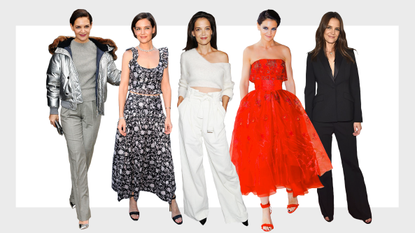 (Image credit: Design by Morgan McMullen)
Katie Holmes is a fashion girl. She's BFFs with designer Zac Posen, sits front row at the shows, and isn't afraid to try the latest trends (see her feathered Prada suit in the first slide). Her off-duty style can best be summarized as effortless, while her red-carpet looks radiate elegance and sophistication. (She likes to serve up bold, bright dresses at events—often from her designer friend.) And especially since she started dating chef Emilio Vitolo Jr., we've been blessed with her countless easy-to-wear street style outfits as she steps out with him in tow. If there's one thing you need to know about Holmes, it's that her impeccable taste in clothes has truly made her a style star to watch. Don't believe me? Take a peek at her best outfits, then shop similar picks to channel her stylish vibes yourself.
1/41
Katie Holmes' closet is full of classic pieces, which she expertly pairs together for that never-out-of-season look. Take her approach to layering a pussycat bow blouse underneath a blazer and then topping it off with a timeless beige trench. Oh, and don't forget a pair of timeless blue jeans.
2/41
Burberry The Waterloo Heritage Trench Coat
If you keep a list of pieces you need to invest in, a Burberry trench coat should be at the top of said list.
3/41
We want to steal Katie's silky blue pantsuit set look by Zadig & Voltaire. The outer pieces looked refined and sleek, so she kept it simple with a plain white tank underneath. An easy crossbody bag and heels finished off the outfit. She wore this ensemble to an event honoring her in New York City in February 2020.
4/41
ASOS Design Slim Suit Pants in Satin
As soon as you walk into the room in this pink satin suit, all eyes will be on you. Take a style note from Katie and dress it down with a tank, but keep the heels.
5/41
The star attended Fendi's The Launch of Solar Dream event in NYC on February 5, 2020. Katie chose to wear all Fendi for the occasion by going for this photogenic printed dress and carried the peekaboo handbag.
6/41
Fendi Peekaboo Iseeu Medium
If you're looking to invest in a handbag that is classic and will hold up for years to come, scoop up one of Fendi's iconic peekaboo designs.
7/41
It's not hard to look dressy and sophisticated when you're in Chanel. The star wore pieces from the fashion house for her appearance at a luncheon on November 4, 2019 in NYC.
8/41
Chanel Wool Tweed Pattern Bolero
Any outfit will look 100 times more chic with a Chanel jacket. This tweed one comes in neutral tones that'll pair seamlessly with your everyday outfits.
9/41
Olivia Von Halle Silk Issa Slip Dress
This orange silk dress will come in handy for all your special occasions.
10/41
Anyone can wear a black suit, but it takes a special trendsetter to rock one with feathers. Holmes proved she was a style star with this Prada set from the resort 2018 collection. She kept her accessories simple with a gold necklace and black heels, letting the suit make a statement on its own.
11/41
Michael Lo Sordo Cropped Feather-Trimmed Satin Pants
Give your satin pants a fashion makeover with feather embellishments on the leg cuffs.
12/41
Every time I see a white halterneck dress, I get Meghan Markle vibes. Holmes wore this Alice & Olivia ensemble in September 2018 while attending New York Fashion Week. It was crisp and elegant, especially when paired with a red lip and beige pumps. If the Duchess of Sussex saw this look, I have a feeling she'd approve.
13/41
Les Rêveries Silk Charmeuse Halterneck Gown
Brides looking for a crisp white dress for their rehearsal dinner or engagement party will fall in love with this silky halter-neck dress.
14/41
A pair of leather trousers can be both badass and feminine. Holmes struck this perfect balance when she wore her cognac-colored pants with heels and a checkered peter pan collar coat.
15/41
The Attico Slim Trousers
The quickest way to dress up any look is with a pair of sleek leather pants.
16/41
The words "denim skirt" have a whole new meaning when you're not 18 years old anymore. Instead of wondering how you'll sit comfortably at work in a mini version, take a tip from Holmes and go for a longer knee-length style. It's classy, sophisticated, and even pairs well with flip-flops. The star gave her outfit a chic edge with a belt and Celine bag.
17/41
Celine Mini Belt Bag in Grained Calfskin
Celine's iconic belt bag is a timeless staple if you're looking for an accessory that can be worn in the office, on vacation, and more.
18/41
Holmes let her floral dress slip down on one side while walking around New York City. It was sweet and sexy—the type of vibe that makes me want the dress myself. She accessorized the effortless look with a black fedora, sunglasses, a brown satchel, and white sneakers.
19/41
Lost a + Wander Garden of Delight Off the Shoulder Minidress
Let your shoulders get lightly bronzed in the sun as you stroll through your neighborhood in this off-the-shoulder floral dress.
20/41
For an American Ballet Theater event in 2018, Holmes chose a beaded floral dress by BFF and designer Zac Posen. The flared skirt suited her statuesque frame and a boatneck fit highlighted her shoulders. I have to say: blue looks amazing on her.
21/41
Zac Posen Metallic Jacquard Cocktail Dress
If you love Katie Holmes' style and Zac Posen, this dress is a win-win look for you.
22/41
Holmes traded her feathery Prada suit for this Brooks Brothers tuxedo while attending the 2016 premiere of All We Had. It was an understated look, but it sent the perfect #powerwoman message. This film also marked Holmes' directorial debut!
23/41
Brooks Brothers Double-Weave Crepe Jacket
A structured blazer that looks professional and won't distract people from your presentation at meetings. (Hot tip: Brab a Brooks Brothers promo code before you hit checkout.)
24/41
It's hard to find the right pink coat that doesn't give off Pepto-Bismol vibes, but Holmes did it. This pastel pink coat was cute and feminine, especially when paired with a knee-length dress and suede ankle boots.
25/41
Sanctuary Double Breasted Coat
You should have at least one brightly colored coat in your closet when you want a break from neutrals. Take a page from Katie Holmes' style book and opt for pink outerwear.
26/41
It's puffer coat season! Holmes covered up in a metallic silver jacket while leaving a building in Soho, New York. It appears she loved gray so much, she embraced the hue from head to toe. The monochromatic ensemble can put anyone in dangerous Tin Man territory, but Holmes nailed it with those heels and trousers.
27/41