Women in Hollywood Have Been Trying to Speak Out Against Harvey Weinstein for Years
Actors, writers, and producers (including two men) have been hinting at his alleged misconduct for decades.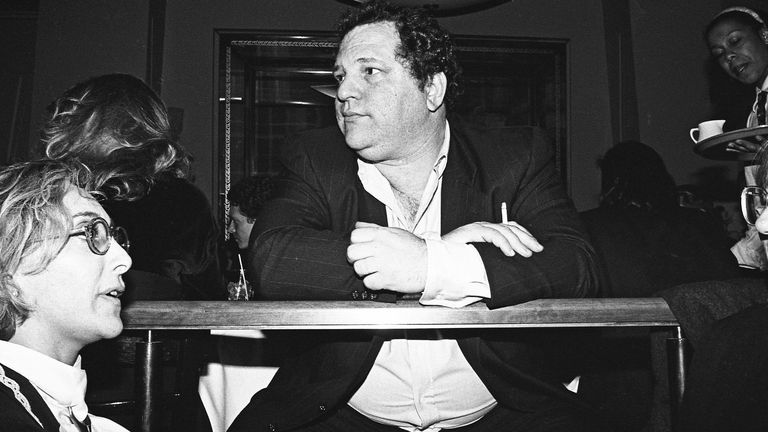 (Image credit: Getty Images)
The sexual harassment claims made against Harvey Weinstein—first reported by The New York Times (opens in new tab) three weeks ago—are gut-wrenching. But are they surprising? A look back at interviews, videos, and news stories suggests that Hollywood's "worst kept secret" (as it's been labeled by the Times (opens in new tab)) was hinted at, in a very public way, for at least 20 years.
Weinstein denied "many" of the earlier allegations, and in a statement by a spokesperson earlier this month, "unequivocally denied" all allegations of "non-consensual sex," adding that "there were never any acts of retaliation against any women for refusing his advances." View his full statement here.
See below for decades of hints of misconduct.
1998 Gwyneth Paltrow Interview
In a haunting November 1998 interview with Late Show host David Letterman, actress Gwyneth Paltrow calls out her Shakespeare In Love producer for manipulative behavior. The clip, uploaded to YouTube (opens in new tab) after the scandal broke, shows Paltrow hesitate when asked if her appearance on the talk show was of her "own free will."
"Did someone coerce you to be here?" presses Letterman.

"Do you count Harvey Weinstein as a coercer?" she replies.
Letterman then jokes that Weinstein's history with the mob led him to achieve his powerful spot in Hollywood. "I do all my movies for Harvey Weinstein, and that's Miramax," says Paltrow. "And I'm lucky to do them there. But he will coerce you to do a thing or two." She has since leveled allegations of sexual harassment at the movie mogul, telling the Times (opens in new tab) he placed his hands on her and suggested they head to the bedroom for massages, prior to shooting the film Emma.
2000 Asia Argento Film
Actress and director Asia Argento offered a graphic account to the New Yorker (opens in new tab) of the 1997 moment when Weinstein sexually assaulted her in a hotel room.
Her story closely resembles a scene in her 2000 film Scarlet Diva, which she wrote and directed. In it, a producer corners the character played by Argento in a hotel room and asks her for a massage. Then, he tries to assault her.

"People would ask me about him because of the scene in the movie," she told the New Yorker. According to Argento, Weinstein apparently saw the film when it was released and recognized himself. "Ha, ha, very funny," he told her. Weinstein also reportedly told her that he was "sorry for whatever happened."
2005 Courtney Love Red Carpet Appearance
When asked by a reporter if she had any advice for "a young girl moving to Hollywood" on the red carpet for Pamela Anderson's Comedy Central roast, Courtney Love responded: "If Harvey Weinstein invites you to a private party in the Four Seasons, don't go."
She's since announced on Twitter (opens in new tab) that she wasn't assaulted by Weinstein, but was "eternally banned by [Creative Artists Agency] for speaking out."
2010 Ivana Lowell Memoir
Ivana Lowell, who worked for Harvey Weinstein at Miramax Books, describes a familiar anecdote in her 2010 memoir, "Why Not Say What Happened?" (opens in new tab) She details the moment Weinstein showed up to her apartment, unannounced, and asked for a massage. She writes, "The scene was comical: Harvey lying spread-eagle, dwarfing the bed like Gulliver pinned down by midgets, and [a friend] and I laughing nervously, still edging as far away as possible."
According to Page Six (opens in new tab), Lowell posted this statement to Facebook (opens in new tab): "When my book was first published, Harvey called me up, screaming, and said that I made him look like a pervert. I replied 'Yes, so?' "
2012 '30 Rock' Episode
Five years ago, Jane Krakowski of Tina Fey's 30 Rock made a deliberate dig at Weinstien—on two separate occasions in the show's seventh season.
In one scene, Krakowski's character, Jenna, proudly states that she isn't afraid of anyone in show business and has "turned down intercourse with Harvey Weinstein on no less than three occasions." Later on, she brings up the producer again, saying: "In some ways, I'm still pinned under a passed-out Harvey Weinstein, and it's Thanksgiving."
The show has a history of exposing powerful men and their impropriety — co-showrunner Robert Carlcok said a 2009 swing at Bill Cosby was no accident.
2013 Oscars Announcement
While onstage with Emma Stone to reveal the five nominees for best supporting actress in 2013, Seth MacFarlane quipped: "Congratulations, you five ladies no longer have to pretend to be attracted to Harvey Weinstein." The audience laughed in response. The Family Guy creator, who was hosting the Oscars that year, recently took to Twitter (opens in new tab) to explain that his comment at the time was made on behalf of his friend, Jessica Barth: "I couldn't resist the opportunity to take a hard swing in his direction. Make no mistake, this came from a place of loathing and anger. There is nothing more abhorrent and indefensible than abuse of power such as this."
Barth was one of the women to come forward with allegations against Weinstein in the New Yorker piece.
2015 Gawker Story
Following NYPD's investigation into Weinstein's alleged groping of Ambra Battilana in March 2015 (opens in new tab), the now-defunct Gawker (opens in new tab) published a story titled: "Tell Us What You Know About Harvey Weinstein's 'Open Secret' "
The authors spoke to several journalists familiar with Weinstein's alleged sexual misconduct, one of whom said a producer knew stories of his behavior that made "Bill Cosby look like a monk."
2015 Ashley Judd Interview
Almost exactly two years before the release of Jodi Kantor and Megan Twohey (opens in new tab)'s Times story (opens in new tab) in October, Ashley Judd hinted at the abuse in an interview with Variety.
The actress spoke in-depth with Ramin Setoodeh about harassment, without naming Weinstein, as a part of the publication's 2015 Power of Women issue. In the piece she said: "He groomed me, which is a technical term—Oh, come meet at the hotel for something to eat. Fine, I show up. Oh, he's actually in his room. I'm like, Are you kidding me? I just worked all night. I'm just going to order cereal. It went on in these stages. It was so disgusting. He physically lured me by saying, 'Oh, help me pick out what I'm going to wear.' There was a lot that happened between the point of entry and the bargaining. There was this whole process of bargaining."
She goes on to say that it took her awhile to realize what had happened. "I beat myself up..." she explained to the publication. "This is another part of the process. We internalize the shame. It really belongs to the person who is the aggressor. And so later, when I was able to see what happened, I thought: Oh god, that's wrong. That's sexual harassment. That's illegal. I was really hard on myself because I didn't get out of it by saying, 'O.K. motherf—er, I'm calling the police.' "
Judd was the first celebrity to go on-the-record with Times journalists Kantor and Twohey (opens in new tab). She told them Weinstein invited her to the Peninsula Beverly Hills hotel, where he appeared in a bathrobe and asked if he could give her a massage.
2015 Rose McGowan Interview
In an August 2015 interview with BuzzFeed (opens in new tab), Rose McGowan responded to reporter Kate Aurthur's description of a "rumored serial predator" in Hollywood by saying: "I have faith. There's a lot of people that don't deserve to be alive—put it that way. There's a lot of people who also get the face and body they deserve. There's a lot of destroyers, and there's the collusion. For anybody who reads this, anybody who's ever colluded on anything by being a weak human being, fuck you. How dare you."
The two got on the subject, after talking about Bill Cosby's accusers being "vilified" in the public sphere.
Then, a little over a year later, the actress posted a series of Tweets (opens in new tab) in 2016 alleging that she had been raped by a Hollywood executive with the hashtag #WhyWomenDontReport.
McGowan reached a $100,000 settlement with Mr. Weinstein in 1997 after an episode in a hotel room during the Sundance Film Festival. She is named in the Times report as an alleged victim.
Rose is a Staff Writer at ELLE covering culture, news, and women's issues. She is an accomplished and compassionate storyteller who excels in obtaining exclusive interviews and unearthing compelling features.