The 2015 Grammys Were All About Super, Super, SUPER Low-Cut Necklines
That's lots of chest.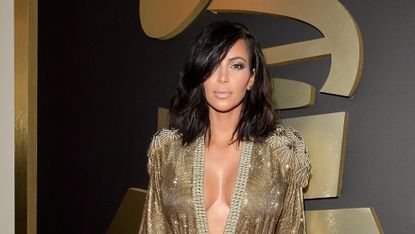 (Image credit: Getty Images)
Marie Claire newsletter
Celebrity news, beauty, fashion advice, and fascinating features, delivered straight to your inbox!
Thank you for signing up to . You will receive a verification email shortly.
There was a problem. Please refresh the page and try again.
2014 may have been the year of the butt, but if the outfits at the Grammy Awards are anything to go by, 2015 will be all about the sternum.
Dresses this year were super long but also super revealing, with plunging necklines gracing practically every major star.
Lady Gaga drew attention to her assets with a green amulet:
Anna Kendrick went with a classic tux—minus the shirt:
If we had to guess, we'd say Beyoncé's life is in Fashion Tape's hands right now:
Iggy Azalea, for her part, did the plunge in a relatively modest way:
Annnd then Miley Cyrus was like a polygon of nudity:
Nicki Minaj breasted everyone (heh):
But, of course, Kim Kardashian won by wearing a dress that was V-neck on the top and the bottom.
You should also check out:
See Every Look from the 2015 Grammy Awards (opens in new tab)
Is the Red Lip Dead? The Grammys Say So (opens in new tab)
The Latest Jaw-Dropping Celebrity Hair Transformations (opens in new tab)
My writing has regularly appeared in The New York Times, The Paris Review, Salon, VICE, Guernica, The New York Observer, BuzzFeed, Cosmopolitan, Seventeen, Esquire, Elle, Harper's Bazaar, and many more publications.

I was previously the Senior News Editor at Best Life Online and the Viral Content Editor in the Newsroom of Hearst Digital Media. My portfolio consists of a vast and diverse body of work that includes personal essays, lifestyle articles, breaking news posts, and viral content. My areas of expertise, however, are Russia, sex and relationships, and mental wellness.