The Most Deliciously Scandalous Flings in Hollywood History
From short-lived to soulmate status.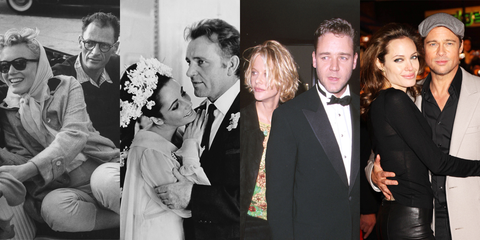 If Hollywood's taught us anything, it's that crème de la crème genetics and long hours on set has been the recipe for all kinds of dalliances through the years. And while we hate to give in to the tittle-tattle, there's something that's just so irresistible about romantically-charged Tinseltown whispers. Here, discover some of the most eyebrow-raising flings, from short-lived to soulmate status.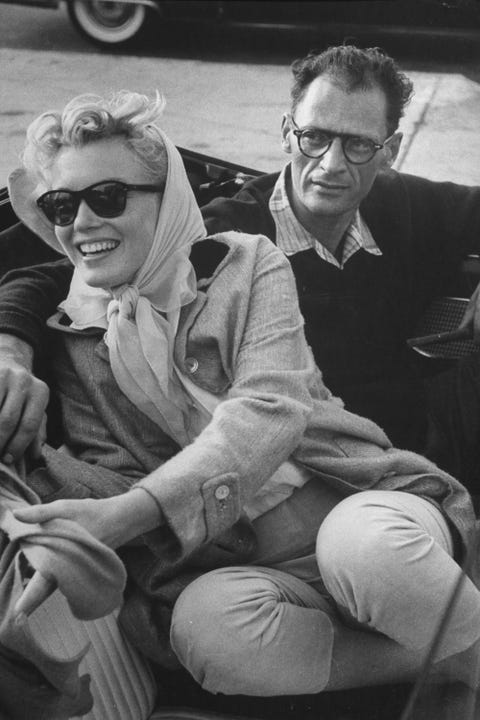 Marilyn Monroe and Arthur Miller
An unlikely pairing they might have seemed, but their passion was palpable. Before there was sexting, there were love letters—and the American playwright definitely had a way with words. "I will kiss you and hold you close to me and sensational things will then happen," he wrote in a previously unseen letter. "All sorts of slides, rollings, pitchings, rambunctiousness of every kind. And then I will sigh. And when you rest your head on my shoulder, then slowly I will get HUNGRY." Well, hot damn...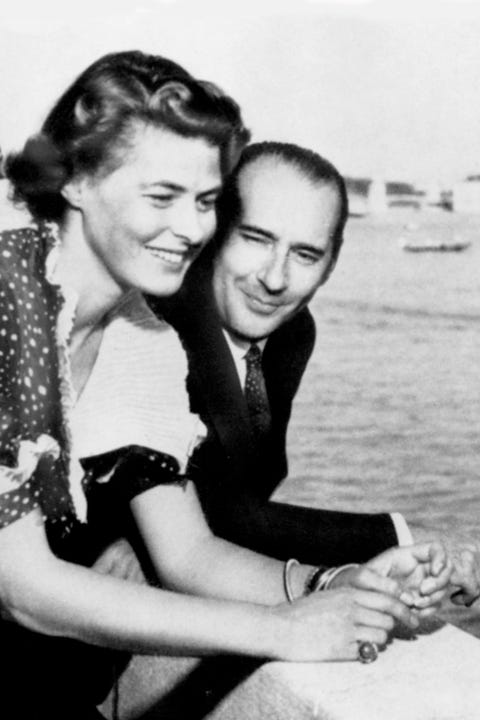 Ingrid Bergman and Roberto Rossellini
In the late '40s, Bergman
sent the Italian director a letter
suggesting they work together that was equal parts clever and flirty. She was cast in his film
Stromboli
(1950), and they began an affair soon after—despite each being married to other people. It shattered her wholesome image, outraged many of her American fans, and led to her being denounced on the floor of the United States Senate. They were married for seven years.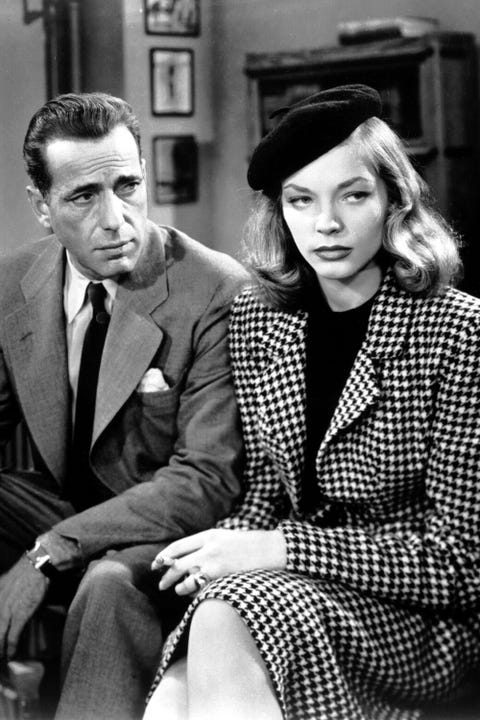 Humphrey Bogart and Lauren Bacall
Bogart may have been 25 years senior to Bacall, but it's undeniable, they're one of the greatest love stories in Hollywood history. They pair met on the set of their film To Have and Have Not (1944), where he allegedly told her right off the bat: ""I just saw your test. We'll have a lot of fun together." They fell in love soon after, although Bogart was still in the midst of a tumultuous marriage to his alcoholic wife. He became very torn between Bacall and his duty to being a husband. But eventually, he followed his heart, they married, and were wildly happy until Bogart's untimely death in 1957.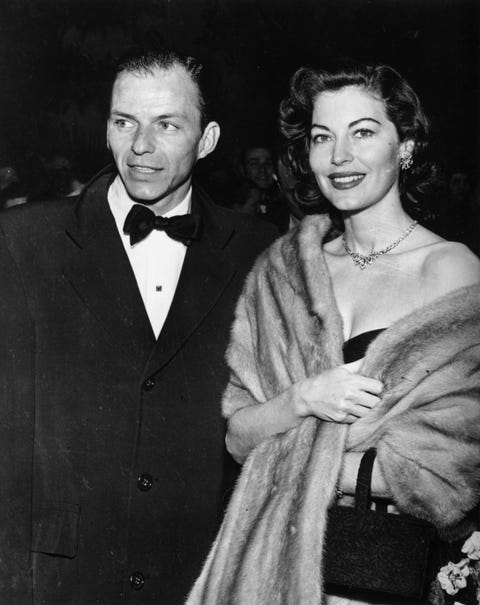 Frank Sinatra and Ava Gardner
For Sinatra, a notorious lothario, Ava Gardner was truly irrestiable—leading him to leave his wife, Nancy Sinatra, for her in 1951. They married 10 days after the divorce was finalized. Two of a kind, it's said that their courtship was doomed from the start as their passion for each other (and fighting with each other) fueled many side affairs and screaming matches (apparently due to Gardner's climbing career, while Sinatra's was in a slump). By 1957, the couple divorced, but in her autobiography Gardner said that he was the love of her life.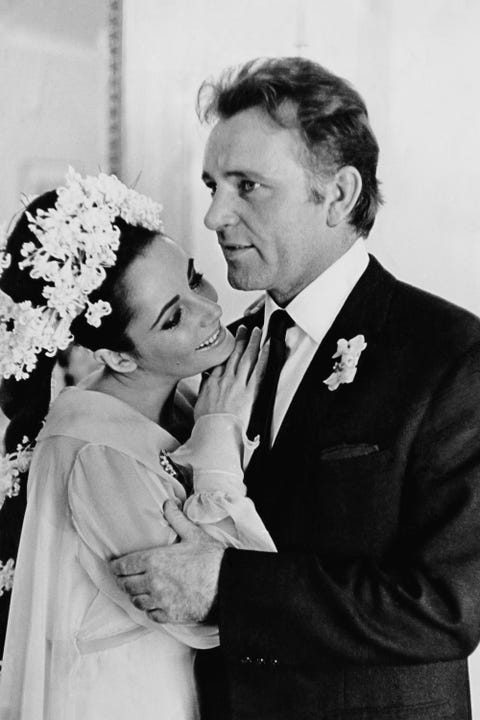 Elizabeth Taylor and Richard Burton
Known as one of the most explosive love stories of all time, Taylor and Burton first met on the set of Cleopatra (1963) and during their first-on screen kiss, they held it so long the director wasn't sure if he could say "cut." Slight problem? Both of them were married and their union was condemned by the Vatican who called it "erotic vagrancy." They went on to get married and divorced *twice*. During that time they also starred in multiple films together, while Burton gifted Taylor with the most lavish of gifts, including a $1 million diamond necklace.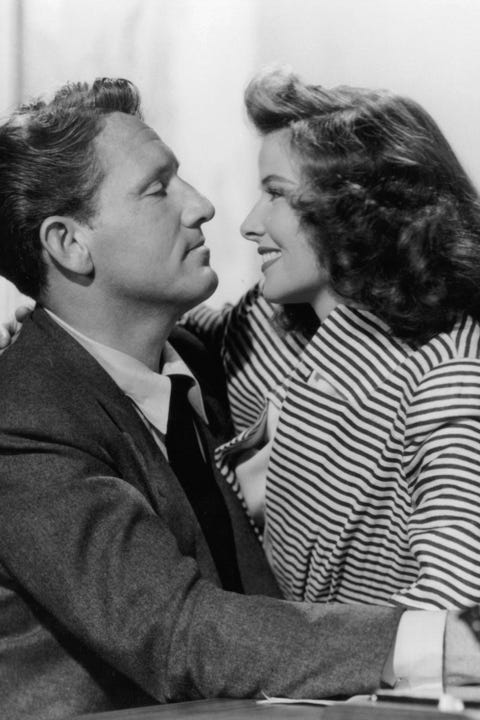 Spencer Tracy and Katharine Hepburn
Tracy and Hepburn boasted one of the longest relationships in Hollywood history, clocking in at 26 years together. But, with these two, there was so much more than met the eye. They spent much of their time "together" living apart and seeing other people. In fact, if rampant rumors are to be believed, each of them swung the other way.
Meg Ryan and Russell Crowe
After meeting on the set of their action film Proof of Life in 2001, the pair had a highly publicized, amorous affair. And we do mean *affair*—Ryan was still married to Dennis Quaid, whom she'd been with for nine years. They divorced soon after and in 2008, Ryan revealed that Quaid, too, had been unfaithful while they were married. As for her dalliance with Crowe, while it was hot 'n' heavy, it was relatively short-lived.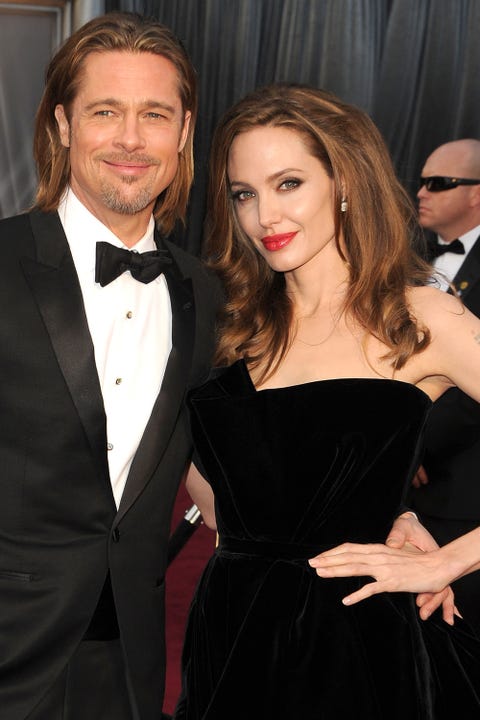 Brad Pitt and Angelina Jolie
These two famously met on the set of
Mr. & Mrs. Smith
in 2003 while Pitt was married to Jennifer Aniston. Jolie insists that it was innocent until after he separated from Aniston (who is currently engaged to Justin Theroux) in 2005, but she admits that
sparks flew immediately
. After nine years and six children together, the pair tied the knot at their home in France.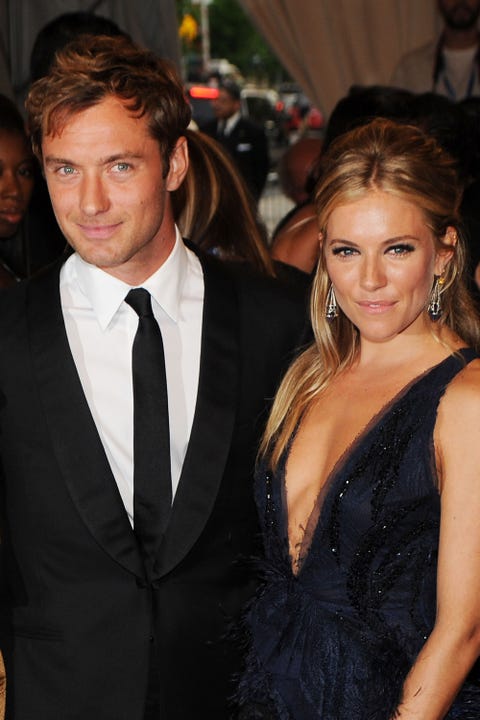 Jude Law and Sienna Miller
Law and Miller were a couple that was, perhaps, too good looking for their own good. During their years-long relationship (they met on the set of their film Alfie in 2003), they both carried on headline-making affairs. While they were engaged, Law cheated with their children's nanny and around the same time, it's alleged that Miller was involved with her Layer Cake co-star Daniel Craig. The two separated in 2006.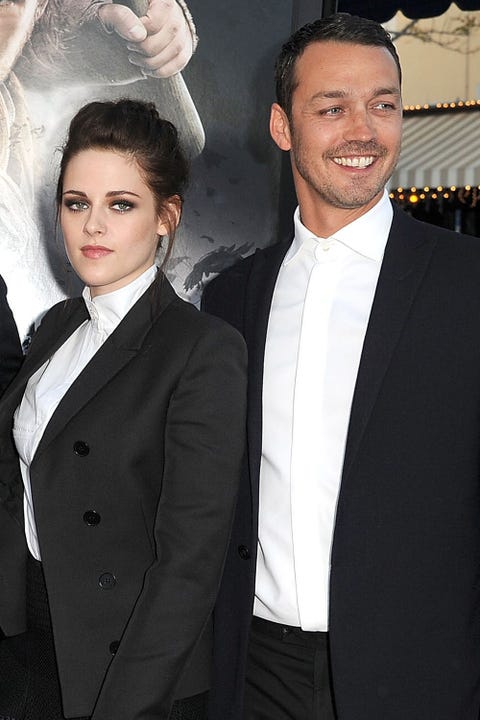 Kristen Stewart and Rupert Sanders
One of the most mind-boggling flings in recent history, the world was shocked to learn that Stewart, who was dating her
Twilight
co-star Robert Pattinson at the time, was involved with her
Snow White and the Huntsman
(2012)
director Rupert Sanders. Sadly, the affair resulted in the dissolution of Sanders' marriage to Liberty Ross, with whom he had two children. Pattinson forgave Stewart, but ultimately they broke up, and are happily dating (
ahem, engaged to...
) other people.
This content is created and maintained by a third party, and imported onto this page to help users provide their email addresses. You may be able to find more information about this and similar content at piano.io