Meet Your Newest Wonder Woman, Gal Gadot
The D.C.-comics actress is also an accomplished dancer, army veteran, and does her own stunts. Any questions?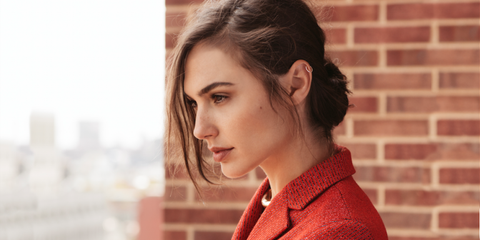 The D.C.-comics actress is also an accomplished dancer, army veteran, and does her own stunts. Any questions?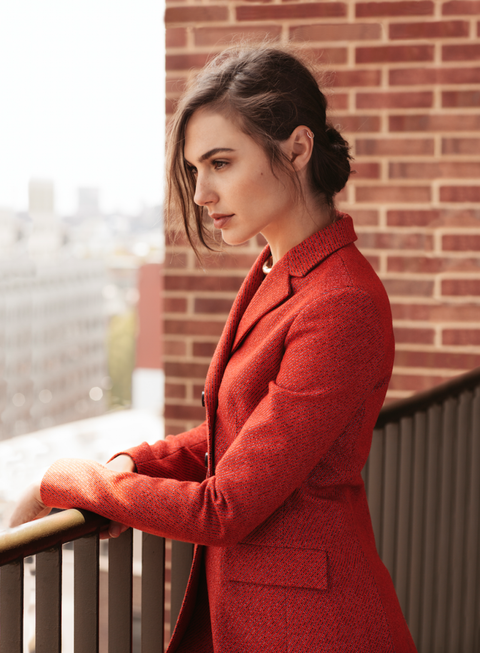 Age: 30.
Profession: Actress and model.
Home: Tel Aviv, Israel.
Fancy Feet: I was a dancer for 12 years—ballet, modern, jazz, and hip-hop. If I weren't acting, I'd be a choreographer.
Body Talk: For a workout, I hit the gym and do Pilates. I also love playing beach volleyball with friends.
Call of Duty: To become a fight-training instructor in the Israeli Defense Forces, I did a four-month boot camp where I had to go for seven-mile runs every morning at 6:30 a.m.! It was good prep for acting, because movies require a lot of discipline and responsibility.
Jacket: $3,800, Dior; (800) 929-DIOR. Earring: $320 for pair; H.Stern; hstern.net for stores. Choker: $1,125, Jennifer Fisher; jenniferfisherjewelry.com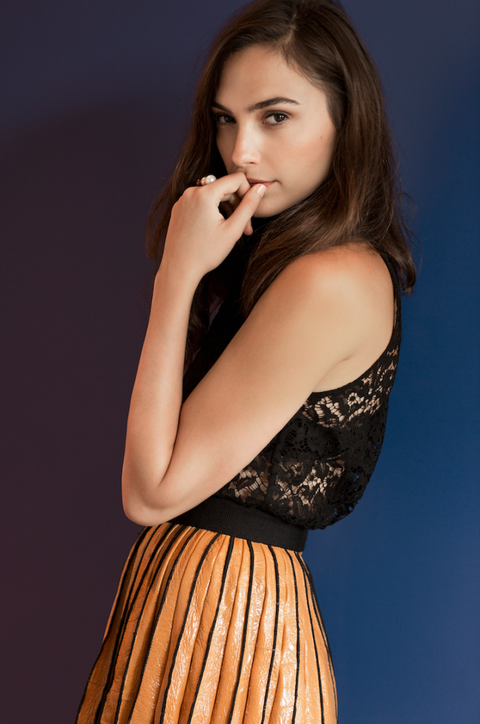 Crown and Country: Before my army service, I thought, Why not try out for the Miss Israel pageant? I could tell my grandkids that Grandma competed! I did it to have fun, and made friends because I wasn't competitive. I had no idea I would win.
Risky Business: I did most of my own stunts—like jumping from a moving motorcycle onto a Jeep—in the Fast & Furious films. I told our director, "I want my character to be as impressive as the boys."
Style M.O.: Casual but sexy, with a street-y element.
Scent Story: I love Gucci Bamboo. It has all the right elements—it's fresh, it's sexy, and it makes me feel energized.
Pack Rat: I have like 70 pairs of jeans. Levi's, Lee, Calvin Klein—the classics—and newer stuff like AG.
Words to Live By: If you're positive and proactive, then everything that needs to happen to you will happen.
Top: $2,295, Altuzarra; fwrd.com for similar styles; Bra: $60, Cosabella; cosabella.com; Skirt: $2,600, Marc Jacobs; (212) 343-1490. Ring: $1,960, Delfina Delettrez; saks.com.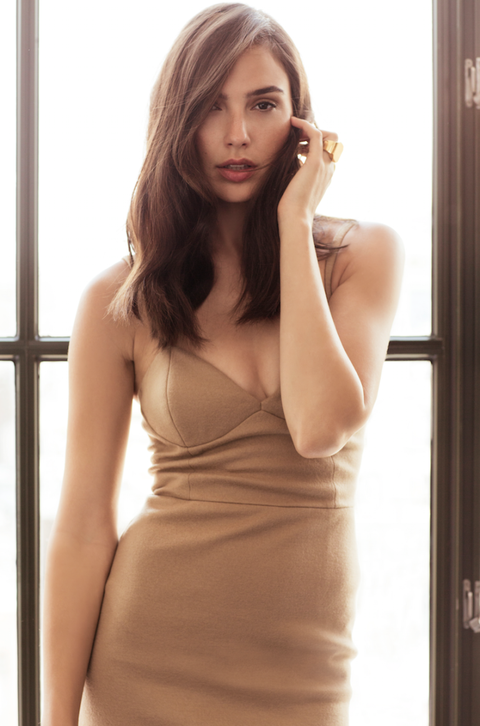 Next Up: Thriller Criminal (January 2016); heist drama Triple 9 (March 2016); and the role of Wonder Woman in the string of highly anticipated DC Comics superhero flicks, beginning with Batman v. Superman: Dawn of Justice (March 2016).
"Growing up, I was a huge tomboy. Now I love fashion and beautiful things. But I like to be comfortable. You won't find me walking around in high heels unless I'm going out."
Dress: $795, Max Mara; (310) 385 - 9343. Ring: $340, Jennifer Fisher; jenniferfisherjewelry.com.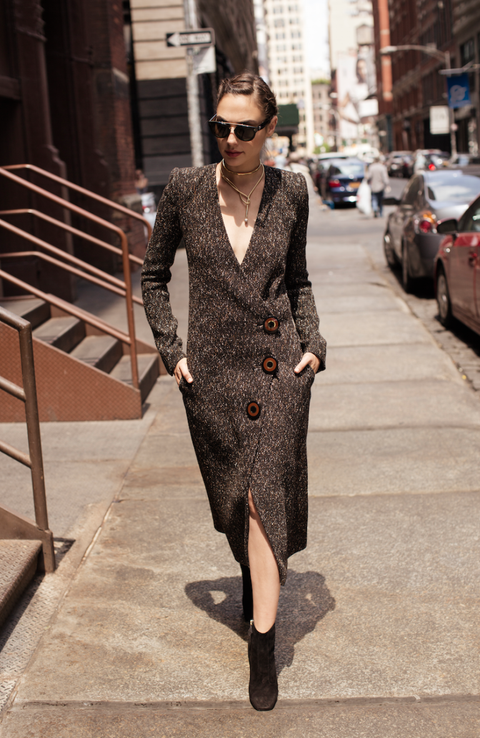 "I prefer to portray the stronger, more independent, inspiring woman than the heartbroken, sad one. Because in real life, women do it all."
Coat Dress: Price upon request, Salvatore Ferragamo; (866) 337-7242. Sunglasses: $495, Céline; celine.com for stores. Necklace: $350, Eddie Borgo; eddieborgo.com. Boots: $1,195; Nicholas Kirkwood; nicholaskirkwood.com.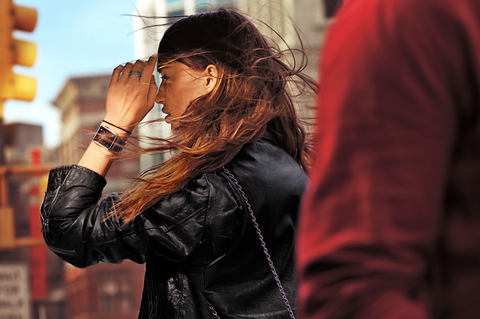 "My husband, Yaron, wears his Apple Watch all the time—e-mailing, texting, calling. I haven't had time to educate myself, but I can't wait to start using mine."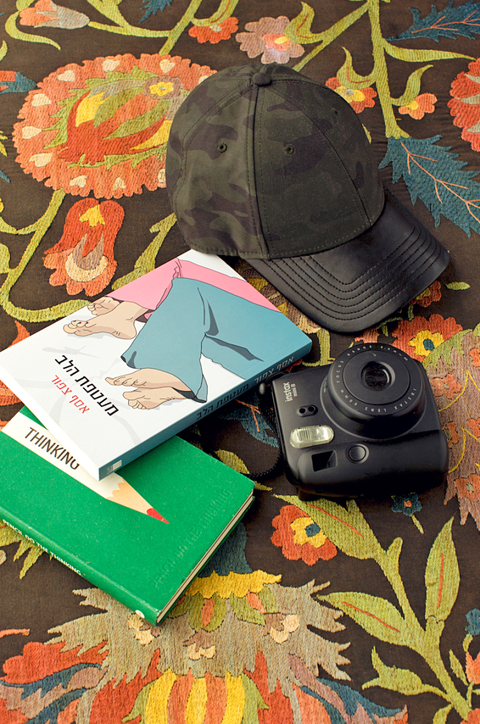 "My green notebook is my bible when I'm working on a project. I write notes and questions about my character and the story, and keep a to-do list. I also take a lot of Polaroid pictures. I love the old-fashioned feel."

This article appears in the September issue of Marie Claire, on newsstands now.

This content is created and maintained by a third party, and imported onto this page to help users provide their email addresses. You may be able to find more information about this and similar content at piano.io