The 13 Most Memorable Celeb Moments from the 2016 Election
*This* is how celebrities get out the vote.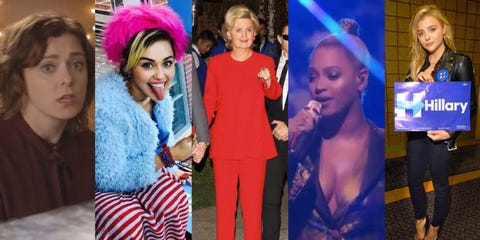 Celebrities have always been politically engaged, but they've gotten out the vote like never before this year. Here are 13 of the most memorable celeb moments from the 2016 election.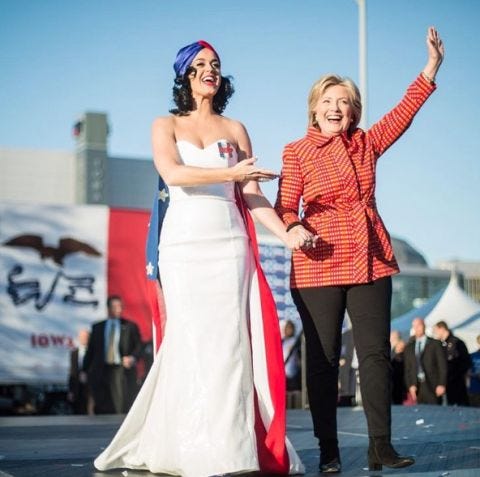 Katy Perry
Katy Perry has been stumping for Hillary since the primaries and we'll never forget the #ImWithHer ball gown she wore to support HRC. Also, get used to seeing Katy because this is far from her only memorable moment campaigning for Clinton this year.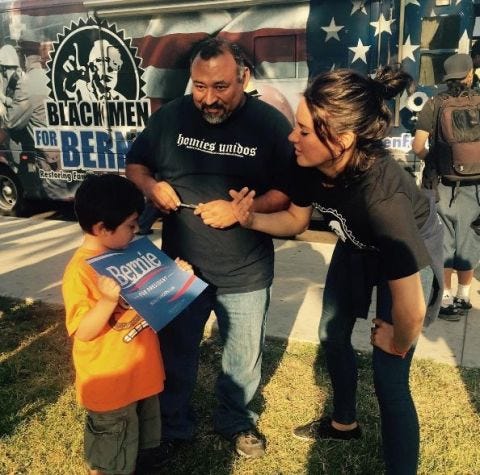 Shailene Woodley
Shailene Woodley was a big Bernie supporter and campaigned door-to-door ahead of the California primary.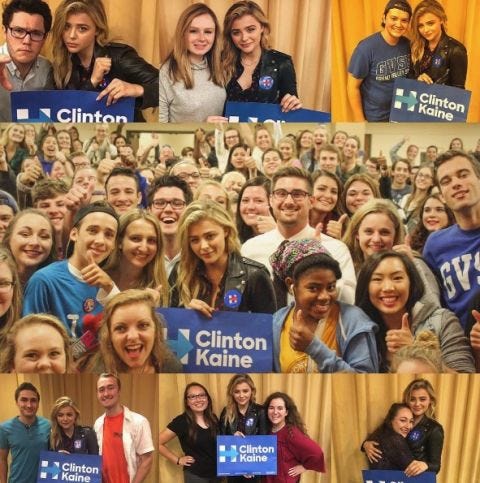 Chloë Grace Moretz
Chloë Grace Moretz is another celeb who's been an outspoken supporter of Hillary since the beginning. She doesn't just talk the talk though—she spent time in Michigan registering people to vote earlier this year.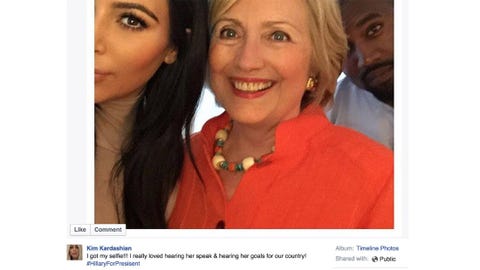 Kim Kardashian
Kim Kardashian took to Facebook in September to officially endorse Hillary Clinton, posting a selfie and proclaiming that she was "with her."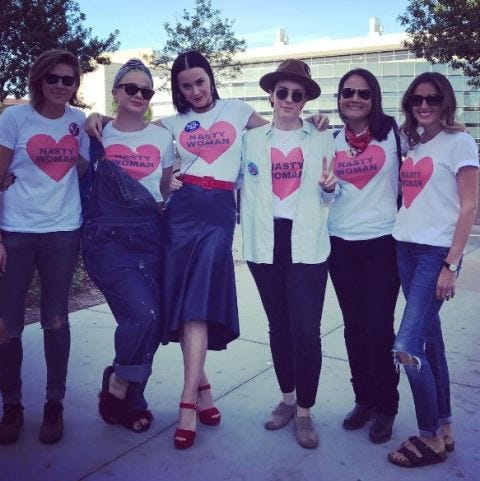 Katy Perry
After Trump's "nasty woman" comment, Katy was one of the first celebs to order a shirt and wear it proudly. She wore hers while campaigning for Hillary on a college campus.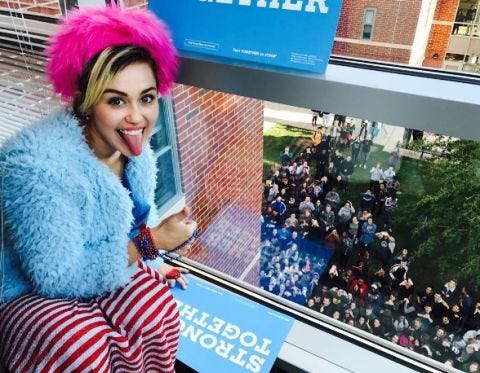 Miley Cyrus
Miley Cyrus also hit up a campus to show her support for Hillary, and she wore a perfectly Miley, totally unforgettable outfit to do it.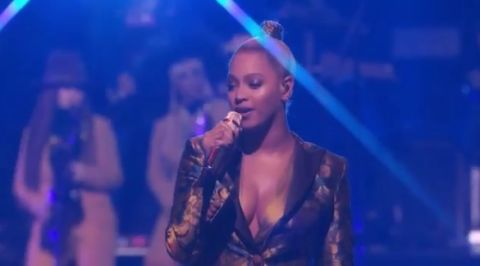 Beyoncé
Beyoncé took time out during her Tidal X performance to encourage fans to vote.
"I know it seems like things are bad, but if you think that can't get worse just ask your grandparents. Remember Barack Obama is our President. You made that happen, young people made that happen," she said to the crowd. "We are not helpless. The fire is still burning. Please go out and vote this November. Too many people have died and sacrificed so much for us to have our voice, we have to use it. Get in formation. Use our voices to do something great for our children."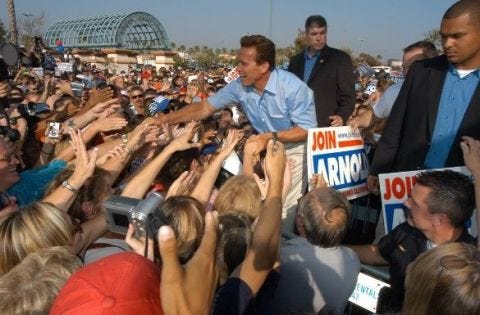 Arnold Schwarzenegger
In October, Republican and Former California Governor Arnold Schwarzenegger made headlines when he publicly announced that he would not vote for Donald Trump.
"For the first time since I became a citizen in 1983, I will not vote for the Republican candidate for president. Like many Americans, I've been conflicted this election....But as proud as I am to label myself a Republican, there is one label I hold above all else — American. So I want to take a moment to remind my fellow Republicans that it is not only acceptable to choose your country over your party—it is your duty."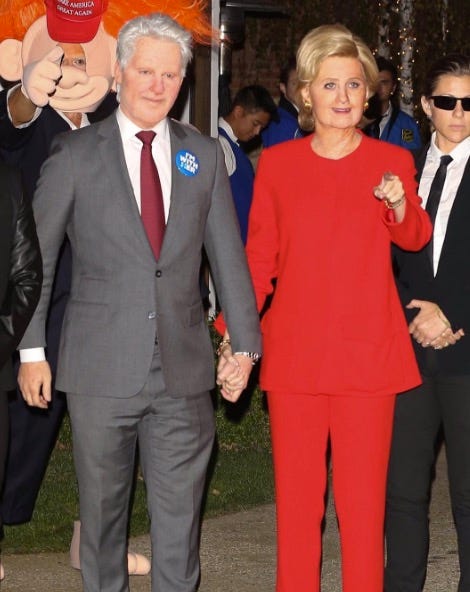 Katy Perry
Katy Perry even used Halloween as an excuse to make headlines for Hillary, undergoing a total transformation, with the help of professional makeup artists and prosthetics, to become the candidate.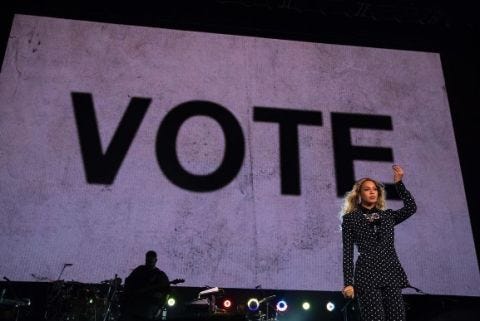 Beyoncé
Beyoncé officially showed her support for Hillary on November 4 at a campaign concert in Cleveland, Ohio.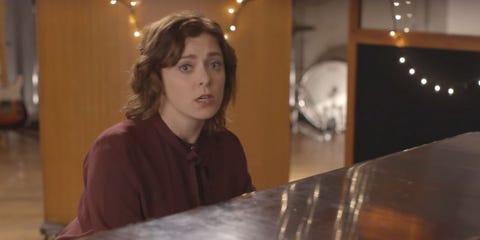 Rachel Bloom
Crazy Ex-Girlfriend star/musical comedy genius Rachel Bloom gathered a bunch of her famous friends for a hilarious and poignant Funny or Die video titled, "Holy Sh*t (You've Got to Vote)."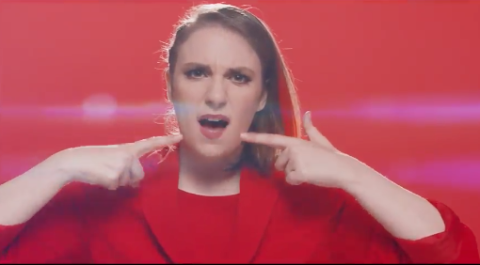 Lena Dunham
Lena Dunham made a splash when she parodied celebrity activism in her "Sensual Pantsuit Anthem" video for Funny or Die.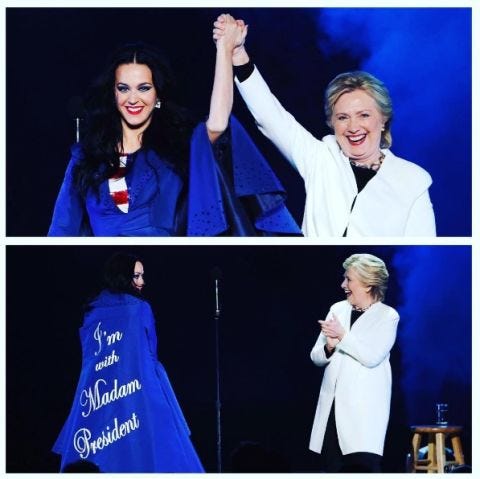 Katy Perry
Katy Perry stood with Hillary again the weekend before the election and even let Clinton use her hit song "Roar" in a final wave of powerful campaign ads.
This content is created and maintained by a third party, and imported onto this page to help users provide their email addresses. You may be able to find more information about this and similar content at piano.io