The 68 Most Iconic Fashion Moments in Grammy Award History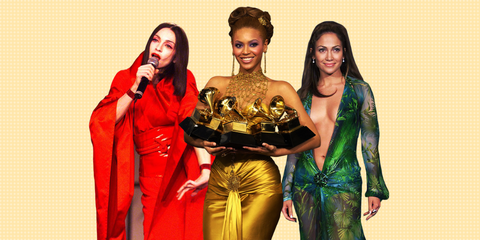 Design by Morgan McMullen
The 2020 Grammy Awards will take place on January 26, 2020, and I personally can't wait to see what Cardi B, Lizzo, and Kacey Musgraves will be wearing. Obviously, it's all about the music, but it's also not just about the music—the Grammys are one place where artists always love to flex and express themselves through fashion. We've rounded up the most eye-catching, sparkly, and jaw-dropping outfits of the past 61 years and all I can say is...besides on your NYE dress, sequins belong at the Grammys.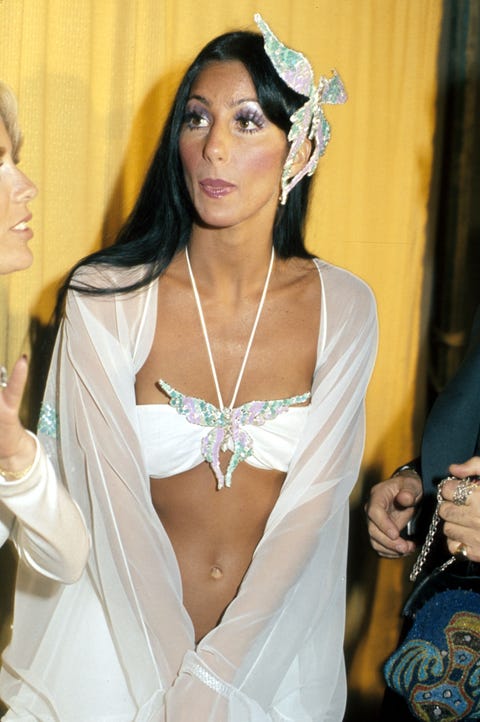 1974
Cher arrived looking like the fairytale embodiment of Lisa Frank (in the best way possible) and setting the stage for the body-baring getups of future decades.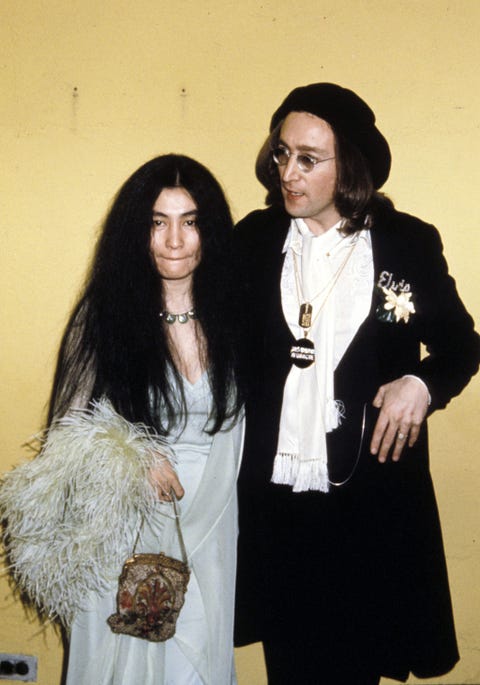 1975
Yoko Oko and John Lennon are young and in love at the '75 Grammys.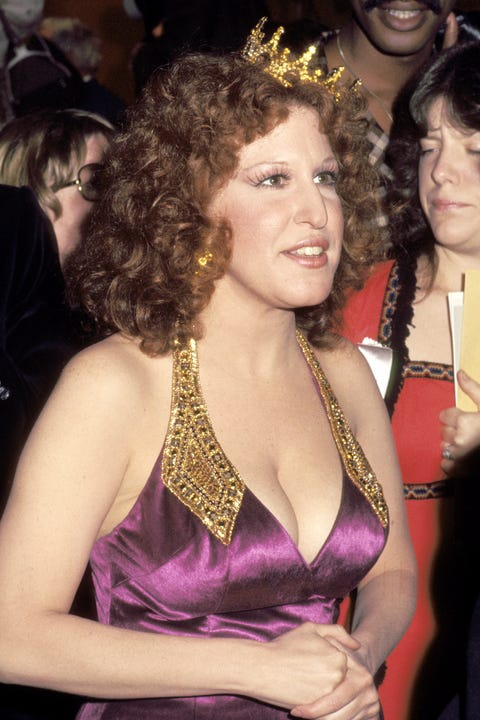 1977
My name is Bette Midler and I can wear a crown if I want to.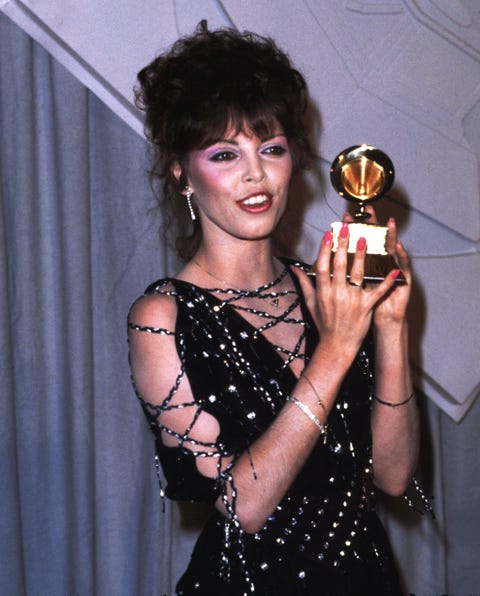 1982
Pat Benatar wearing a stunning lace-up dress and perfectly '80s purple eye makeup.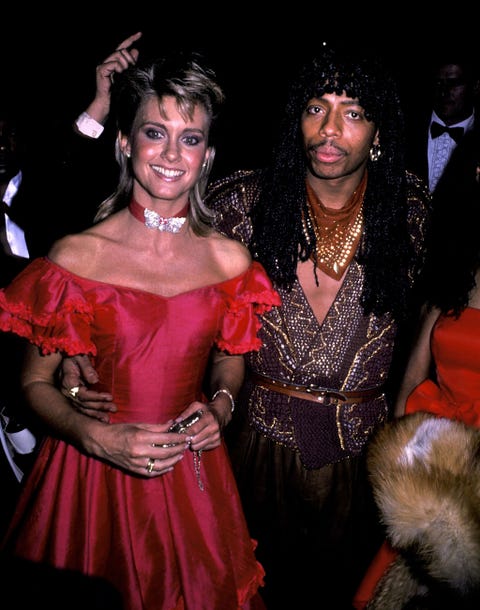 1983
Rick James and a barely recognizable Olivia Newton-John dressed like they're each other's Grammy's prom dates. (Corsage not included.)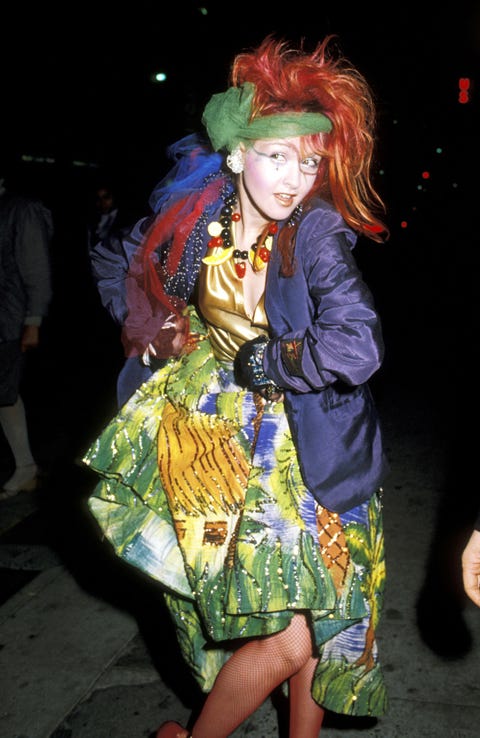 1984
Cyndi Lauper keeping it quirky in a very '80s mash-up of colors and prints.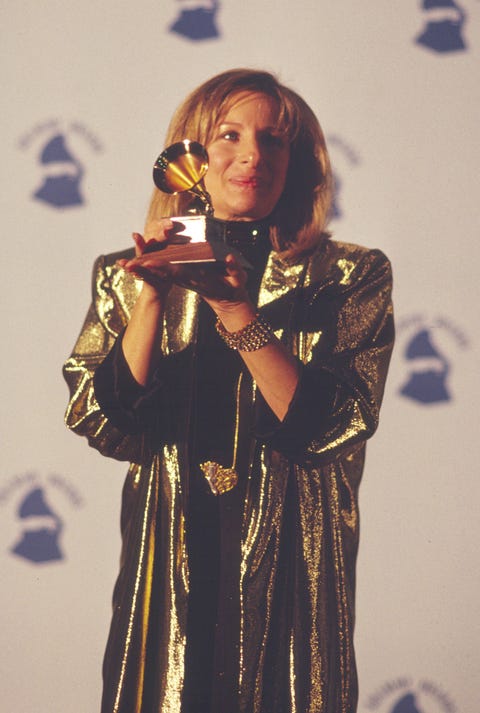 1986
Barbra Streisand wearing gold lamé to accept an award for the Best Pop Vocal Performance for a Broadway Album.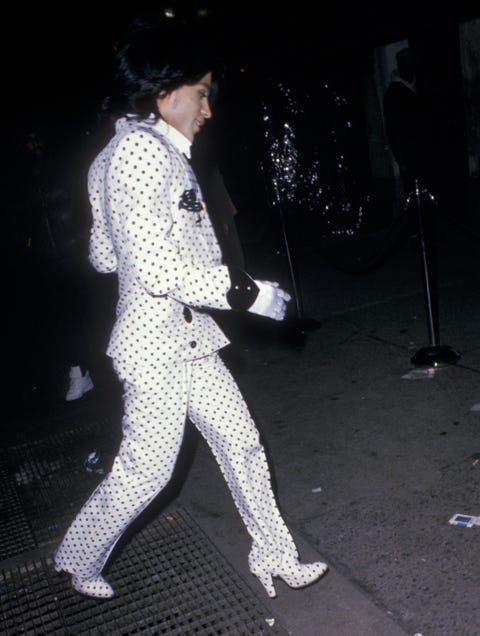 1988
Prince slaying in head-to-toe polka dots, including custom high-waisted suit and pointed heels.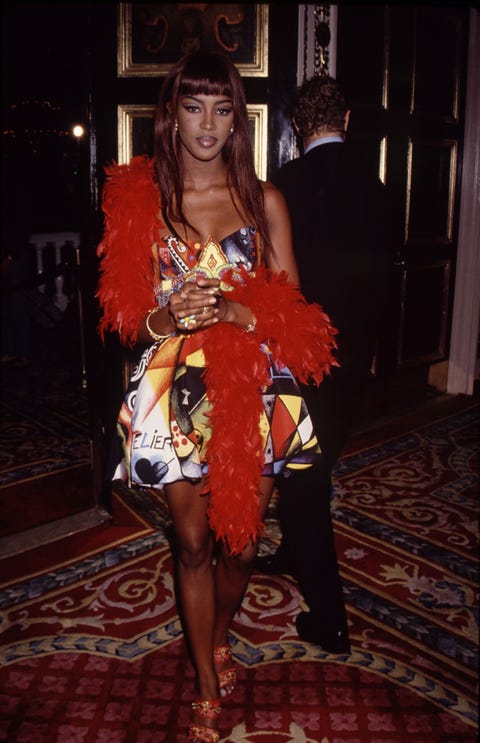 1991
Naomi Campbell strutting into the Grammy Awards wearing a mini dress inspired by a deck-of-cards and a fluffy red boa on top.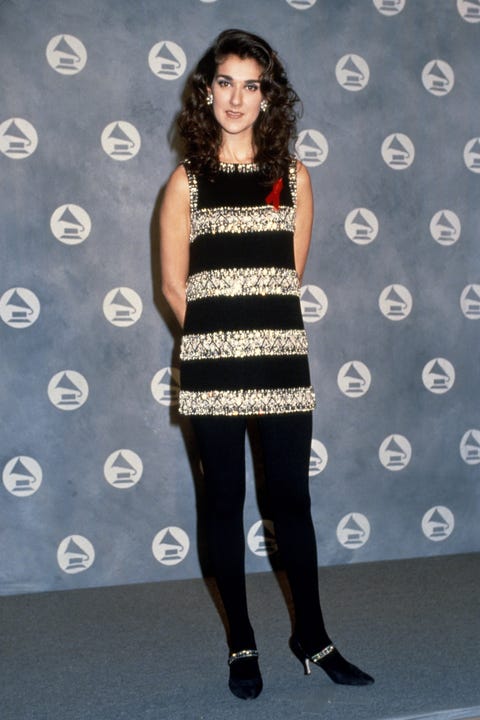 1992
Where do we begin with a 1992 Celine Dion? The mules are fabulous, and so is this dress with tights—a rarity on the red carpet.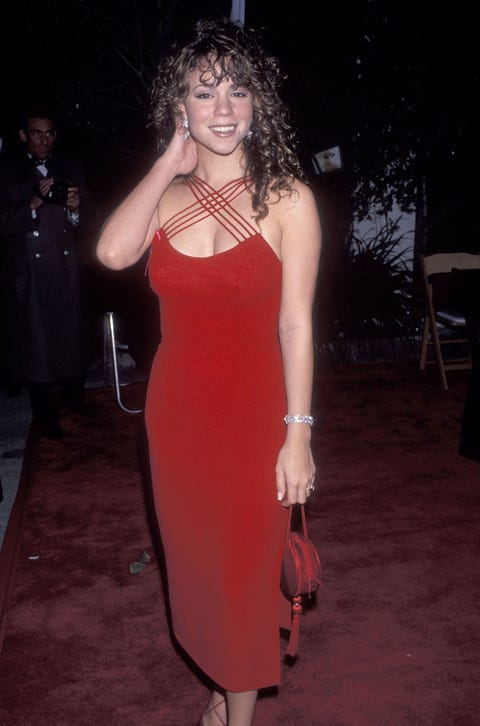 1993
In case you ever doubted that Mariah Carey was the O.G. goddess of music events, refer to this vintage photo of her in a stunning scarlet gown.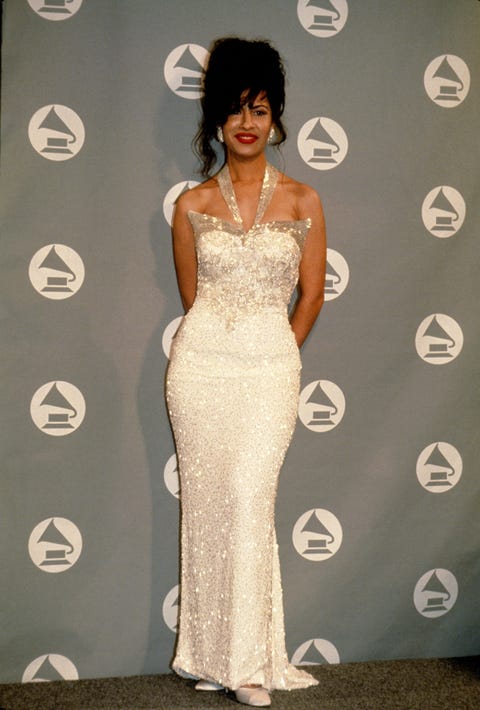 1994
Selena, the picture of red-carpet glamour, arrived at the Grammy's wearing a sparkly white halter dress, a bouffant, and her signature red lip.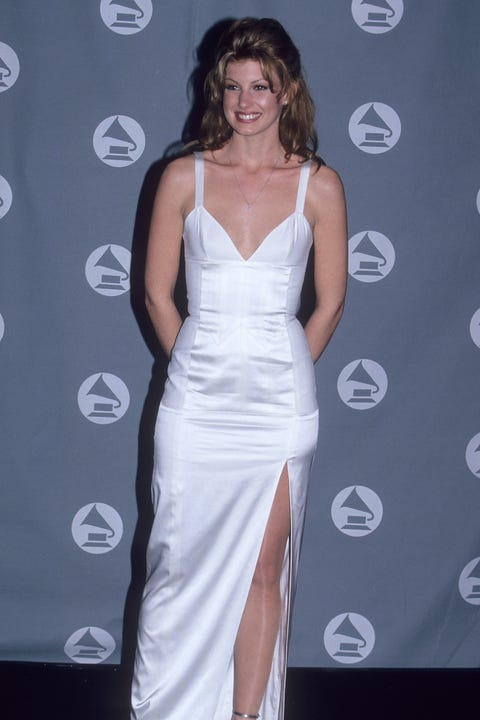 1995
Faith Hill looking like a vision in white with a plunging slit. Would totally wear this dress today.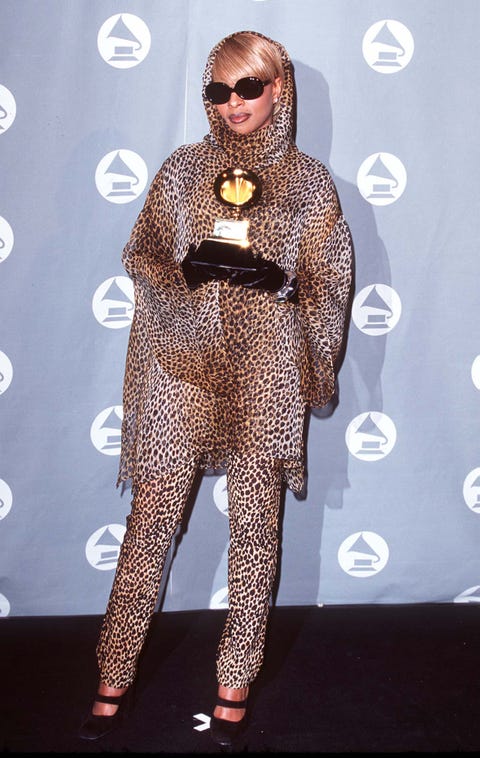 Steve Granitz
Getty Images
1996
Mary J. Blige in head-to-toe leopard print, black gloves, and sunglasses inside? Icon.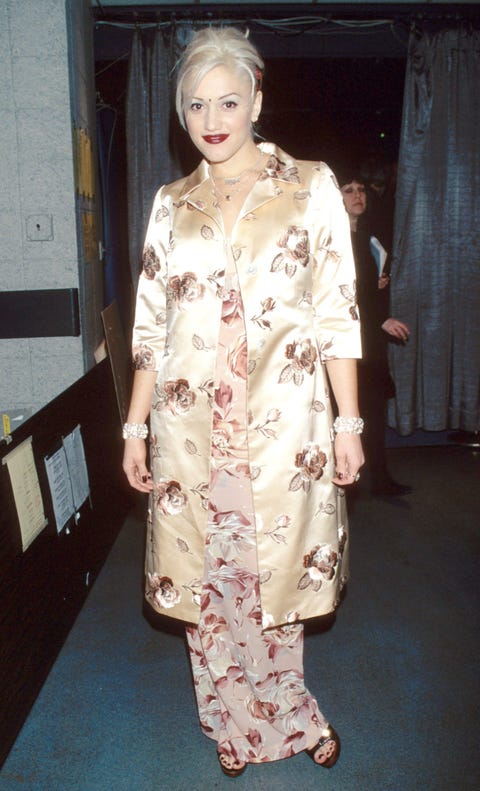 1997
Gwen Stefani opted for a silk jacket and a floor-length floral gown.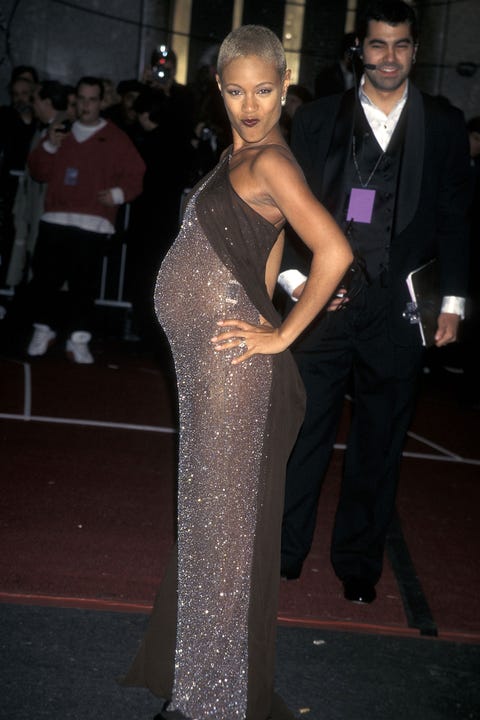 Ron Galella, Ltd.
Getty Images
1998
Not sure who's more of a mood: a pregnant Jada Pinkett Smith in this very sheer, sparkly dress, or the guy behind her.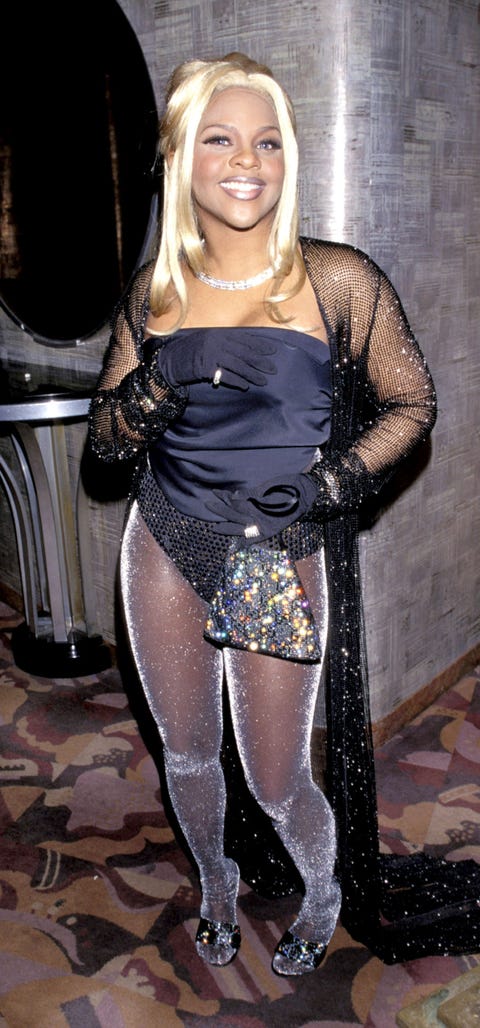 1998
Lil' Kim wearing sheer (sparkly) tights and an equally sheer (sparkly) wrap over her bodysuit.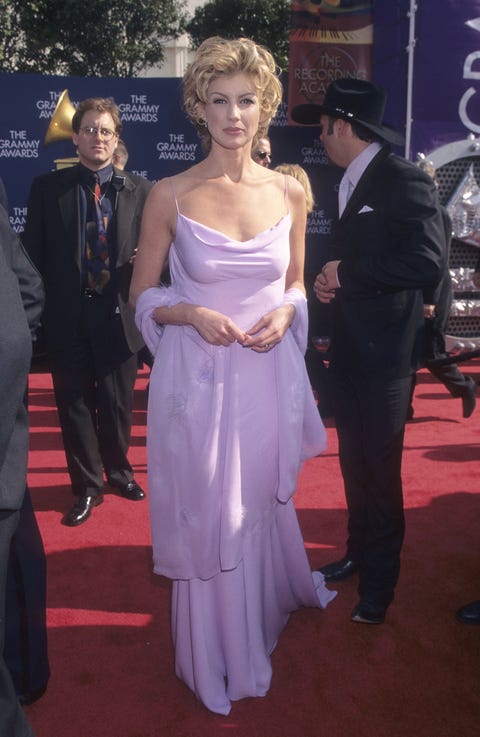 1999
Faith Hill looking like a'90s princess (the same year Gwyneth Paltrow wore that powder-pink dress at the Oscars).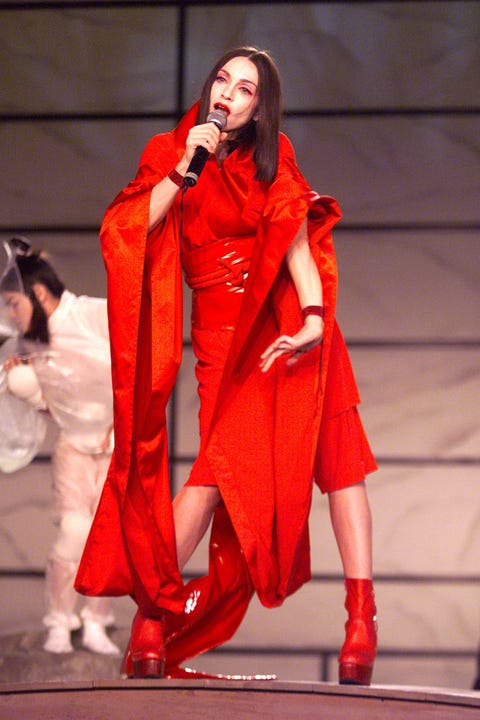 1999
Madonna wearing a Kabuki-like red frock to perform "Nothing Really Matters."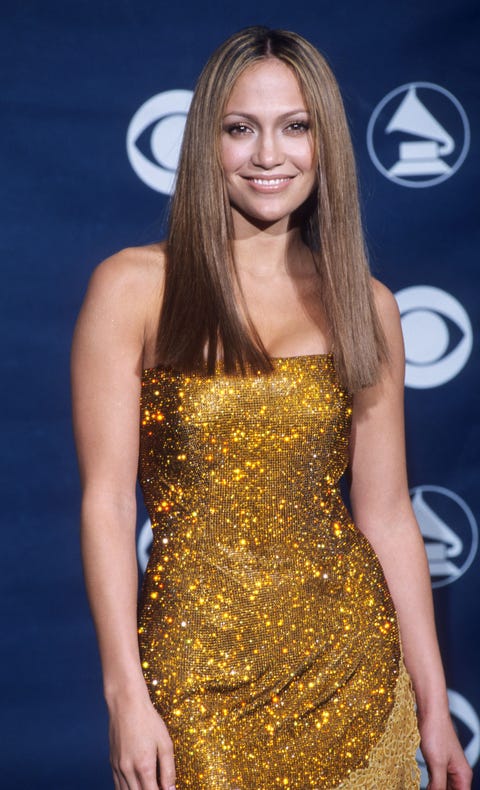 1999
J.Lo wore a dazzling sparkly gold mini dress, which was a pre-cursor to her big fashion moment ahead (see: 2000).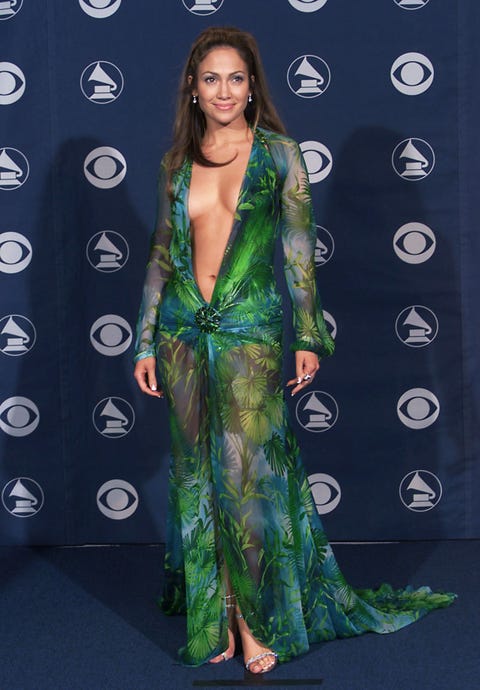 2000
Arguably the most iconic Grammy's dress of all time (of all time!), J.Lo wore a pluuunging, sheer Versace dress and lots of double-sided tape...probably.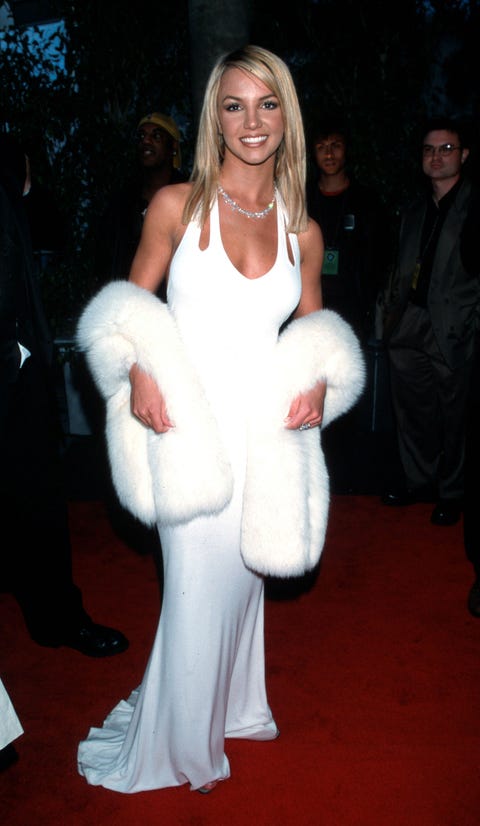 2000
Britney Spears going for va-va-voom Marilyn Monroe glamour in this all-white combination. It's almost as iconic as her Canadian tuxedo collaboration with Justin Timberlake at the American Music Awards.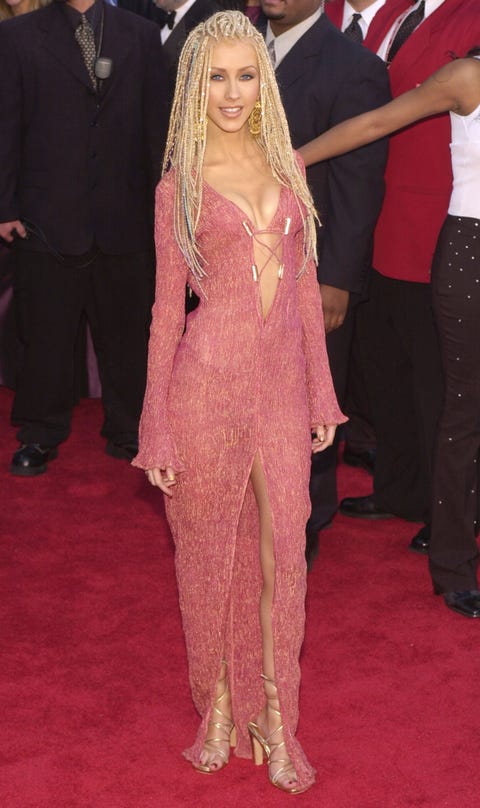 2001
One of Christina Aguilera's riskiest and most controversial red-carpet fashion moments came in 2001 when she wore cornrows and what looks like a sheer beach cover-up.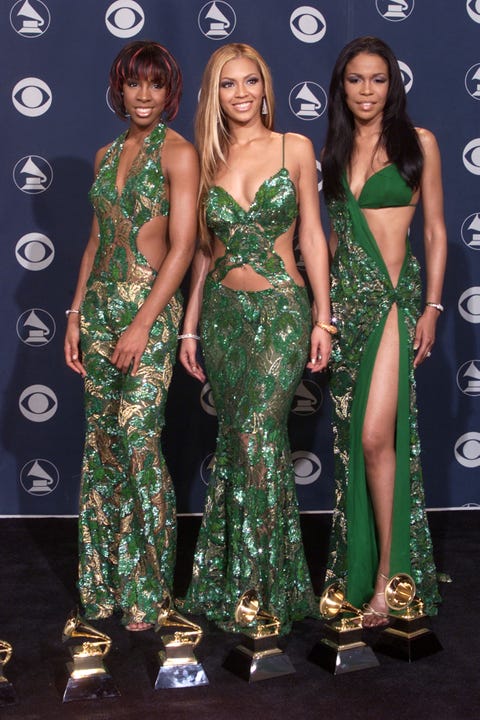 2001
Destiny's Child channeling Eve in the Garden of Eden.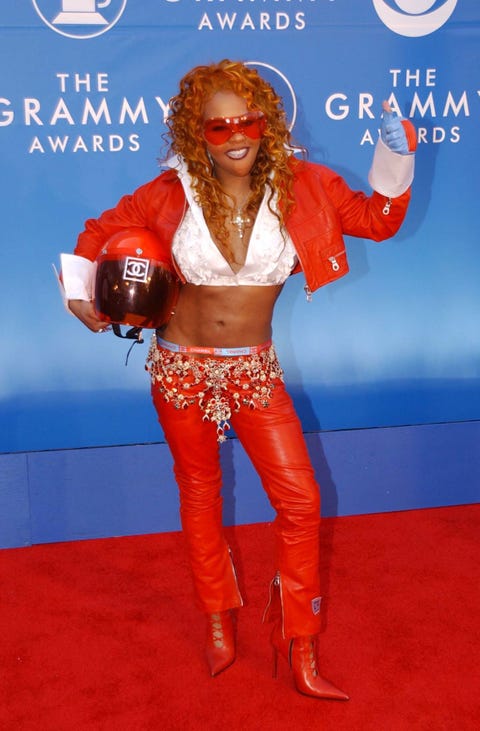 2002
Never one to wear anything close to boring, Lil' Kim rolled up to the red carpet in leather pants, a bikini top, and matching red shades. #Hero.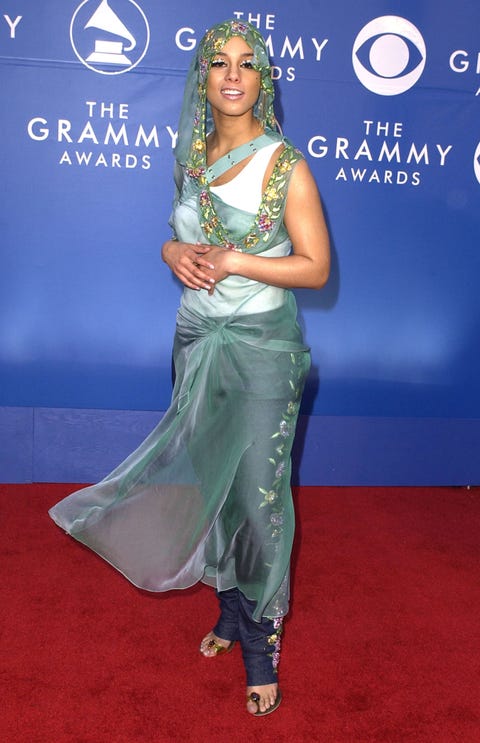 2002
That one time brave soul Alicia Keys tried to make rainbow lashes and a sparkly hooded dress/jeans/tee combo work. (We still love her, though.)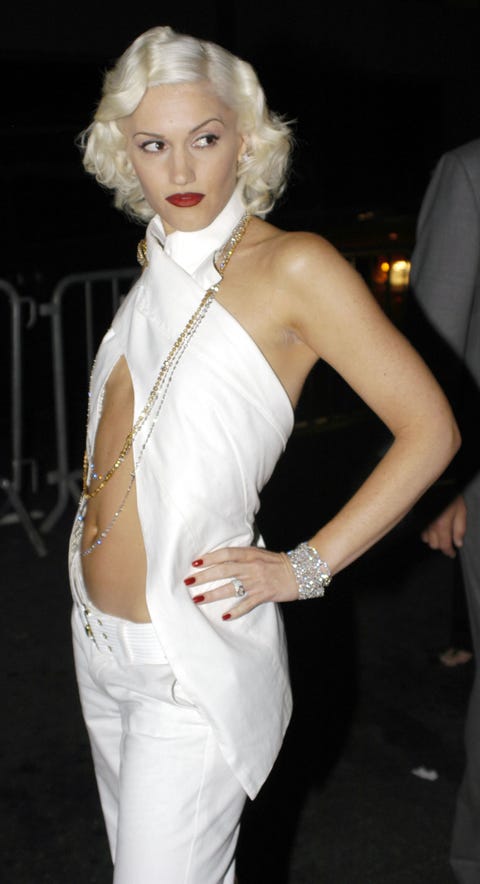 2003
Gwen Stefani looks every bit of a modern version of Jean Harlow (whom she played in 2004's The Aviator) in a skin-baring white getup and white-blonde pin curls.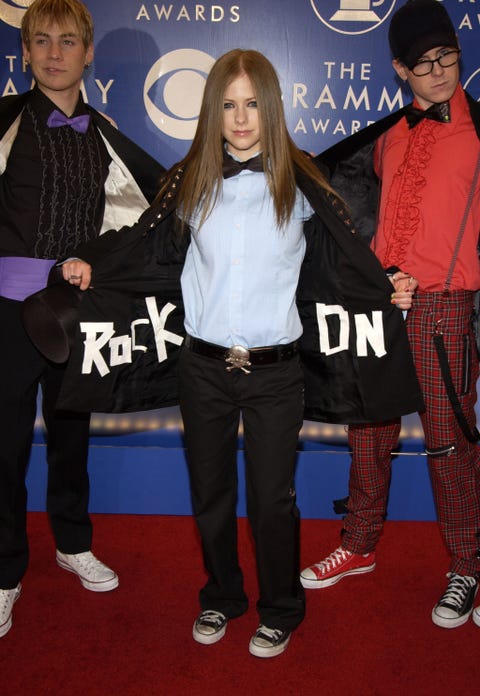 2003
Avril Lavigne giving the middle finger to gender norms in a full-on suit (top hat not pictured), but like, the Hot Topic version. Note that she has coordinated Converses with her entire crew.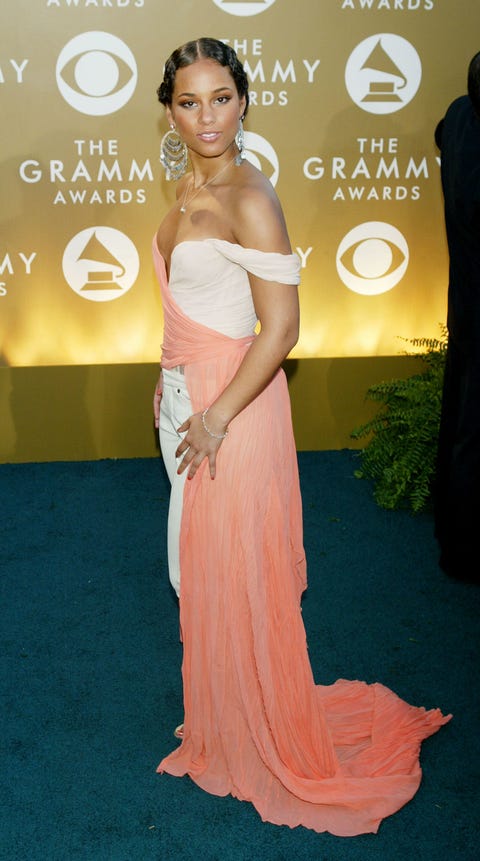 2004
Alicia Keys looking stunning in a two-tone peach gown.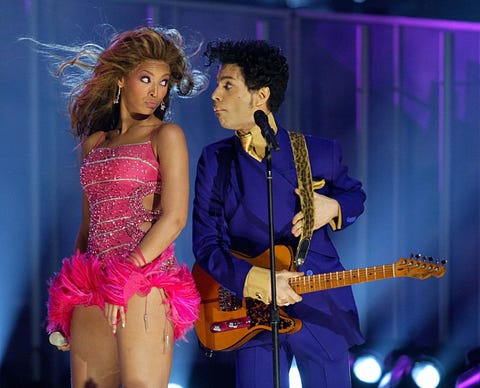 2004
Dream team Beyoncé and Prince performing "Purple Rain" and "Crazy in Love" was a spectacle...and not just for the musical collaboration.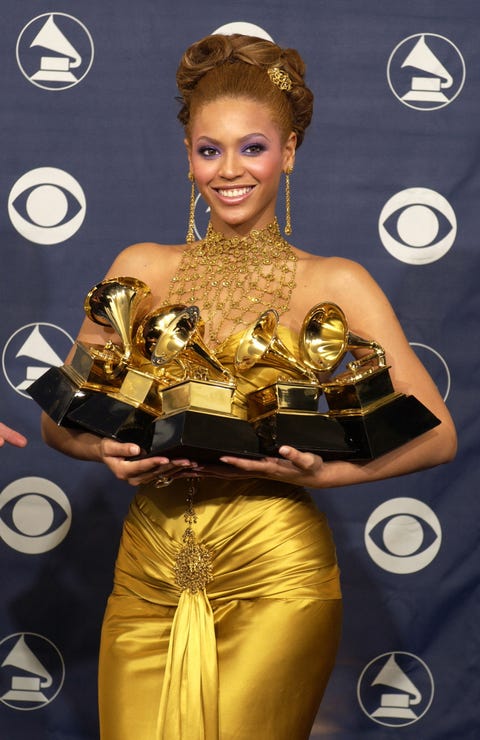 2004
That super relatable moment when your gold dress perfectly matches your four trophies.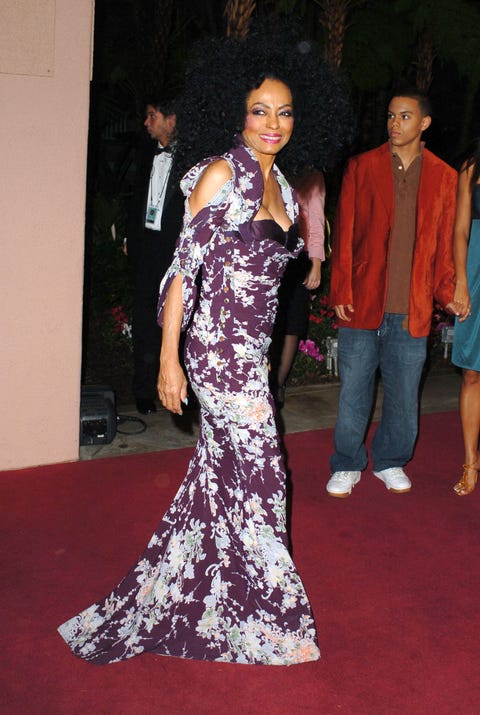 2005
Diana Ross wows in head-to-toe florals at Clive Davis' pre-Grammy Awards party.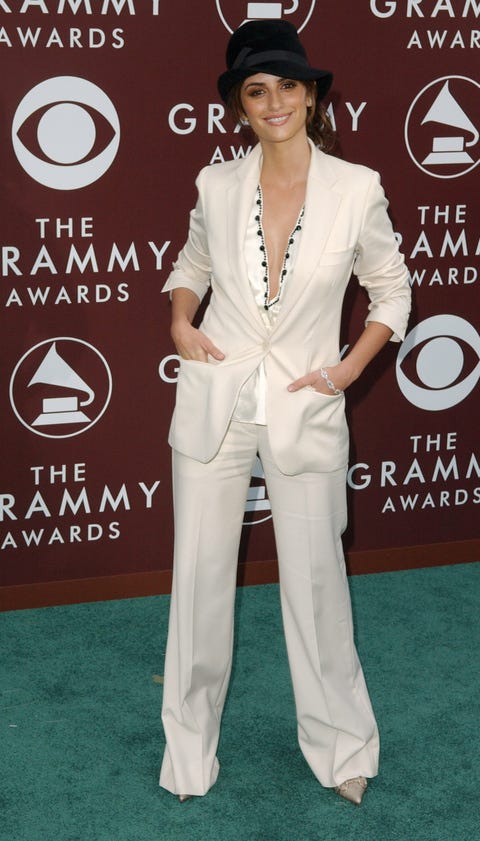 2005
Nobody rocks a fedora better than Penélope Cruz on the 2005 red carpet.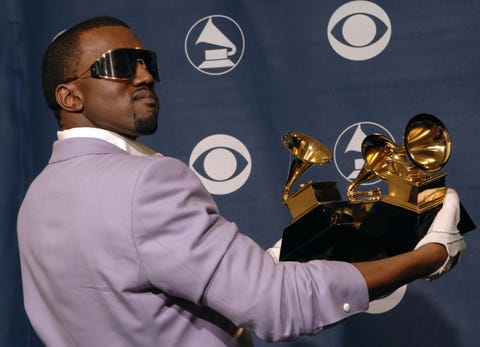 2006
Kanye, still in his aggressive sunglasses and white gloves phase, put the stuffy tuxedo in its place with this lilac number (note: with the sleeves rolled up).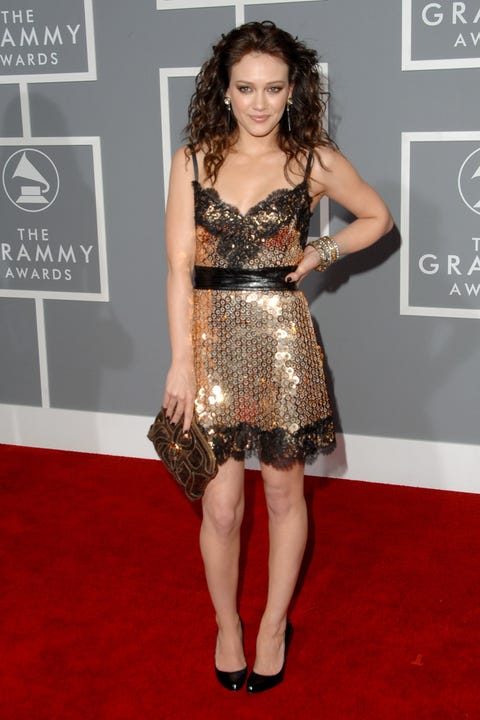 2007
Pictured: Isabella Hilary Duff in this amazing sequined slip dress. Paolo, where you at?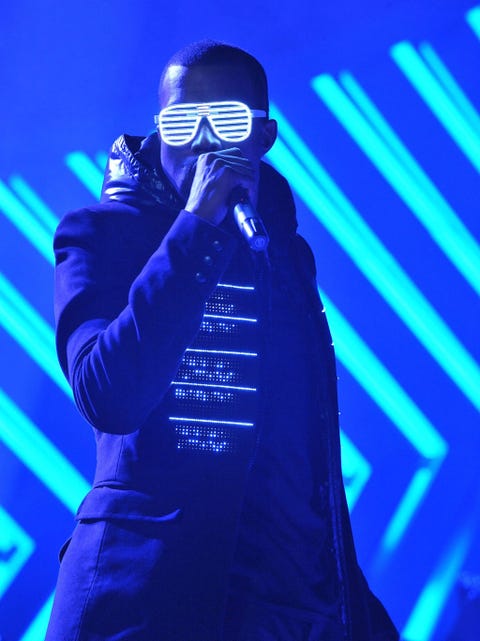 2008
The year Kanye made those glow-in-the-dark shutter shades a thing. R.I.P.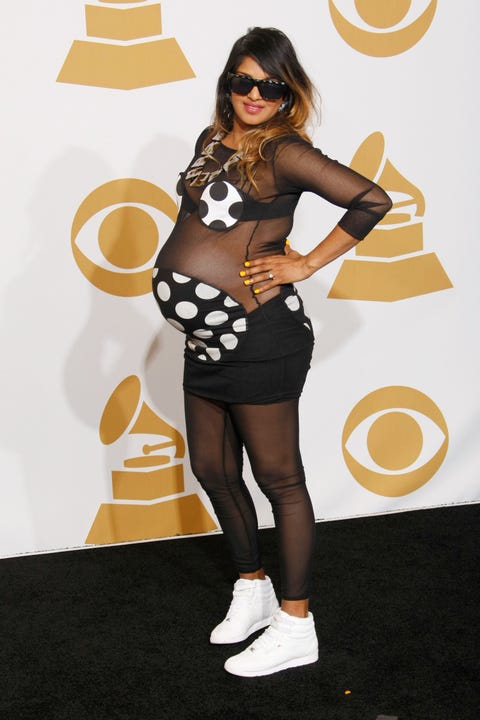 2009
A very pregnant M.I.A. arrived at the awards show in this crazy-but-fabulous sheer polka-dot outfit that drew attention straight to her bump.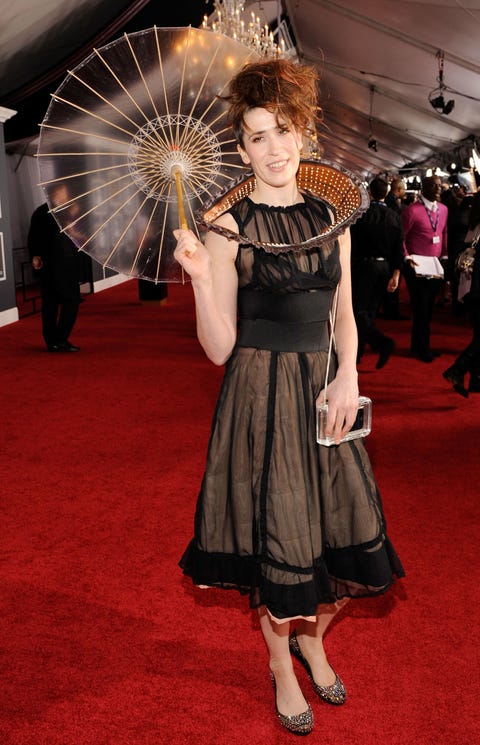 2010
Imogen Heap carrying an actual parasol, My Fair Lady–style, and wearing an oversized collar (???) on the red carpet.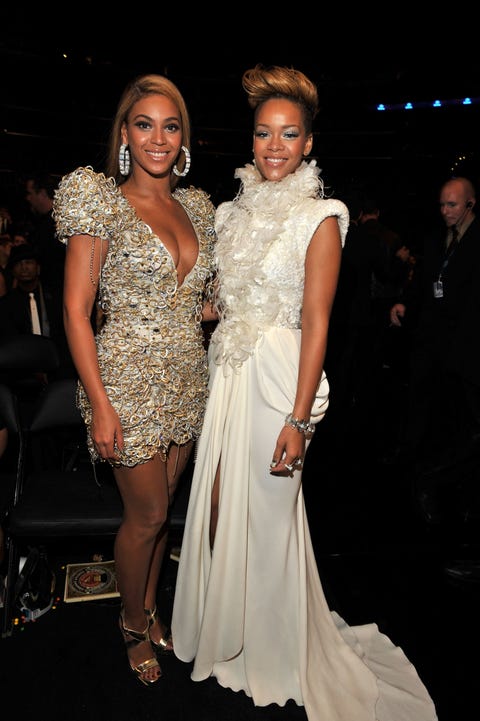 2010
The two queens of R&B in one place: Beyoncé wearing a sequined mini-dress and Rihanna in a modern Elizabethan gown (white ruffled collar included).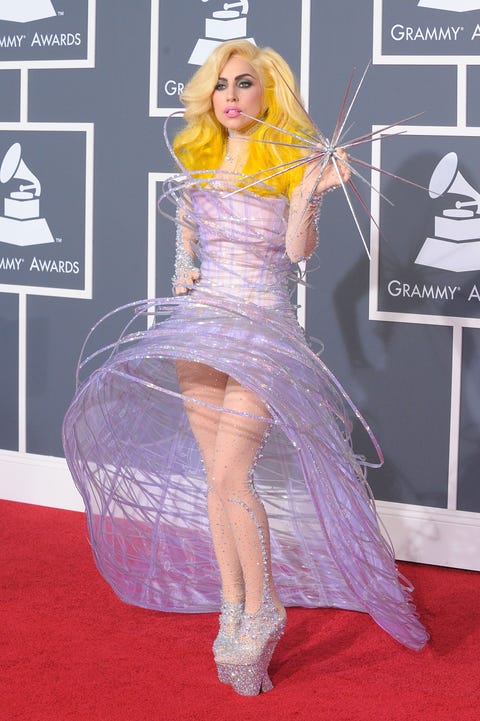 2010
Just one of Lady Gaga's many iconic red carpet moments wearing a larger-than-life dress that looks like it's spun from fairy dust.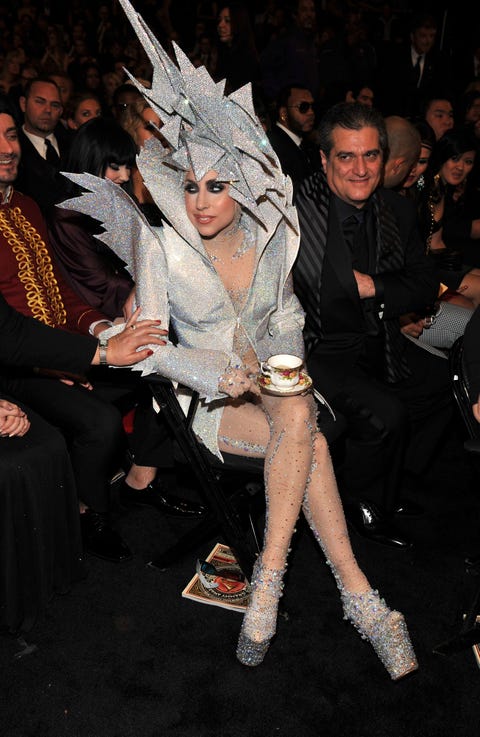 2010
And inside the actual show itself, Gaga donned a futuristic 3-D metallic creation that resembles a rare Pokémon in the wild.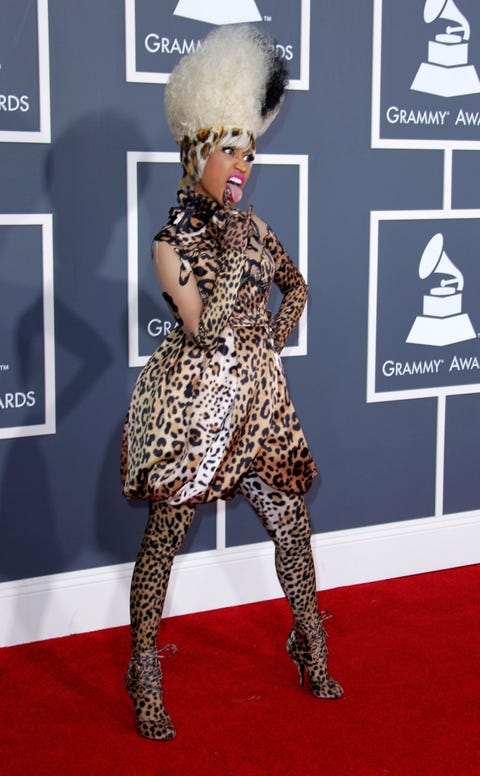 2011
Queen Nicki showing her wild side in a head-to-toe animal print lewk.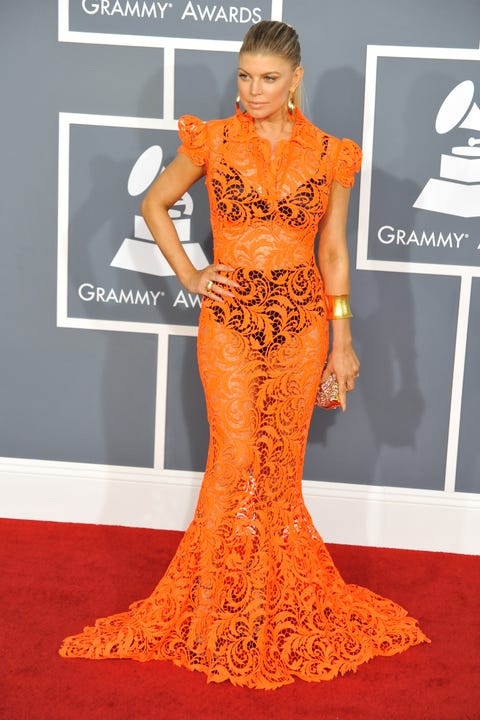 Frank Trapper
Getty Images
2012
Nobody pulls off a orange cut-out lace dress better than Fergie. The gold hoops and bracelet complete the (very naked) look.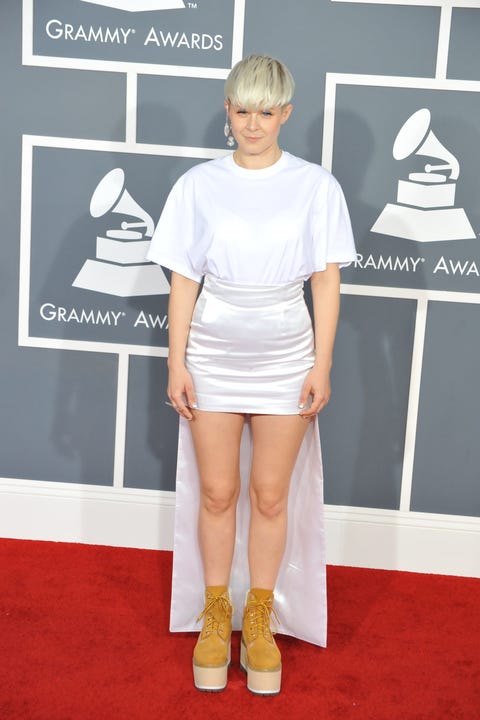 Frank Trapper
Getty Images
2012
Robyn wasn't messing around in these platforms.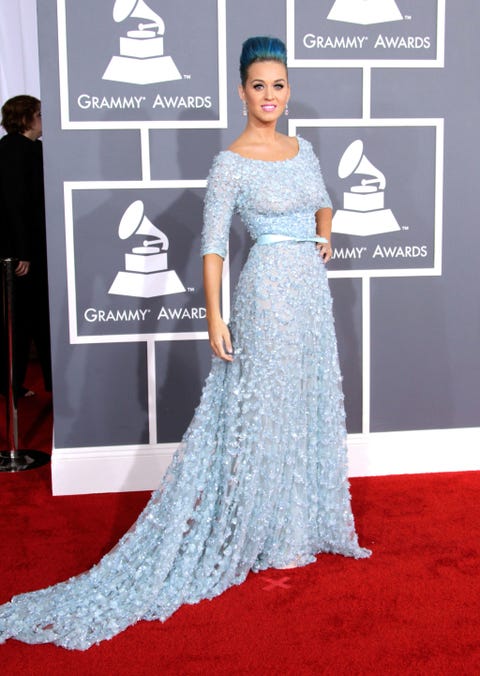 2012
Katy Perry's never one to shy away from color, but it's a treat to see her wearing this classic Elie Saab gown with aqua-blue hair.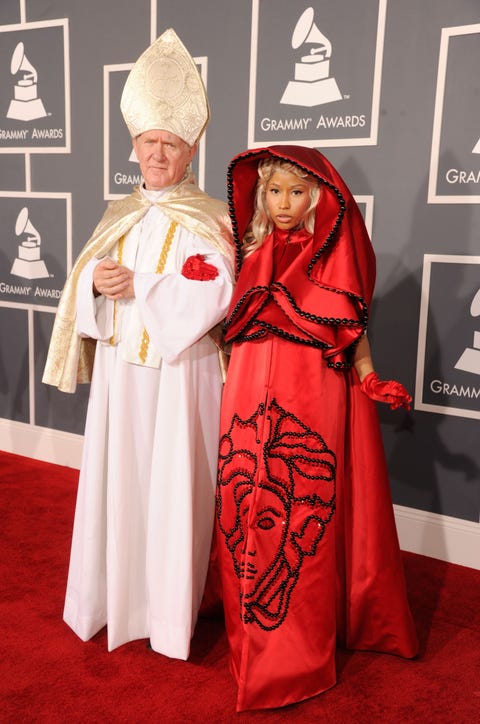 2012
Nicki Minaj playing up the theatrics on the red carpet by bringing a replica of the Pope as her date and wearing a hooded scarlet robe.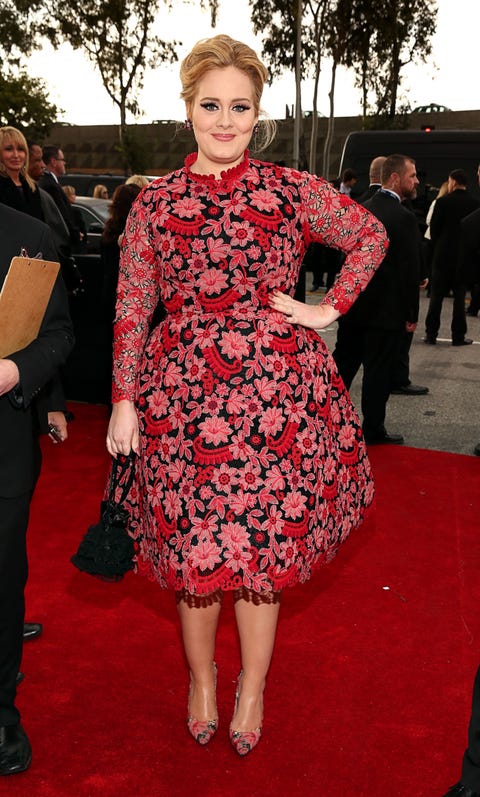 2013
Adele opts for classic ensembles over wild get-ups, so this colorful bloom of poppies (and matching shoes!) by Valentino makes perfect sense.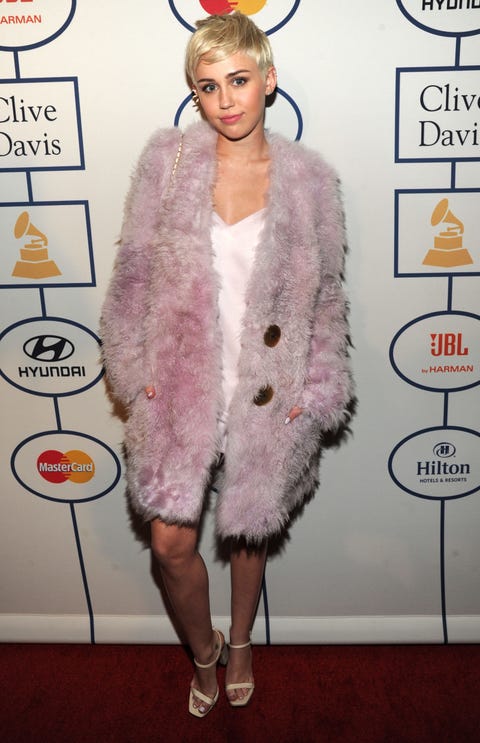 2014
What's more comfortable than a baby pink shearling coat? Exactly. Thank you, Miley.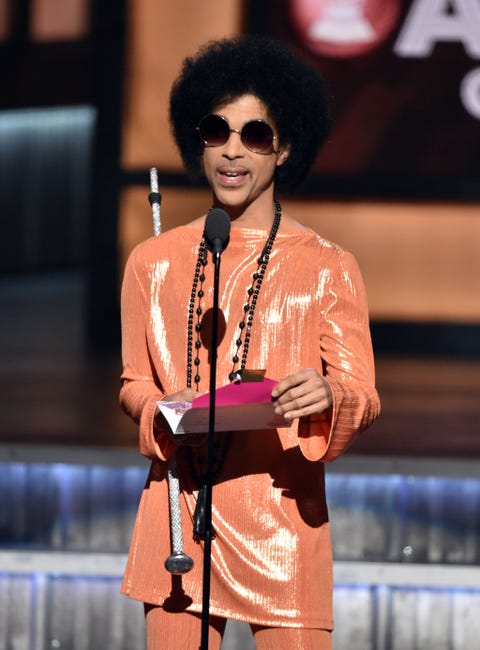 2015
That time Prince wasn't even performing and stole the entire show with sparkly tangerine separates, bug-eye shades, and a "don't play" attitude that launched a thousand Internet memes.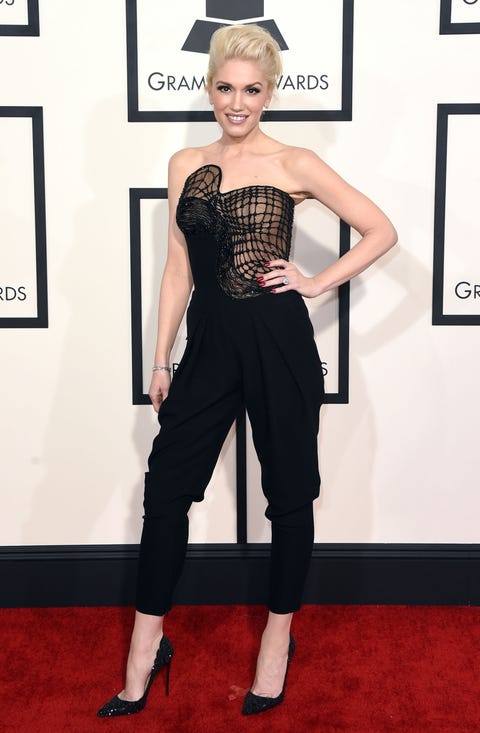 2015
Nobody wears a pantsuit quite like Gwen Stefani, and this architectural corset version is a winner.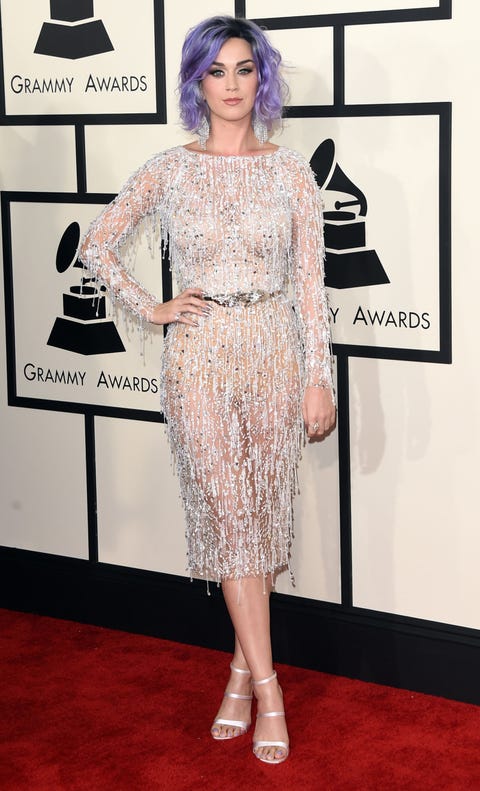 2015
Katy Perry rockin' lilac hair and a sparkly naked dress.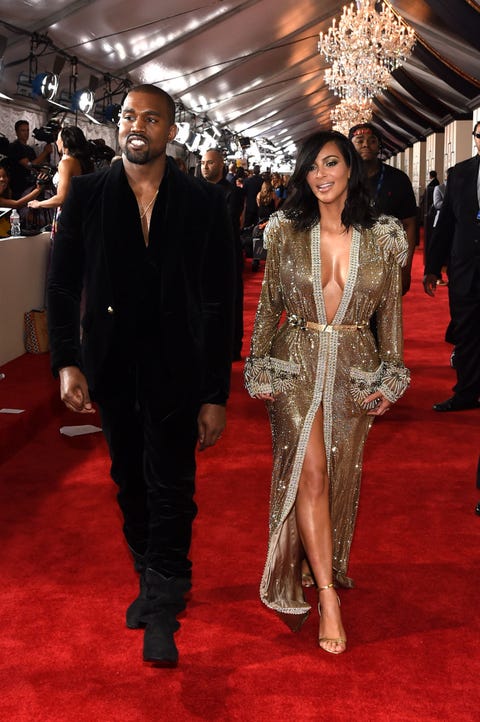 2015
Newly-minted couple Kanye (who's shed his colorful suits for all-black) and a sophisticated Kim K. in Jean Paul Gaultier Couture.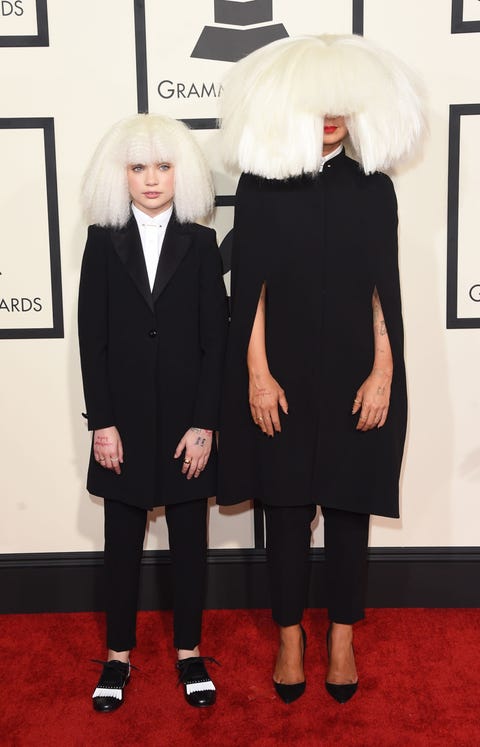 2015
In a classic Sia move, she brought her mini-me Maddie Ziegler to the Grammys. Both wore their signature white cropped wigs.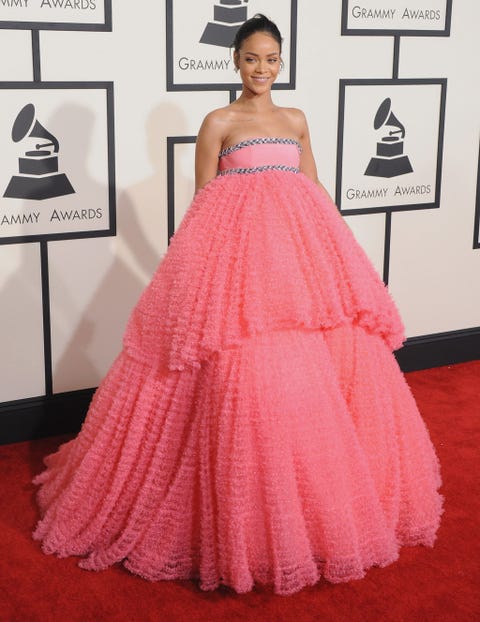 2015
The year we forgot everything else but Rihanna wearing this stunning Giambattista Valli confection.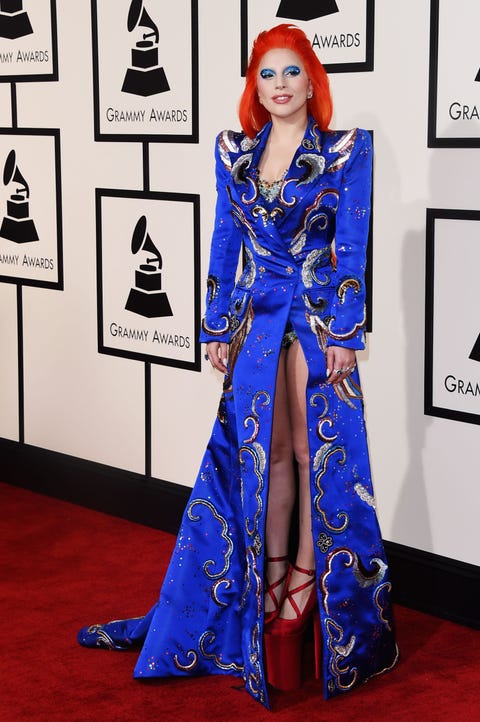 2016
Lady Gaga received some push-back for this interpretation of Ziggy Stardust (in preparation for her performance of several David Bowie songs), but we think her red carpet tribute to the late singer was spot-on.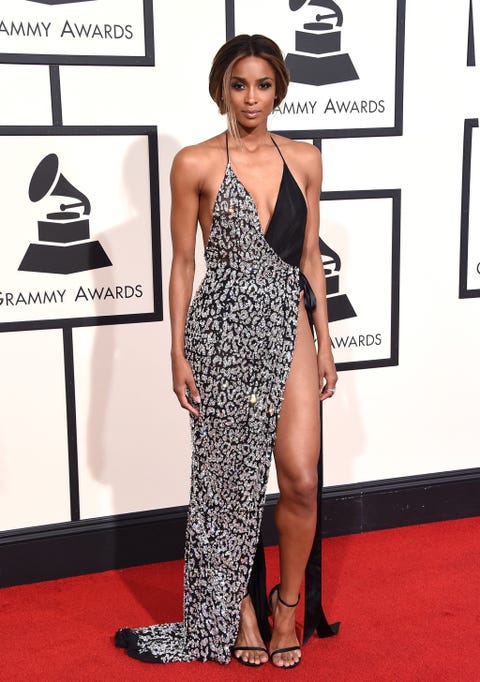 2016
Ciara slayed in this almost-naked, super-high-slit number by Alexandre Vauthier Haute Couture.
This content is created and maintained by a third party, and imported onto this page to help users provide their email addresses. You may be able to find more information about this and similar content at piano.io