Kevin Spacey Has Officially Been Fired from 'House of Cards,' and Netflix Might Kill Off Frank Underwood
Netflix severed ties with the actor after he was accused of multiple counts of sexual abuse.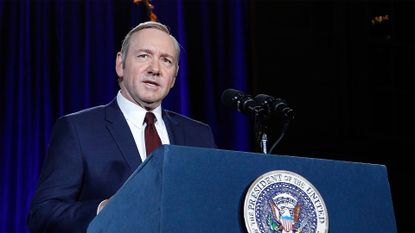 (Image credit: Getty Images)
Netflix swiftly responded to the multiple allegations of sexual harassment and assault by House of Cards star Kevin Spacey, announcing first that the show would end after its upcoming sixth season, and then suspending production of said final season. The streaming service also announced Friday that it was officially severing ties with the actor, saying in a statement that it "will not be involved with any further production of House of Cards that includes Kevin Spacey."
So if House of Cards wants to make that final season, they've got to get rid of Spacey. The show's producers are considering a fairly straightforward route— killing off his character, the scheming Frank Underwood. According to Variety:
Giving Frank Underwood the Donna treatment seems like the best move here, allowing the show to keep those 300 jobs, ditch Spacey, and give the world what it really wants: a show about President Claire Underwood.
Spacey, meanwhile, is under investigation by the Scotland Yard over allegations that sexually assaulted a young actor while working as the artistic director of London's Old Vic theater.