The Tony Awards Were an Incredible Night for Women on Broadway
"Fun Home," the night's big winner, is the first Broadway musical with a lesbian main character. Ever.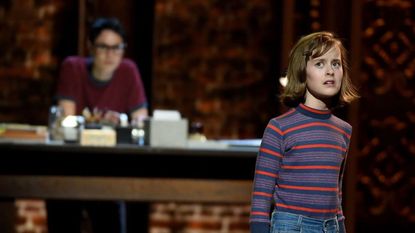 (Image credit: Archives)
The Tonys are always a fun time, but this year's awards were extra special thanks (in addition to Alan Cumming and Kristin Chenoweth's hosting prowess) to the female-dominated list of winners. Last night's victors proved this was definitely the year of women on Broadway. Finally!
The big winner of the night was Fun Home, which took home the prize for Best Musical. The show is based on the graphic memoir by Alison Bechdel (opens in new tab) (of the Bechdel Test (opens in new tab) fame); the book tells her story of growing up with a closeted gay father, who commits suicide shortly after Bechdel comes out herself. The Hollywood Reporter (opens in new tab) notes that it's the first Broadway musical (ever!) with a lesbian main character. The musical also hit a feminist milestone, since Lisa Kron and Jeanine Tesori were the first ever all-female writing team to win Best Original Score. "If we can be the image for young girls to say, 'What did they win for? Who is that?' like I did, that will start it," Kron told press backstage (opens in new tab) after their big win.
And it wasn't just musicals that had a female-dominated winners' list. Marianne Elliott took home Best Direction of a Play for The Curious Incident of the Dog in the Night-Time, and agreed that visibility for people like her will help younger girls. "When I was growing up, I didn't know any female directors, I assumed you had to be a man," she said (opens in new tab) backstage.
One power woman in particular is even closer to a rare honor: the EGOT. Yes, the eternally fabulous Helen Mirren nabbed her first Tony for playing Queen Elizabeth in The Audience. All she needs now is the "G." "I really want a Grammy!" she joked (opens in new tab) after her win. "It's terrible, isn't it? I have to do an audio book of some sort!" So. Much. Yes.
Megan Friedman is the former managing editor of the Newsroom at Hearst. She's worked at NBC and Time, and is a graduate of Northwestern's Medill School of Journalism.