We Now Live in a World Where There Is a Taco Emoji
Go forth and taco.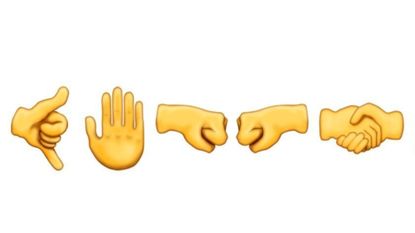 (Image credit: Marie Claire)
Update, 10/21: With the arrival of iOS 9.1 come 150 new emoji, including the burrito, cheese, champagne bottle, popcorn, AND TACO. Here's what they look like.
TACO TACO TACO TACO. Imagine that in emoji. You can do that now. Use responsibly.
Original story, 8/22: With emojis becoming almost more commonplace than actual words, it only seems right that new icons be added to the current collection. While 😻, 🙌 , and 🙊 are great, a whole new world of characters awaits us—one that includes an avocado and an owl.
Unicode Consortium, the company responsible for emoji standardization, is now looking at 38 new candidates to be approved for a "mid-2016" release. And. We. Can't. Wait.
Below, a look at some of your soon-to-be favorites—as imagined by Emojipedia:
The bride marries her groom.
Santa Clause meets Mrs. Clause.
The princess finds her prince.
Faces: cowboy, clown, nauseated, ROFL face, drooling, lying, selfie, face palm and shrug.
Hand gestures: "call me" hand, raised back of hand, left-facing fist, right-facing fist, handshake and crossed fingers.
Celebrity news, beauty, fashion advice, and fascinating features, delivered straight to your inbox!