Pink Penned the Most Powerful Letter in Response to the Grammy President Saying Women Need to "Step Up"
👏👏👏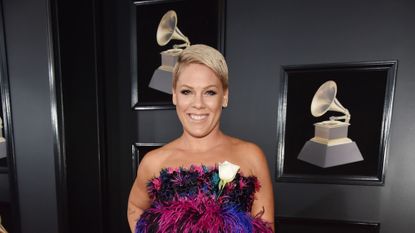 (Image credit: Getty Images)
Pink had some choice words for Neil Portnow, president of the Recording Academy. In a handwritten letter, she responded to his seemingly regressive comments about women in the music industry needing to "step up" to win more awards. (Reminder: Only one of nine main honors was presented to a woman at the Grammys this Sunday.)
This was her response:
"Women in music don't need to 'step up'—women have been stepping since the beginning of time. Stepping up, and also stepping aside women OWNED music this year. They've been KILLING IT. And every year before this. When we celebrate and honor that talent and accomplishments of women, and how much women STEP UP every year, against all odds, we show the next generation of women and girls and boys and men what it means to be equal, and what it looks like to be fair."
Pink's inspirational message has led other celebrities like Katy Perry and Iggy Azalea to chime in on the matter.
👏🏻👏🏻👏🏻 Another powerful woman, leading by example. We ALL have a responsibility to call out the absurd lack of equality everywhere we see it. I'm proud of ALL the women making incredible art in the face of continual resistance. ✊🏻P.s VH1 Divas Live. https://t.co/RDmB7zRfIdJanuary 30, 2018
See more
Neil's comment was absurd. Female artists came HARD in 2017. But the nominees are selected by peers and their opinion of the music. Which means it's a conversation about the standards of which the ENTIRE INDUSTRY expects women to uphold.January 30, 2018
See more
So 1 woman won a Grammy last night. The head of the Recording Academy president Neil Portnow said that women need to "step up." Seems to me there are systemic barriers. See research from @Inclusionists It's not on the women. It's on the industry. https://t.co/IHvxBpYW0DJanuary 29, 2018
See more
May this be a lesson to Mr. Portnow. Get it ladies!
RELATED STORY
I'm currently working at Dotdash Meredith as the Celeb & Entertainment E-Commerce Lead contributing affiliate content for People.com and InStyle.com. I'm basically like your personal shopper, from writing about that cozy loungewear set you didn't know you needed to keeping tabs on the best sales and deals on the internet. I'm also a pro at finding affordable dupes for celebrity looks and I love to dig into the data to strategize content opportunities.