Why She's Suing Fox News
Andrea Tantaros brought a $49 million suit against Fox News, Roger Ailes, and some of his lieutenants, alleging that the company was run like the Playboy Mansion, not a newsroom. Here, she reveals her full story.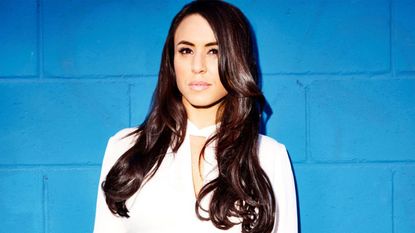 (Image credit: Archives)
One evening this past April, Andrea Tantaros returned to her Manhattan apartment from a yoga class and picked out a series of outfits for the week ahead. It was an auspicious moment: The next day, Tantaros, a cohost of the popular Fox News show Outnumbered, would launch her debut book, a polemic about feminism called Tied Up in Knots. She was set to promote it in the morning on Fox & Friends. While sitting in her kitchen, reviewing the schedule for her upcoming book tour, she received a copy of a letter from Dianne Brandi, the general counsel of Fox News. It said that effective immediately Tantaros would no longer be allowed on any of Fox's shows—including her own. Though Tantaros would still receive her salary, Brandi said, she was henceforth "barred from entering Fox News's premises anywhere in the world."
Tantaros was devastated. The thirty-seven-year-old had spent years working her way up the ranks at Fox, from unpaid contributor to political analyst to host. Now the network for which she'd sacrificed so much was sidelining her indefinitely. According to the letter, Tantaros's banishment was a response to her failure to secure the proper approvals for Tied Up in Knots, whose cover showed her bound with ropes. Tantaros had known for several weeks that executives at the network found some aspects of the book, including the cover, objectionable. But as she sat on her kitchen stool, paralyzed from shock, she became convinced that the punishment had little to do with her book at all.
A little more than a year earlier, Tantaros had accused Roger Ailes, the all-powerful head of the nation's most popular cable news network, of several incidents of sexual harassment. Two months before she received Brandi's letter, she had also accused four on-air personalities, including Bill O'Reilly and former Massachusetts senator Scott Brown, of similar incidents. All of the men involved had denied the accusations, but Tantaros had no doubt that she was being benched as retaliation for her complaints.
Though Tantaros's disappearance from Fox was noticed by a few industry observers, for the most part her absence was a blip in the overheated world of New York media. Within months, however, it would become a part of one of the year's biggest business stories. In July, Gretchen Carlson, who'd also been a cohost at Fox News, rattled the network, the most profitable division of Rupert Murdoch's multibillion-dollar media empire, by filing a sexual-harassment lawsuit against Ailes. The suit spurred a confidential internal investigation—during which, according to news accounts, at least six other women stepped forward with accusations against the company's CEO—and ultimately led to a $20 million settlement that included an unprecedented public apology from Fox.
In August, Tantaros filed her own sexual-harassment suit, in New York state court. Like Carlson, she accused Ailes, who'd left Fox four weeks earlier, of harassment. But Tantaros was the first to bring a harassment case while still on the payroll. Significantly, she also accused Bill Shine, Suzanne Scott, Irena Briganti, and Brandi, all top Fox executives, along with the company itself, of tolerating Ailes's harassment and retaliating against her for her complaints. "Fox News operates as a dictatorship," Tantaros told me recently, in her first extended interview since filing the $49 million suit. At the same time, she said, "Ailes couldn't act by himself. He needed lieutenants. He needed a regime. And so they carried out his orders. They covered up his grotesque misdeeds."
In her complaint, Tantaros claims that while Fox "masquerades as defender of traditional family values," the network operated behind the scenes "like a sex-fueled, Playboy Mansion–like cult, steeped in intimidation, indecency, and misogyny." Certainly some of the recent allegations against Ailes, if true, support that characterization. In July, Gabriel Sherman reported in New York that a Fox booker named Laurie Luhn had been harassed by Ailes for more than twenty years. Luhn, who settled her harassment claims against Ailes for $3.15 million in 2011, told Sherman that Ailes had filmed her dancing in a garter belt and stockings one night in 1991. Ailes allegedly told Luhn that he would keep the videotape in a safe-deposit box, "just so we understand each other." For the better part of the next two decades, Sherman reported, Luhn "regularly met Ailes in hotels for sexual encounters." (After Sherman's article was published, Ailes's lawyer told People that her client had denied Luhn's claims in 2011 "and he denies them now.")
Tantaros's allegations against Ailes and the others are not like Luhn's. She insists that she rebuffed every advance that came her way—one reason, no doubt, that the incidents she describes in her complaint include no grimy wads of cash, no off-the-book hotel rooms, no graphic scenes of sexual coercion. And yet in some ways it is the casual, workaday nature of the harassment Tantaros alleges that makes it so unsettling. Her complaint describes a "pervasive atmosphere of sexual harassment of female employees that was tolerated and condoned under Ailes's leadership generally."
Andrea Tantaros has never been counted among the top tier of Fox talent. Even at the peak of her career, she had neither the profile nor the clout of a Megyn Kelly or a Bill O'Reilly. But as Sean Hannity said in a 2013 interview, for a time at the network she "stood out as a rising bright young smart conservative star."
She caught her break in 2011, on a Fox News panel-discussion show called The Five. Modeled on ABC's The View, the show was originally meant to be a placeholder to fill the five-o'clock hour that Glenn Beck had vacated. It featured five cohosts riffing on the top stories of the day; anything from the political to the pedestrian was fair game. The show had a typically Foxian twist: Bob Beckel, a gruff and garrulous former campaign manager for Walter Mondale, was hired to hold his own among a quartet of conservatives. In The Loudest Voice in the Room, Sherman's biography of Ailes, he reports the recollection of a friend of the Fox News CEO, who said that Ailes had likened the show to an ensemble play. "He said, 'I wanted a Falstaff, and that's Bob Beckel. I need a leading man, and it's Eric Bolling. I need a serious lead, and that's Dana Perino. I need a court jester and it's Greg [Gutfeld], and I need the leg. That's Andrea Tantaros.' "
By the time Tantaros shot the pilot for The Five, she had been contributing to Fox News for four years. Her television career to that point had been somewhat desultory. While a student at Lehigh University, she had interned in the press office of Pat Buchanan's 2000 presidential campaign, and, later, worked as a deputy press secretary for Pat Toomey, a Republican congressman from Pennsylvania. In 2006, Tantaros says, she had a meeting with an executive at Fox who told her that she wasn't on-air material.
Despite this judgment, in 2007 a friend who worked as a producer at Fox invited Tantaros to do a segment for a show called Live Desk. At the time, she was working as a public-affairs consultant for large corporations and writing a column for the New York Daily News. The day after she appeared on television, Tantaros got a call from The O'Reilly Factor. From there she became a Fox regular. "That's kind of how it works," she told me. "You're on one show and other producers see you on air. If they like you, they'll call you and say, 'Hey, we'd love to have you.' "
Before long, Tantaros was appearing on cable TV sometimes two or three times a day, on MSNBC and CNN in addition to Fox. In 2008, a Fox executive told her that she was on air more than Karl Rove, and she heard that CNN was interested in hiring her. Still, she says, "I was not getting paid anywhere. No one had put a ring on it."
In 2009, Tantaros's father died, at sixty-five. A Greek immigrant who started a chain of Pennsylvania restaurants from nothing, Konstantinos Tantaros had a profound effect on his daughter's work ethic. While she and her three siblings were growing up in Allentown, Pennsylvania, she says, "he was working literally 6:00 a.m. to 11:00 p.m. seven days a week." When he died, she dealt with the heartbreak the best way she knew how. "I was grieving, but rather than stay home and cry, I wanted to work," she told me. "It was a good distraction. And it's exactly what my father would have wanted."
Tantaros's volunteer efforts at Fox finally paid off in 2010. Not long after she spent four straight hours on the air, helping an anchor spice up a midnight segment dedicated to a procedural vote on the Obamacare legislation, Ailes asked her for a meeting. "He said, 'You do great work for the channel,' " Tantaros recalls, "and literally the next day I got a contract from Fox."
Her exposure to Ailes was limited, but they spoke often enough that at one point he felt comfortable telling her that Gabriel Sherman, who was researching Ailes's biography at the time, had been visiting the small New York town where Ailes lived. According to Tantaros, Ailes told her that Sherman had been asking nosy questions, scaring his wife. Tantaros says that sympathy for Ailes, and the fact that she was still relatively new at Fox, prompted her to tweet—"naively," she now says—that Sherman was a "harasser."
When The Five came along in 2011, Fox offered her a contract, six figures a year for three years, to work full-time on the show. Tantaros says she chafed when she read that Ailes had described her as "the leg." ("I do have a brain and speak five languages," she told me.) But she also understood that "Foxified" hosts were part of what Fox News was selling its audience, an aesthetic she described as "a rainbow of women with big hair and lip gloss." She says she was not allowed to wear pants or knee-high boots on the air; on set, she was usually positioned to give the cameras a generous view of her crossed legs. Even so, Tantaros told me, working on The Five was "my dream job."
By the end of 2011, The Five was drawing more than a million and a half viewers, as many as Beck had attracted when he left the network six months earlier. By 2013 it was receiving the second-highest ratings at Fox News, after The O'Reilly Factor.
As a cohost, Tantaros had been given a burgundy-carpeted office on the seventeenth floor of Fox headquarters. There she kept a small library of foreign-policy books, as well as two racks of what she called her Fox uniform: color-coded tight-fitting dresses and high heels. Nevertheless, she says, even at the start there were some things that threw her off. Twice a year, Fox's wardrobe department held a trunk show with dresses from a variety of designers for its female on-air talent. "In front of a group of women, you are expected to completely disrobe," Tantaros says. "You have no privacy, and they make comments on, you know, your underwear set." She commiserated with some of the other women about the indignity of the event, but the competition for the best dresses kept them coming back.
From her experience with other networks, Tantaros knew that she was working in a competitive industry; even so, Fox stood out. "Not many people like each other at Fox," she told me. "They wanted to keep us constantly feeling destabilized, fighting each other."
As her situation at the network became more contentious, Tantaros suffered another family tragedy. Her younger brother, Dan, had been born with autism and cerebral palsy, and for years he'd suffered from a rare epileptic disorder. In August 2013, he suffered a fatal grand mal seizure.
Dan's death hit Tantaros hard. Her brother's disabilities had left him unable to talk, and growing up she had eagerly stepped into the role of his protector. When she was young, Tantaros and her family vacationed at the Jersey Shore. She remembers Dan running out into the ocean and drinking bellyfuls of salt water. "All the kids would stare," she said, but instead of becoming embarrassed she felt defensive. "I hate bullies," she told me. "I've been fighting them since I was little."
Much as she had after her father died, Tantaros quickly returned to work after Dan's death. The weeks and months that followed, she says, were a blur. "On TV, you cannot show up to work looking distraught or puffy-faced. You really have to pull it together. The grief didn't hit me until a couple of months later."
For all the pain that Tantaros had faced in 2013, professionally she was still on the rise. In January, she launched a nationally syndicated radio show, and in February the New York Observer called her "Fox's New 'It' Girl." In November, she submitted an outline to Fox management for what would become Tied Up in Knots, which takes contemporary feminism to task and argues for a separate-but-equal approach to addressing the gender divide. (HarperCollins, a division of the Murdoch-controlled News Corp, won a bidding war to publish it.) Meanwhile, The Five remained an enormous success.
In August 2014, Tantaros says, she was called into a meeting with Ailes. She told me that Ailes could be "very charming when he wants to be," and that he especially liked "to talk about his days on political campaigns, his days living at the Beverly Hills Hotel." At this meeting, however, he asked her personal questions and commented on her coworkers in ways that, according to her court complaint, seemed offensive and inappropriate. Then he asked her to "turn around so I can get a good look at you," a request that Ailes made so often, according to Tantaros, that Fox employees called it the Twirl. (Ailes did not respond to multiple requests for comment, but in a motion he filed in response to Tantaros's lawsuit, he notes that she thanked him in the acknowledgments of her book and says that he "categorically denies her false and libelous allegations of harassment and retaliation.")
Tantaros says she refused to spin for Ailes, and in the weeks that followed, she was told that she would be moving to a relatively new show called Outnumbered. Like The Five, Outnumbered featured five cohosts discussing a range of issues. But to Tantaros, it felt like a lighter version of the program she'd spent three years building. It also aired at noon, a much less attractive time slot than The Five's.
Though Tantaros received a new contract and a raise in September, she began to wonder whether what she saw as a demotion to Outnumbered was related to her rebuff of Ailes. Her suspicions grew when she realized that the Fox media-relations department, headed by Irena Briganti, did not make an official announcement about the move. And yet despite the slights, Tantaros continued to enjoy the work she was doing on camera. "If you're into politics, doing live TV is really exciting," she told me. "The same way if you love sports and you become a sports analyst."
In mid-December, Tantaros's suit claims, Ailes asked her to come to his office. Once again, he asked her to do the Twirl, and once again she refused him. Tantaros says that Ailes then tried to hug her before launching into another tirade of derogatory and unfounded rumors about her cohosts and colleagues.
Troubled by her encounters with Ailes, and with the lack of support she was receiving from Fox's media-relations department, Tantaros requested a meeting with Bill Shine, a senior executive at the network, and Suzanne Scott, the head of programming. In February 2015, according to her complaint, she outlined her concerns to the two executives and told them that Ailes was using Briganti, the head of media relations, to retaliate against her. Tantaros says the executives told her they'd get back to her; according to her complaint, they did not. After the meeting, she alleged, the sub rosa campaign continued: Her appearances on other Fox News programs trickled to occasional drips, and her opportunities to guest-host popular prime-time shows, once common, fell off steeply. (In a motion filed in response to Tantaros's lawsuit, Fox News and the individuals named in her complaint allege that she never complained about Ailes to Shine or anyone else, including during the "weeks of letters and hours of interviews" that followed her accusations of O'Reilly and the others.)
None of this stopped Tantaros from speaking her mind. Her politics were centrist by the standards of Fox News—on The Five she once argued for the decriminalization of small amounts of marijuana—and she seemed to relish verbal battles with her cohosts. She also enjoyed mocking liberal causes. On Fox Business, she joked about participating in the food-stamp challenge, a hunger-awareness campaign, to lose weight. "Do you know how fabulous I'd look?" she said. "I'd be so skinny."
By her own account, Tantaros wasn't close with many people at the network. Though aware of rumors that she was not well liked at the network, she told me that she "wasn't at Fox to win a popularity contest." What's more, she says, similar rumors about Carlson were spread after she filed her suit in July. "It's Fox News," Tantaros told me. "Propaganda at its finest."
Though Ailes denies Tantaros's claims of harassment, the motion he filed in response to her lawsuit notes that "television is a visual medium; comments about appearance are common because people watch television, they do not merely listen to it." In late February 2015, soon after her meeting with Shine and Scott, Ailes asked her to come by his office not long before she was due on the Outnumbered set. She recalls wondering if he had decided to apologize for his earlier behavior. According to her complaint, however, once she was in his office, he said, "I bet you look good in a bikini," and started asking her questions about the end of a long-term romance. Tantaros says that Ailes told her, "You're tough. You use men. He didn't get you what you wanted, so you dumped him. Isn't that what happened?"
"With all due respect, you don't know what the hell you're talking about," Tantaros replied. She left Ailes's office shaken and with just ten minutes until airtime. Worst of all, she says that she knew Ailes would be watching her on one of the seven television screens he kept running in his office all day, every day.
Two months later, Tantaros requested another sit-down with Bill Shine to discuss the harassment, the hostile work environment at Fox, and what she believed to be the retaliation she was suffering for her complaints. Shine said he'd look into it, and a few days later they met again. This time, she says, Shine held up a magazine with Ailes on the cover. According to her complaint, he told Tantaros that the Fox CEO was "a very powerful man" and that she "needed to let this one go." (Despite multiple requests, Fox News would not make available Shine, Briganti, or any other representative to comment on the record for this story.)
Tantaros told me that she tried to compartmentalize her feelings, but Ailes didn't make it easy. In August, on her way to a taping, Tantaros passed him in the hallway and said hello. Ailes, she said, told her, "We need to get you a tighter dress." Embarrassed but unafraid, Tantaros shot back: "This was given to me by Fox News wardrobe. If you have an issue, take it up with them."
Other men at Fox didn't make things easy, either. According to Tantaros's complaint, Scott Brown, an Outnumbered guest, came up behind her one day while she was buying lunch and placed his hands on her lower waist. Bill O'Reilly, whom Tantaros once considered a friend, suggested that she had a "wild side" and told her to visit him on Long Island, where it would be "very private." In March of this year, Tantaros mentioned her concerns about Brown, O'Reilly, and two other men in a letter addressed to Dianne Brandi. After her lawyer sent the letter, Tantaros was told she would no longer be appearing on The O'Reilly Factor. (O'Reilly did not respond to a request for comment, and Brown could not be reached. According to the motion filed by Fox, the four men whom Tantaros accused of sexual harassment "vehemently denied it.")
The letter to Brandi did not include the name of the man who'd most haunted Tantaros: Roger Ailes. She says that she decided not to mention Ailes because of how her previous complaints against him had gone over with Shine. What's more, she knew that as CEO, Ailes would be the person who set the standard for how she was treated at Fox.
Ailes, for his part, claims in his motion that Tantaros "was never harassed" by him, and he denies, too, that he was ever the subject of her harassment complaints, whether in the March letter or elsewhere. Meanwhile the motion by Fox and Ailes's lieutenants claims that the former Five cohost is a "wannabe" and an "opportunist" who is trying to take advantage of the recent revelations about Ailes. The company's motion insists that Tantaros's harassment and retaliation claims are "baseless"; an internal investigation that started in March, it says, which included interviews with thirteen people, found no support for her claims against O'Reilly and the others. In Fox's view, Tantaros's allegations are meant to obscure the real issue: that she did not receive the approvals required in her contract for Tied Up in Knots.
Tantaros insists that she met all the requirements of her contract, and in her complaint she notes that Fox offered her a settlement. According to one of her lawyers, the seven-figure offer arrived in May; she turned it down because, among other things, it would have required her to falsely acknowledge that she had violated her contract's book guidelines.
But as complicated as the dispute about Tied Up in Knots may be, what's clear from her March letter to Brandi is that her harassment claims predated the network's concerns about her book. The letter notes that Tantaros had raised "concerns about this permissive climate of inappropriate male behavior at Fox" in a meeting with company executives in mid-February, more than a week before the company cried foul.
Once Ailes was pushed out of the company—with a severance package worth a reported $40 million to cushion his fall—a loyalty switch seems to have flipped at Fox, a development that Ailes once all but predicted. ("Right now, everybody thinks I'm the greatest guy in the world," he told Zev Chafets, his handpicked biographer. "But people will be stepping over my body before it gets cold. Within a day or two, everybody will be complaining about what a prick I was.")
In the wake of Ailes's departure, Fox has asserted its commitment to creating a safe environment for its employees. But some of Ailes's top deputies, including those named in Tantaros's lawsuit, remain at the company. In September, Sherman—whom Tantaros now describes as "a terrific journalist" whose reporting is "spot-on"—suggested that "the network is really in a holding pattern." Most likely, he said, "there will be, after the November election, more of a wholesale housecleaning."
More than one former Ailes loyalist has seen the writing on the wall. In July, when Carlson's lawsuit was filed, longtime Fox correspondent Geraldo Rivera tweeted, "Don't believe the crap about #RogerAiles. Only ones talking dirt are those who hate #FoxNews & want to hurt network that's kicking their ass." By September, however, after Fox offered an apology to Carlson as part of her $20 million settlement, he had changed his tune considerably. Ailes, he wrote, was "a deceitful, selfish misogynist, if the charges against him are true." He said that he was "filled with regret for stubbornly discounting" the allegations of Carlson and others.
Tantaros's case remains in state court, though Fox News has asked for the suit to be moved into arbitration, which would keep the proceedings confidential. Meanwhile, Bill Shine has been promoted to copresident of the company—he recently signed a new multiyear contract—and Briganti is still in charge of its media-relations department. With his newfound free time, Roger Ailes has reportedly become a close advisor to Donald Trump, who in turn has remained a staunch defender of Ailes. Tantaros, who only recently stopped receiving paychecks from Fox, says she has no intention of letting her story be hidden away. "I have been bullied and intimidated, but I won't be silent," she told me. "I want the torture to stop."
Follow Marie Claire on Facebook for the latest celeb news, beauty tips, fascinating reads, livestream video, and more.