How to Shop Black Friday and Cyber Monday Deals
If you're hoping to hit it big on Black Friday or Cyber Monday, you've gotta do some prep work. A shopping expert from the digital offers site RetailMeNot gives us their top tips for finding the best deals and taming the chaos.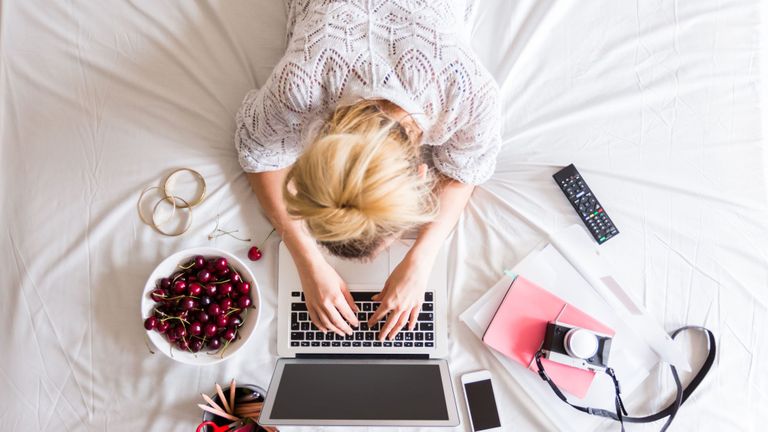 (Image credit: Getty Images)
Black Friday and Cyber Monday are not far off! Here are 11 tips to surviving this shopping-centric holiday and landing the deal you're looking for without losing your head.
1. Research Deals
Before you rush off to the stores on Black Friday (opens in new tab), or load all your go-to retailers in your browser tabs, look into deals ahead of time so you can make a game plan. Shopping expert Sara Skirboll of RetailMeNot (opens in new tab), the digital offers site, suggests doing some advanced research online. "Search for leaked ads online, download shopping apps, sign up for retailers' newsletters and follow social handles of your favorite retailers," Skirboll says. (Lucky for you, we've aggregated all the best Black Friday deals here (opens in new tab).)
2. Shop Strategically
Believe it or not, the types of deals you can get on Black Friday differ from those on Cyber Monday (opens in new tab), and you can get better deals in certain departments than others. RetailMeNot shared the top discounts by category and percentage that can be expected during these days, below, based on 2015* data.
Top five retail categories by percentage off on Black Friday:
Travel: 60% off
Office Supplies: 50% off
Clothing: 32% off
Gifts: 31% off
Top five retail categories by percentage off on Cyber Monday:
Computer/Electronics: 48% off
Designer Clothing: 43% off
Teen Clothing: 39% off
Books and News: 33% off
Home and Garden: 31% off
3. Make a List
Outline the top retail stores or sites you want to hit and what products you're looking to buy. If you plan to shop online, bookmark websites in advance and set calendar reminders for sales, says Skirboll. That way you won't miss any time-sensitive deals on products particularly low on inventory. If you're shopping at brick-and-mortar stores, order your list based on proximity and start with the store with the most high-demand items—that way you don't hurt your chances of securing the most covetable items (like the Anki Cozmo Robot (opens in new tab) or an in-demand Hatchimal (opens in new tab).)
4. Budget Accordingly
If you're shopping for everyone on your list this holiday, outline what your spend ceiling is when it comes to each person, especially since it's easy to get caught up in the shopping frenzy with competitive consumers stocking their shopping carts like it's Supermarket Sweep. That way you won't blow your budget on the first enticing sale you see—i.e. anything in this over-the-top gifts (opens in new tab) post. 😉
5. Bring a Friend
There's no doubt you'll be tempted to do some serious transacting if you're in the company of the typical Black Friday/Cyber Monday coupon queens and kings. If, and when, you run into a deal that didn't make your list (you read tip 3, right?), it helps to get a second opinion before you get too sticker-struck. Yes, they may be 60% off, but do you really need another pair of running shoes (opens in new tab)? Run deals through your friend's filter, as long as you brought someone shopping or can reach them quickly by email, and you should do the same for them.
6. Review Return Policies
"Retailers usually have specific return policies for doorbuster sales, so we advise you to research beforehand what they entail so shoppers are prepared," says Skirboll. If returns on certain products aren't permitted, then you may want to skip the variable gifts and only go for the reliable items on your list that are sure to please recipients. If you're unsure of sizing (clothes, shoes, or otherwise), find out if exchanges can be done in lieu of a full product return. That way there's at least some flexibility should the shoe not fit, literally.
7. Factor in Shipping Fees
The worst thing to do is have your heart set on a discounted item only to realize that the shipping costs more than the thing itself. This is typically true of larger, heavier items including furniture and technology. Do yourself a favor and look up shipping costs in advance. If that 4K TV (opens in new tab) you're lusting over costs more to ship than it does to pick up in-store, consider getting some help with the heavy lifting and go get it in person.
8. Prepare for Long Lines
If you're shopping in stores, you'll be far from alone on Black Friday. Not only is it a rush through the aisles, but it's a race to the finish (the checkout, that is). Expect to face long lines and impatient customers. Go prepared in comfortable clothes, particularly comfortable footwear, in case you end up standing for a few hours. Also be prepared with emergency snacks like granola bars (opens in new tab), bananas, or a bag of nuts for protein that you can stow in your bag to avoid a bout of hunger.
9. Brave Short Checkout Times
Online shoppers face a different challenge: Racing to get all items in a shopping bag before inventory depletes. Have your credit card at the ready and discount codes on hand so you can check out quickly without risking missing out on that dream deal. Some sites even count down how long you have to keep something in your cart. Keep that in mind and check out separately if needed to secure your savings.
10. Save Receipts and Order Confirmations
Many retailers now allow you to email or print your receipts in person. Do either, or both, but just be sure that you keep a record of your purchases, especially if your shopping list includes high-ticket items, because you never know when you may need to do a return or exchange. Plus, it's important to total your expenses so your credit card statement doesn't surprise you. If you're a web shopper, have order confirmations sent to the same email address and save them for future reference in one central folder named "receipts" or "Christmas gifts." That way they're easier to find later, instead of searching through your entire inbox.
11. Have Fun!
Assuming you've gotten this far, the idea of shopping serious sales for steep savings must appeal to the bargain shopper within you. Don't get caught up in the chaos and frenzy of Black Friday and Cyber Monday. Keep your cool, and remember if you don't get the items at the top of your wish list ... there's always next year.
*RetailMeNot (opens in new tab) reviewed 2015 data on a week-by-week basis to determine the average savings by retail category that consumers experienced when using RetailMeNot. "Experienced" is defined as a user actually clicking on and opening an offer.
Follow Marie Claire on Facebook (opens in new tab) for the latest celeb news, beauty tips, fascinating reads, livestream video, and more.