The 15 Best '80s Horror Movies That Are Still Terrifying Today
There's a reason they're all getting rebooted.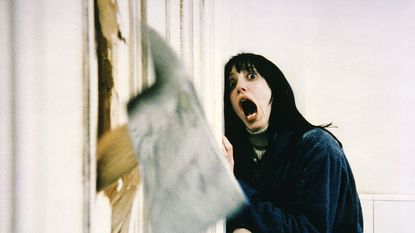 (Image credit: Sunset Boulevard)
Marie Claire Newsletter
Celebrity news, beauty, fashion advice, and fascinating features, delivered straight to your inbox!
Thank you for signing up to Marie Claire. You will receive a verification email shortly.
There was a problem. Please refresh the page and try again.
The 1980s were a bad time for a lot of things—cocaine abuse, corruption at financial institutions, leg-warmers—but one thing this decade did very well was classic horror films. The '80s horror movies we know and love feel as relevant today as they did nearly 40 years ago, and for good reason: They launched franchises, created tropes that genre films still rely on today, and established the idea that a scary movie could be frightening and genuinely thoughtful.
While there are a ton of scary movies made in that decade to choose from (seriously, did people in the '80s just sit around being scared all the time?), these 15 are the best (in our humble opinions) in no particular order. Check them out below:
The Shining (1980)
Who's in it?
Jack Nicholson, Shelley Duvall, and it's directed by auteur Stanley Kubrick.
What's it about?
A writer and his family go for a retreat to a haunted hotel, and some pretty scary stuff starts happening. Think: Creepy twins, elevators full of blood, ghost parties, and a really disturbing bathtub scene. Plus, leave it to Kubrick to include what's probably the first example of Furry sex in a major motion picture.
How scary is it?
More so deeply unsettling than jump-out-of-your-skin scary, this movie will leave you creeped you out for the rest of the day.
The Thing (1982)
Who's in it?
Kurt Russell, Wilford Brimley, with John Carpenter—the genre film giant—directing.
What's it about?
A group of scientists in Antarctica discover that a malevolent being capable of inhabiting human bodies (and dog bodies) has started to take over the lab. No one can be trusted, and in order for the team to escape the base they have to make sure they don't have any...extra passengers.
How scary is it?
It's pretty gory, albeit mostly in a campy way, but that's not really the scary part. It's terrifying because it creates a monster you didn't realize you needed to fear—the mark of a good horror movie.
A Nightmare on Elm Street (1984)
Who's in it?
Young, sexy Johnny Depp, Robert Englund (as the legendary, O.G. Freddy Krueger), and then no one else you'd really know unless you're a true Elm Street nerd. Horror maestro Wes Craven directed it.
What's it about?
In the apex of the slasher genre, Freddy Krueger is a creepy-looking killer who murders teenagers in their dreams, which ends up also murdering them in real-life. There's a lot of parental distrust in this movie, and rightfully so.
How scary is it?
I mean, it's a slasher movie. Lots of blood, lots of jump-scares, but it's more spooky fun than truly upsetting.
Gremlins (1984)
Who's in it?
Phoebe Cates, Howie Mandel (as the voice of Gizmo), Corey Feldman, Jonathan Banks. Did you know that Chris Columbus—director of the first two Harry Potter films—wrote the screenplay?
What's it about?
A guy brings home a cute, sentient, furry meatball from a shop for his kid and is told not to get it wet or feed it after midnight. Gizmo is a nice pet, until of course one of those things happen and the gremlins wreak havoc on an entire town the night before Christmas. Controversial opinion: Gremlins is a holiday movie.
How scary is it?
More goofy than genuinely scary, but it's got some creepy moments.
The Fog (1980)
Who's in it?
Jamie Lee Curtis (preeminent Final Girl) and Janet Leigh. It's another John Carpenter joint, because the man is prolific.
What's it about?
A fog rolls in on the 100th anniversary of a small coastal town, unleashing creepy happenings and death. Stay away from the fog, people!
How scary is it?
The graphics are laughably retro (I mean, it was nearly 40 years ago) but the concept of a murderous fog is undeniably freaky.
Children of the Corn (1984)
Who's in it?
Linda Hamilton, a bunch of kids.
What's it about?
It's based on a Stephen King story so you know shit goes down. A couple driving through Nebraska discovers the body of a dead kid, which then leads them to a town full of only children. They soon discover that a fanatical preacher-boy has convinced the kids to kill all the adults, in the name of a demon that may or may not be real.
How scary is it?
Genuinely scary! What is it about running through a cornfield to escape an unseen evil... Oh, Yeah, I guess that's pretty terrifying.
An American Werewolf in London (1981)
Who's in it?
David Naughton, Griffin Dunne, and it's directed by John Landis.
What's it about?
This movie actually has a really smart plot. Two American kids backpacking through England are attacked by a monster, killing one and leaving the other...changed. While the surviving guy recovers in the hospital, he starts being visited by the dead friend who tells him that, come the next full moon, he'll turn into a werewolf. He begins a murderous rampage, all the while receiving dreamy visitations from his mutilated victims.
How scary is it?
Very scary and quite thought-provoking. A werewolf in a city setting is surprisingly unsettling, and the undead-ish victims are awfully gruesome—even if they mean well.
Poltergeist (1982)
Who's in it?
Craig T. Nelson, Dominique Dunne, and it's written by some guy named Steven Spielberg.
What's it about?
A malevolent ghost begins haunting a family—classic spooky stuff—but this movie gets an added layer of creepiness because of the rumored "curse" on its production. Tragically, the young girl who starred in the first movie, Heather O'Rourke, died after filming, and another young person died around the filming of the sequel. The events became known as "the Poltergeist curse" and, as sad as it is, the curse imbues the movie with an extra layer of horror.
How scary is it?
There's a pit of skulls and a haunted television set that will make you slightly nervous around any sort of static after watching it.
Cujo (1983)
Who's in it?
Dee Wallace, Danny Pintauro, Daniel Hugh-Kelly, and Christopher Stone
What's it about?
After being bitten by a bat, a well-mannered St. Bernard turns rabid and goes on a killing spree.
How scary is it?
As a kid, it was a totally nightmare; I was terrified of dogs for most of my formative years. But as an adult who's finally put her cynophobia to bed, it's more saddening than scream-inducing because you understand that Cujo wasn't actually a bad dog. He just had rabies.
Evil Dead (1981)
Who's in it?
Bruce Campbell as Ash in the now-iconic lead role. Sam Raimi directs.
What's it about?
A group of friends on a hike (if you watch a lot of horror movies, why would you ever go hiking?) to a cabin, read aloud from the Necronomicon, and accidentally unleash zombies upon the world. Classic.
How scary is it?
It's so full of what are now clichés that it's a little predictable and it feels pretty darn dated, but if you love zombie movies, you must see it.
The Fly (1986)
Who's in it?
Jeff Goldblum, Geena Davis, John Getz. Directed by David Cronenberg.
What's it about?
In a classic mad scientist tale, Jeff Goldblum invents a teleportation device but uses it without realizing a fly has gotten into the machine with him. When he emerges, his molecular structure begins to morph him into a creepy monster.
How scary is it?
It's got a really good sense of humor—it winks at being part of a long B-movie tradition, which is why it holds up so well now—so it can be forgiven for some pretty gnarly body horror. This is the perfect movie if you don't know how to get over your crush on Jeff Goldblum because he ends up looking utterly disgusting by the third act.
The Lost Boys (1987)
Who's in it?
Corey Haim, Corey Feldman, Kiefer Sutherland, Alex Winter, Dianne Wiest.
What's it about?
A group of boys in the midst of rebelling against their new stepdad discover an entire crew of evil vampires and have to go to battle with them. It's got an incredible soundtrack and is a who's who of 1980s heartthrobs.
How scary is it?
More of an action movie than a horror movie, in the vein of The Goonies, but it has its jump-scare moments. Mostly, it's just a really, really good movie about vampires.
Child's Play (1988)
Who's in it?
Besides Chucky? Catherine Hicks, Chris Sarandon, and Alex Vincent.
What's it about?
When a serial killer performs an old voodoo spell that places his soul into the body of a doll, a young boy and his mother have to face the murderous consequences.
How scary is it?
Honestly...not that scary. But you're probably going to be wary of dolls for a long, long time, if not the rest of your life.
The Serpent and the Rainbow (1988)
Who's in it?
Bill Pullman, Brent Jennings, Conrad Roberts, Zakes Mokae, and Aleta Mitchell.
What's it about?
An anthropologist travels to Haiti during the country's revolution to acquire the secret of an ancient voodoo spell that turns victims into zombies. Another Wes Craven production.

How scary is it?
You know how you'll randomly remember scary scenes at different points of your life that send a chill down your spine and keep you up at night? Yeah. That's this movie.
Friday the 13th (1980)
Who's in it?

Betsy Palmer, Adrienne King, Ari Lehman, and a young Kevin Bacon.
What's it about?
Camp Crystal Lake becomes a hotbed of violence after an anonymous serial killer commits a series of gruesome murders.
How scary is it?
Considered one of the slasher classic, Friday the 13th is naturally less scary than it is gory. If you're not one for the sight of blood, feel free to skip this one.
For more stories like this, including celebrity news, beauty and fashion advice, savvy political commentary, and fascinating features, sign up for the Marie Claire newsletter.
RELATED STORY
Celebrity news, beauty, fashion advice, and fascinating features, delivered straight to your inbox!
Cady Drell is a writer, editor, researcher and pet enthusiast from Brooklyn.