The 25 Greatest Films Directed by Women
In honor of Women's History Month, watch these phenomenal titles by female filmmakers.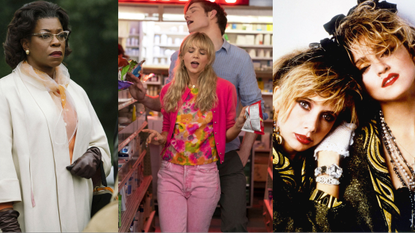 (Image credit: Shutterstock/Focus Features/GETTY )
Marie Claire Newsletter
Celebrity news, beauty, fashion advice, and fascinating features, delivered straight to your inbox!
Thank you for signing up to Marie Claire. You will receive a verification email shortly.
There was a problem. Please refresh the page and try again.
These days, it's easy to list off a number of respected, well-known female directors—consider Greta Gerwig, Olivia Wilde, and Ava DuVernay, to name a few. But it wasn't so long ago that Hollywood was, by and large, a boys' club. While we've still got a long way to go—it's been 11 long years since a woman took home the Oscar for Best Director—we've certainly taken big steps toward more equitable film sets. In honor of Women's History Month, we're taking a look back at some of the epic strides made in the industry, paying homage to 25 of the best movies directed by women.
A few will come as no surprise: We'd be remiss not to mention Yentl, for instance, for which Barbra Streisand, in 1984, became the first woman to ever win a directing Golden Globe. It's a feat that would not be achieved by a female director again until this year, when Chloe Zhao won for Nomadland. Other titles simply struck a chord deep within viewers, sparking joy, fear, sadness, rage, hope, or any combination of the above. So pour yourself of glass and wine and settle in for the best female-directed films of all time.
1. 'Promising Young Woman'
The most recent addition to the ever-growing ranks of female directors is English-born filmmaker Emerald Fennell. If you don't know her name yet, you're about to—especially in light of her buzzed-about psychological thriller, Promising Young Woman, which tackles rape culture in a post #MeToo era. Fennell's revenge-seeking lead, Cassie Thomas (played by Carey Mulligan), makes quite the splash with her turn as a woman who feigns drunkenness as a way to lure predatory men into her trap. The film was one of three female-led pieces to be nominated for a Best Director Golden Globe this year.

Watch on Amazon Prime
2. 'Clueless'
By now, there's seemingly not a soul alive who hasn't seen—and immediately fallen in love with—Amy Heckerling's 1995 masterpiece, Clueless. Adapted from the classic 1815 Jane Austen novel Emma, this motion picture has it all: Friendship. Sex. Love. Epic one-liners ("you're a virgin, who can't drive"). Throw in some of the era's biggest stars (we're talking Alicia Silverstone, Paul Rudd, and Brittany Murphy, people!), a kickass soundtrack, and a wardrobe that has changed the landscape of fashion, and you've got what just may be the best teen movie of all time, rivaled only by Heckerling's other generationally-defining work, Fast Times at Ridgemont High.

Watch on Amazon Prime
3. 'Nomadland'
Chloe Zhao's contemplative, Golden Globe-winning film Nomadland has generated some well deserved Oscar buzz since its debut at the Venice Film Festival last fall. If you're still not familiar with the road movie that has swept this year's awards season, the film takes a searing look at one woman's journey through the American West all the while living in her van. Francis McDormand plays Fran, a gig worker who travels from badlands to the desert in search of income–and freedom. Along the way, she meets others who share her fate. The film appeared on numerous best-of year end lists, and took home the top awards at the Golden Globes, with Zhao becoming the second woman to win best director
4. 'Wonder Woman'
For Wonder Woman director Patty Jenkins, it was less about breaking glass ceilings and more about smashing them. Her 2017 flick, which follows warrior Diana Prince into an epic battle against evil, broke records the world over, becoming the first female-led superhero movie in more than a decade. It was also the second-ever movie to be led by a woman with a budget of more than $100 million. Wonder Woman would go on to have the biggest film opening of all time for a female director, with the biggest single-day gross earnings from a female-director to boot. More than just impressive stats, however, this pick has heart—just ask its star, Gal Gadot. As the actress told Entertainment Weekly in July 2016, "When Patty and I had our creative conversations about the character, we realized that Diana can still be a normal woman, one with very high values, but still a woman. She can be sensitive. She is smart and independent and emotional. She can be confused. She can lose her confidence. She can have confidence. She is everything."
5. 'Selma'
Ava DuVernay's triumph of a film, Selma, is a hugely important piece of cinematography for a multitude of reasons. Not only does it tell the real-life story of the history-making voting rights marches that occurred in 1965 led by Martin Luther King Jr., DuVernay made history herself with this movie's 2014 release when she became the first Black woman to ever be nominated for a Golden Globe for Best Director. Told with plenty of emotion and heart by its cast, which includes David Oyelowo, Oprah Winfrey, Tessa Thompson, Angela Bassett, and Cuba Gooding Jr., this film is a reflection of our nation's collective heritage.
6. 'The Hurt Locker'
Director Kathryn Bigelow didn't shy away from blood, guts, or gore in her 2009 Academy Award-winning war film, Hurt Locker. Instead, she leaned into it, giving viewers a gripping look at life in combat. Told through the eyes of journalist Mark Boal, who himself was stationed with an American bomb squad in Iraq for two weeks in 2004, this action-packed flick earned Bigelow the title as the first—and only—Best Director winner in Oscar history. In addition, it cleaned up in other categories, taking home awards for Best Picture, Best Film Editing, Best Sound Editing, Best Original Screenplay, and Best Sound Mixing.
7. 'Now and Then'
Forget The Catcher in the Rye. For young women growing up in the '90s, Now and Then was the only coming of age story that mattered. Homeland alum Lesli Linka Glatter brilliantly guided this all-star female cast, which included Demi Moore, Rosie O'Donnell, Melanie Griffith, Rita Wilson, Thora Birch, Gabby Hoffman, Christina Ricci, and Ashleigh Aston Moore, as they navigated the highs and lows of friendship and adolescence, from first kisses and divorce to bodily changes and séances—and we relished every second of it.

Watch on Amazon Prime
8. 'Winter's Bone'
A then-20-year-old Jennifer Lawrence wasn't the only woman shining with Winter's Bone—director Debra Granik took home plenty of accolades for her adaptation of the Daniel Woodrell novel of the same name, including a Sundance Film Festival best directing award. Raw and harrowing, this dark drama centers on a teenage girl who must find her missing father in order to avoid losing her home, which has been put up as a bond following his drug arrest. It's gritty, it's intense, and it's emotional, and it will have you on the edge of your seat until the last credits roll.

Watch on Amazon Prime
9. 'Something's Gotta Give'
Arguably one of the most successful female filmmakers to date, Nancy Meyers certainly knows her way around a high-grossing rom-com (What Women Want, It's Complicated, and The Holiday, to name a few). It's her poignant story about a thriving playwright (Diane Keaton) in her mid-50s and a 60-something entrepreneur (Jack Nicholson) with a penchant for much-younger women—including Keaton's daughter—however, that earns her a spot on our list. Written, directed, and co-produced by Meyers, Something's Gotta Give manages to tackle the complex, ever-evolving relationship between men and women with beauty, grace, and a little humor, too. The result? Oscars nominations for both Keaton and Nicholson, plus a Golden Globe win for Keaton for Actress in a Musical or Comedy.

Watch on Hulu
10. 'Across the Universe'
Julie Taymor made history in 1998 as the first female to win a Tony award for Best Direction of a Musical (the stage version of The Lion King), but it was her stint as the director of 2007's Across the Universe that we're lasering in on. With it, she brilliantly weaves the musical catalog of The Beatles into the story of two young souls (played by Evan Rachel Wood and Jim Sturgess) who are struggling to navigate their relationship amid the political chaos of the '60s and the looming Vietnam War. Taymor's film was nominated for a Golden Globe for Best Picture/Musical-Comedy.

Watch on Amazon Prime
11. 'American Psycho'
American Psycho co-writer and director Mary Harron left a lasting mark on horror with this 2000 classic, which stars Christian Bale as a cold, calculating banker with a dark and sinister secret beneath his seemingly perfect all-American exterior. Can you say cult favorite?

Watch on YouTube Movies
12. 'Yentl'
As a co-writer, producer, actress, director, and singing talent for the 1983 film Yentl, Barbra Streisand had a hand in nearly every facet of this award-winning story. She used the project to break down gender norms in nearly every sense of the word as Yentl Mendel, an Ashkenazi Jewish woman living in Poland and posing as a man in order to receive the teachings of the Talmud. And, because life wouldn't be as fun without a little complexity, Yentl finds herself falling in love with a fellow male student named Avigdor, while Avigdor's fianceé is falling in love with Yentl. Ay yi yi! For her efforts, Streisand became the first woman to ever receive a Golden Globe for directing.

Watch on Amazon Prime
13. 'Monster'
Years before she was obliterating the box office with Wonder Woman, Patty Jenkins took the world by storm with her directorial feature debut, Monster—a biographical drama about the real-life of serial killer Aileen Wuornos. Played by an unrecognizable Charlize Theron, who reportedly gained 30 pounds, shaved her eyebrows, and wore prosthetic teeth for the role, Wuornos was sentenced to death for the seven murders she committed against her clients while working as a prostitute. Jenkins' 2003 film brought her to life once more, however, along with her female lover (Christina Ricci), in what Roger Ebert would later call one of the best films of a decade.

Watch on IMBd TV
14. 'Mudbound'
History buffs will no doubt appreciate the thought-provoking period piece that is Mudbound. A tale of two World War II veterans who experience life post-combat through different lenses—one (Garrett Hedlund) as a white man and another (Jason Mitchell) as a Black man—it received several nods from both the Academy of Motion Picture Arts and Sciences and the Hollywood Foreign Press Association. Director Dee Rees, in particular, who co-wrote the screenplay based on Hillary Jordan's 2008 novel, was recognized with an Oscar nomination for Best Adapted Screenplay.

Watch on Netflix
15. 'Fast Times at Ridgemont High'
Few films have managed to define an entire generation quite like Fast Times at Ridgemont High. Depicting a group of high school students coming into their own (and raising plenty of hell along the way), this film's influence was so huge it was added to the National Film Registry. While its monster cast undoubtedly played a large role in its success (who can forget Matthew McConaughey's now-iconic one-liner "alright, alright, alright") director Amy Heckerling certainly deserves her credit, too.

Watch on Amazon Prime
16. 'Little Women'
Long before Greta Gerwig was helming up the sixth—yes, sixth!—adaptation of the 1868 novel by Louisa May Alcott, director Gillian Armstrong was introducing it to a whole new audience with her 1994 iteration...a.k.a. the best iteration of them all. Through her perceptive lens, the close-knit bond of the March sisters, as played by Winona Ryder, Kirsten Dunst, Claire Danes, and Trini Alvarado, jumped off the screen and into our hearts forever.

Watch on Amazon Prime
17. 'Lady Bird'
Speaking of Greta Gerwig, let's talk about her 2017 dramedy, Lady Bird. Somehow, someway, the filmmaker managed to capture all the mixed-up emotions that gawky, unsure teens feel and bottle them up in the form of heroine Christine McPherson, better known as "Lady Bird." From longing to fit in with the popular crowd to first encounters with sex, every triumphant, cringe-worthy, poignant, and terrified moment you experienced in your own adolescence seems to have found its way into this masterpiece.

Watch on Netflix
18. 'Boys Don't Cry'
Groundbreaking in its depiction of trans man Brandon Teena, Kimberly Peirce's 1999 release Boys Don't Cry explores the real-life tragic chain of events that led to Teena's rape and murder in Nebraska. While its' casting of Hilary Swank has drawn criticisms from the LGBTQ+ community, the film broke new ground at the time of its release, becoming the first to introduce mainstream audiences to the heartbreaking story of a transgender man.

Watch on Amazon Prime
19. Me and You and Everyone We Know'
Cited by legendary film critic Roger Ebert as one of the best films of a decade, Me and You and Everyone We Know is an indie love story that explores the developing relationship between a lonely shoe salesman (John Hawkes) and a quirky artist (Mirandy July). It was the first full-length feature for July, who also served as the film's writer and director; it proved to be a force to be reckoned with, earning her plenty of accolades and the coveted Camerá d'Or award for best first feature film at the 2005 Cannes Film Festival.

Watch on Amazon Prime
20. 'Daughters of the Dust'
When a film is powerful enough to inspire Beyoncé, it's time to sit up and take note. The singer's 2016 visual album Lemonade was influenced by 1991's Daughters of the Dust—the first film from a Black female director to ever achieve national theatrical distribution. Lemonade allowed a new legion of fans to enjoy Julie Dash's rich storytelling when it was subsequently re-released at the Toronto International Film Festival and in theatres nationwide. Commanding and visually stunning, Daughters of the Dust is set at the turn of the 20th century and follows three generations of Gullah women as they prepare to migrate North from their long-time home on Saint Helena Island, where their ancestors were once enslaved.

Watch on Amazon Prime
21. 'Big'
There are two types of films in this world: The ones you forget about almost as soon as you've finished watching them, and the ones that give you pause each and every time you come across them. Big definitely falls into the latter camp. Starring the one and only Tom Hanks as a 12-year-old-boy who is magically transformed into an adult overnight, this feel-good favorite is nostalgic, sweet, and funny—and it was directed by the late, great, Penny Marshall.

Watch on Amazon Prime
22. 'Blow the Man Down'
Bridget Savage Cole and Danielle Krudy teamed up as co-directors for 2019's highly acclaimed thriller, Blow the Man Down. The result? A truly unique piece of cinematography that manages to stay with you long after the screen has faded on its main characters, Priscilla and Mary Beth Connelly—two sisters who find themselves mixed up in a brutal crime after a night out goes awry.

Watch on Amazon Prime
23. 'Sleepless in Seattle'
There are rom-coms … and then there's Sleepless in Seattle. Late journalist and author Nora Ephron co-wrote and directed this tale of a woman who falls in love with a single dad after hearing him talk about his late wife on a radio show. The only problem? She's engaged. Oh, and lives on the other side of the country. This flick quickly became the gold standard for romance upon its release in 1993, with the American Film Institute recognizing it as one of its 10 top 10 romantic comedies of all time.

Watch on Hulu
24. 'Desperately Seeking Susan'
Susan Seidelman, whose name you may recognize from a little show called Sex and the City, gave Madonna one of her first film breaks with this quirky 1985 comedy. Like any great '80s flick, the plot is as zany as they come, following the pop singer's misadventures as the fictional Susan, who crosses paths with a less-than-savory group of characters after pocketing a pair of highly valued Egyptian earrings. Roberta (Patricia Arquette), meanwhile, is a New Jersey housewife who gets wrapped up in Susan's antics. While you'll have to pay close attention to keep up with all the twists and turns that befall the two women, the pure pandemonium that ensues along the way makes for a highly entertaining two hours. No wonder The New York Times called it one of the best films of 1985!

Watch on HBO Max
25. 'A League of Their Own'
If you've made it this far in life without watching A League of Their Own, we're going to give you a bit of advice: Head to the couch, and settle in for a little history lesson in greatness. Penny Marshall flick—based on the American Girls Professional Baseball League (AAGPBL), which was founded in 1943—is a masterclass in storytelling. Told through the lens of feuding sisters and ballplayers Dottie (Geena Davis) and Kit Hinson (Lori Petty), who round out a team of tough, multifaceted women being coached by washed-up slugger Jimmy Dugan (Tom Hanks), this semi-historical drama incorporates the real-life sports stories of several relevant historical female figures into its fibers. Dottie, for instance, is based on the late ballplayer Dottie Kamenshek—a star first basewoman for the league's own Rockford Peaches. She was later named one of Sports Illustrated's top female athletes of the century.

Watch on Amazon Prime
Celebrity news, beauty, fashion advice, and fascinating features, delivered straight to your inbox!
Nicole Briese is an editor and writer based in Chicago. You can catch her often quirky musings over at her blog, Nicolebjean, or at USA TODAY (where she serves as the Managing Editor of Deals), Brides, Us Weekly, Refinery 29, Woman's World, Brit + Co, and more.