A Michigan Couple Says They Caught a Ghost on Camera Scratching Their Baby
I saw the video and I'm never sleeping again, it's fine.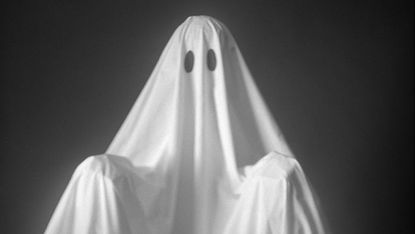 (Image credit: Getty Images)
Marie Claire newsletter
Celebrity news, beauty, fashion advice, and fascinating features, delivered straight to your inbox!
Thank you for signing up to . You will receive a verification email shortly.
There was a problem. Please refresh the page and try again.
Okay, depending on how much you believe in ~supernatural forces~, this recently released nanny cam video from Highland, Michigan, might freak you out. Young couple Heather Brough and Joshua Higgins say they're basically living the plot of The Conjuring (opens in new tab) IRL, because their house is haunted. Apparently, they've angered a ghost (not good), and it has gotten to the point where it hurt their little girl Lily (also not good)—and there's video proof.
Brough and Higgins shared Lily's baby monitor footage with ABC Detroit (opens in new tab), and it's going to keep me up at night. It seems to show something opaque (A GHOST) brushing right by the front of Lily's crib.
So Brough and Higgins, being rational parents who don't want to piss off the dead, promptly freaked out. "It was chilling," Higgins said to the outlet. "It was literally a chill down your spine, like that 'what if' factor—is this what I just saw?"
Predictably, Brough also hated it. "I freaked out," she said. "I stopped what I was doing and I ran upstairs and grabbed my daughter."
Once Brough got upstairs, she said the ghost attacked her and Lily, leaving the baby with scratches. "It scares us that it could do something else," Brough added. "I mean, there was a morning I woke up and I felt like someone's hands were around my neck."
They have no idea why a ghost would target them specifically, but Higgins' father has a theory that's pretty disturbing. He thinks Brough and Higgins are being haunted by the spirit of someone who lived in their house before and died by suicide.
"The gentleman that lived here originally committed suicide, apparently by jumping out this window, which is one story down," said Higgins' father, Jim Higgins.
Right now, Brough and Higgins are saving up money to move out, because OBVIOUSLY. While this is all enough to keep me far, far away from Highland, Michigan, not everyone thinks the video is legit.
Go ahead and judge it for yourself:
Regardless of what other people think, they should probably move out. Like, right now.
For more stories like this, including celebrity news, beauty and fashion advice, savvy political commentary, and fascinating features, sign up for the Marie Claire newsletter.
SUBSCRIBE HERE (opens in new tab)
RELATED STORIES
Alexandra Whittaker oversees all of Cosmo's news and entertainment digital coverage—follow her on Instagram (opens in new tab)here. As the lead of two teams, Alexandra manages stellar writers and editors who deliver your daily dose of celebrity, TV, movie, book, general entertainment and pop culture news. She's known for her strategic coverage calls and celebrity interviewing skills. Awards shows are her favorite thing, and she's a proud Northwestern and Marquette alumna.