The Best Ways to Help the Victims of the California Wildfires
More than two million acres have burned already.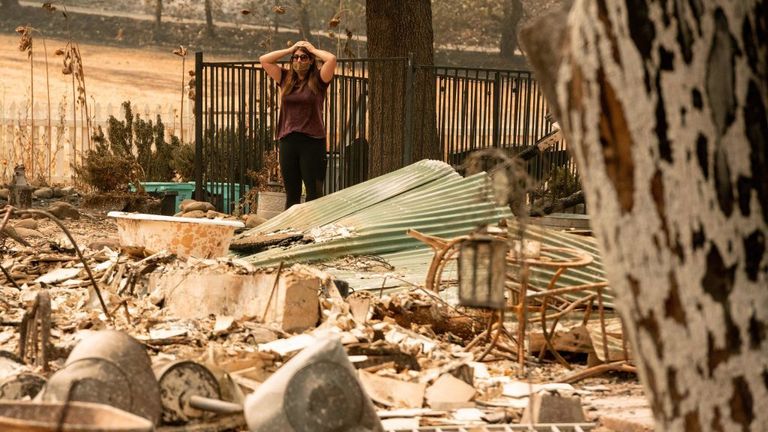 (Image credit: JOSH EDELSON)
As Midwesterners try to recover from the derecho storm that devastated the region this summer, Californians are battling hundreds of fires across the state—many of which were caused by lightning strikes in August.

Moisture was helping to ward off additional dry lightning storms, but the persistent low humidity, high temperatures, strong winds, and a foolish gender reveal party ignited more fires and caused them to spread even further. According to Cal Fire, since August 15, more than two million acres have burned. Majority of the destruction occurred in the L.N.U. Lightning Complex and the S.C.U. Lightning Complex, which are now the second and third largest fires in California history. Already, at least seven people have died and thousands of homes have burned in the fires, which are raging through California, Washington, and Oregon. Dozens were injured, and more than 100,000 people had to evacuate. Currently, most of California is "under red-flag warnings" and countless people are seeking help as the sky in the Bay Area takes on an ominous orange hue.
While you're looking for reputable organizations to contribute to, the Cal Fire San Mateo-Santa Cruz unit encouraged well-meaning donors to beware of scams like the GoFundMe that's pretending to be associated with California's firefighters. (To help determine if a fundraiser is legit, check out these tips.) Here are a few sincere organizations you should consider donating to in order to support relief efforts:
Although some GoFundMes can be risky to donate to, the platform set up an official fundraiser that's just $7,000 shy of its goal. The Bay Area Foodie Wildfire Fund, Northern California Wildfire Animal Rescue Fund, and California Wildfire Relief Fund are also accepting donations on GoFundMe.
Donations to Puente's Emergency Fire Relief Fund that are designated as "Fire Relief Fund" donations go toward assisting rural local communities like Pescadero, Loma Mar, and Año Nuevo.
The American Red Cross has mobilized nearly 500 disaster workers and is providing housing, meals, comfort kits, and supplies for those who need it. Text "REDCROSS" to 90999 to make a $10 donation or donate via its online form and write "California Wildfires" if you want your money to be used specifically on California. (The Red Cross is also currently providing emergency aid for those affected by the wildfires in Colorado, Oregon, and Washington.)
Shannon is a news writer at Cosmopolitan.com, and when she's not obsessing about Cardi B, she's thinking about Justin Bieber and still trying to memorize Beyoncé's Beychella choreography.