Marie Claire Wins Overseas Press Club Award
Read the acclaimed story about women who are fattened up to increase their chances of getting married.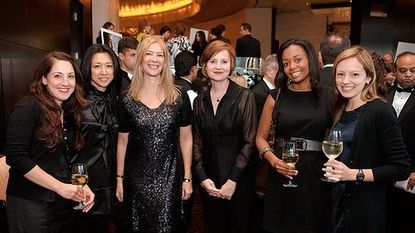 (Image credit: Future)
Marie Claire's senior international editor, Abigail Haworth, was honored by the Overseas Press Club on April 22 in New York for her story "Forced to Be Fat (opens in new tab)," about camps in Mauritania that fatten young women in order to make them more attractive for marriage. Haworth, the recipient of the Madeline Dane Ross Award for the best international reporting in print that showed a concern for the human condition, was among a prestigious group of winners from publications including The New York Times, The Washington Post, The Wall Street Journal, and Vanity Fair. Based in Thailand, Haworth has written numerous reports from around the world for Marie Claire. Read her award-winning story here (opens in new tab).
(Photo, from left: Marisa Ollins, Kyoko Matsuda, winner Abigail Haworth, Abigail Pesta, Jihan Thompson, Sophia Moura. Photo Credit: David Wentworth photography.)