Jamie Anderson Wins Our Hearts—We'd Tinder in Olympic Village Too
Can you blame her?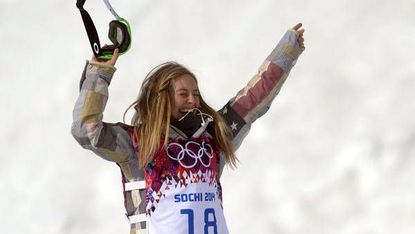 (Image credit: Getty)
Jamie Anderson made history at the 2014 Sochi Olympics in more ways than one. In addition to becoming the first woman to win gold in slopestyle snowboarding (opens in new tab) (this was the first year the competition was offered), she was also first to admit to using Tinder in Olympic Village—which is actually genius.
In an interview with US Weekly, 23-year-old Anderson admitted that she and her fellow Olympians spend some time scrolling through the dating app on their phones. "Tinder in the Olympic Village is next level. It's all athletes! In the mountain village it's all athletes. It's hilarious. There are some cuties on there," she joked with Us Weekly.
Apparently the dating app was so exciting that the snowboarder said she ended up deleting her account so she could focus on the Olympics. Because, oh yeah, she's in Olympic Village, competing for gold medals.
We wonder who Anderson was scoping out! We could totally see her with skiing's hunky Bobby Brown or Kris Freeman. To get to know Jamie and her teammates, click here (opens in new tab). To get to know all the hot men, click here (opens in new tab).