MC@Play: Marie Claire Does Coachella
We just spent a whirlwind weekend in Indio, California at the Coachella Music and Arts Festival. For three full days, we took in epic live performances at the polo fields, bounced from pool party to pool party, and witnessed our fair share of gorgeous sun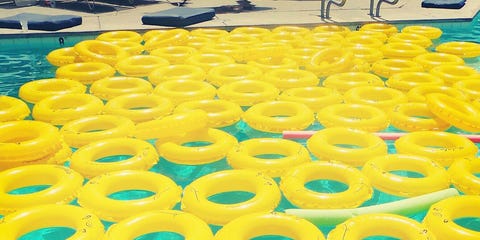 We just spent a whirlwind weekend in Indio, California at the Coachella Music and Arts Festival. For three full days, we took in epic live performances at the polo fields, bounced from pool party to pool party, and witnessed some awe-inspiring sunsets. Take a look back with us as we relive the experience through our photo diary, exclusively on MarieClaire.com.
Welcome to Coachella
Greetings from the Ace Hotel in Palm Springs! Our Associate Accessories Editor Bryn Poulos traveled to the desert with Topshop — the brand is preparing to open its first location in Los Angeles. Doesn't this pool look so inviting?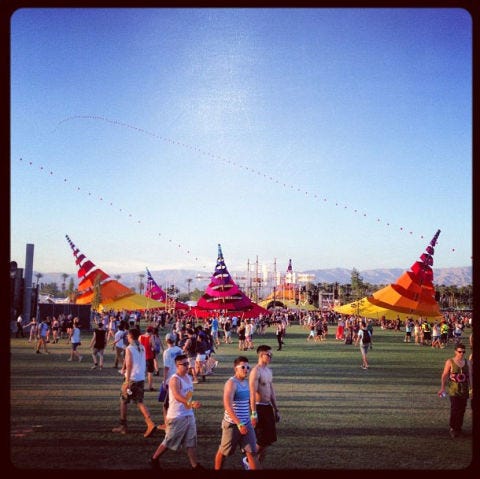 Welcome to Coachella
The festival grounds at Coachella are truly a feast for the senses. With six stages of continuous live music and a series of art installations, we had to do plenty of running around the polo fields to take it all in. Some of our favorite acts over the three days included The XX, The Yeah Yeah Yeahs, Pretty Lights, and Phoenix, who surprised the crowd mid-set with a performance by R. Kelly!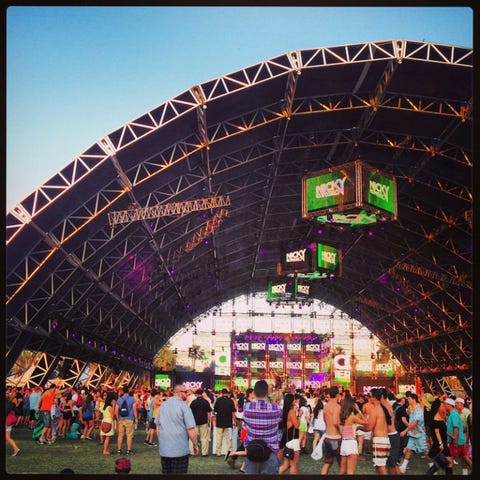 Welcome to Coachella
One of the stages got a major upgrade this year: The Sahara tent, which is home to most of the festival's electronic acts, grew to an 80-foot tall enclosed structure that could house thousands of dancing fans.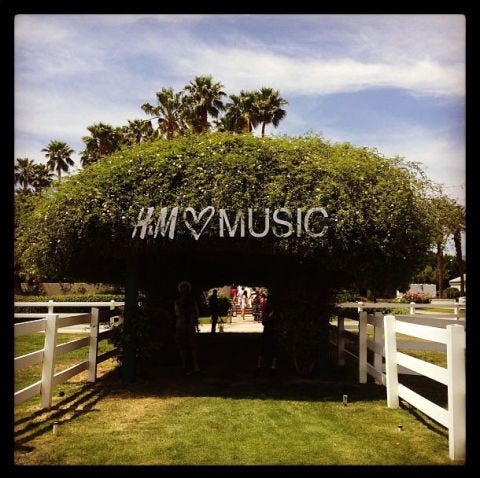 H&M Loves Music
On Saturday, H&M hosted its first ever Coachella pool party at the Merv Griffin Estate, where we were treated to paddleboating, ping-pong tournaments, and an intimate performance by Santigold.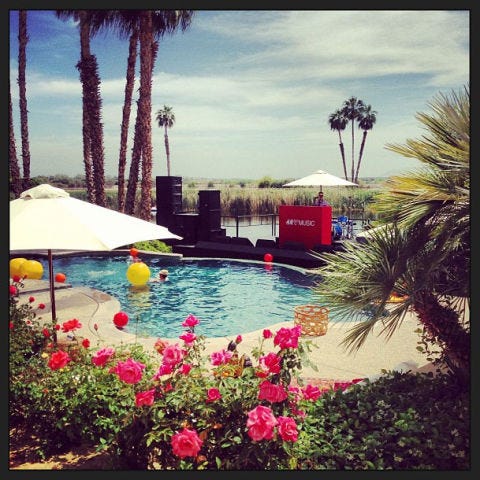 H&M Loves Music
H&M's relaxing houseparty was a welcome respite from the desert heat. We're not the only ones who thought so — Diane Kruger, Joshua Jackson, Sophia Bush, and Julianne Hough also swung by!
Lacoste L!VE Pool Party
The party-hopping continued on Saturday afternoon with Lacoste L!VE's annual Desert Pool Party. One of the most fun stops we made all weekend, Lacoste took over a private estate and lined the grounds with food trucks, a Lacoste pop-up shop, popcicle stands, and photo booths, but left plenty of space on the lawn for lounging. We also got a lesson in DIY flower crown making with LA-based brand Cult Gaia, and racked up some solid celebrity spottings, including Katy Perry and Alessandra Ambrosio.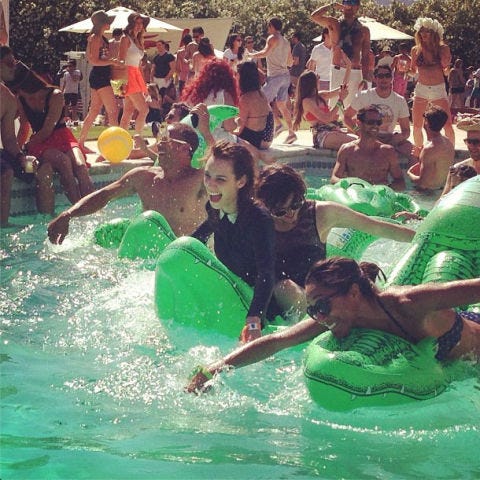 Lacoste L!VE Pool Party
We even caught Alexa Chung taking a break from her DJ duties and getting in on the gator races in the pool — who doesn't love a bit of competition?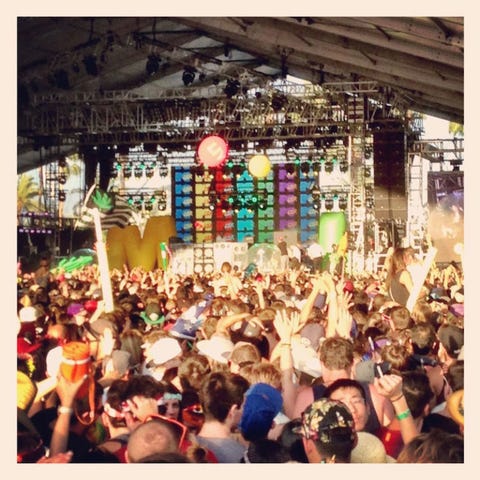 Inside the Mojave Tent
One of the most exciting sets we caught during Coachella was that of Major Lazer, who drew such a large crowd that fans were spilling out of the Mojave tent on all sides. Their reggae and hip-hop sounds were perfect for setting the party atmosphere, and the group — led by DJ and producer Diplo — just released a new album this week, entitled "Free The Universe."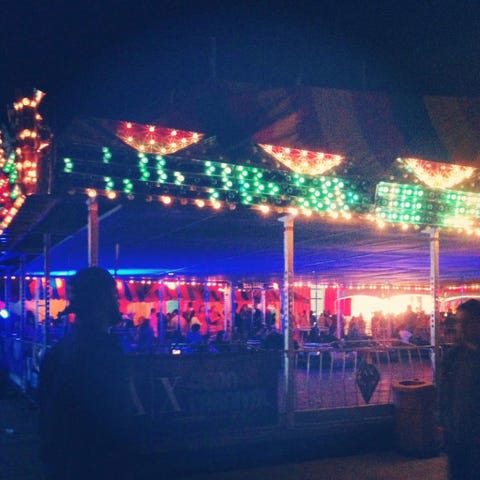 Neon Carnival
Our last stop on the Coachella party circuit was the annual Armani Exchange Neon Carnival. It was a little tricky to get to from the festival, but totally worth the trouble. We bumped into some of our favorite celebrities (hello, Leonardo DiCaprio), took a ride on a brilliantly lit ferris wheel and giant slide, and danced the night away to the sounds of DJ Jesse Marco.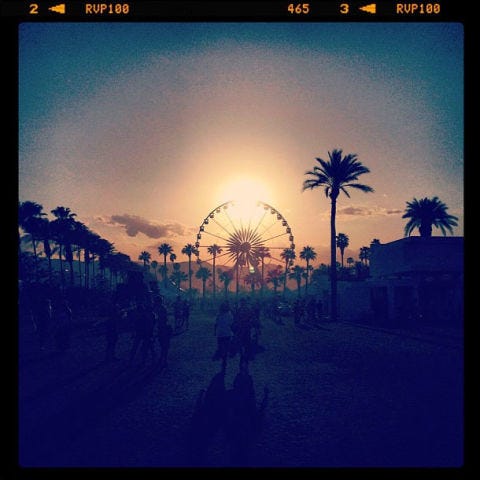 Until Next Year...
There are lots of things we'll miss about Coachella until we return next year, not least of which being the breathtaking Palm Springs sunsets over the polo fields. If you're traveling to the festival for weekend two, we know you're going to have a blast — and we officially envy you.
This content is created and maintained by a third party, and imported onto this page to help users provide their email addresses. You may be able to find more information about this and similar content at piano.io