Editors handpick every product that we feature. We may earn commission from the links on this page.
The Most Captivating Photos from Tulum's Art With Me*GNP Festival
This mini Burning Man on the beach turned art into eco-activism.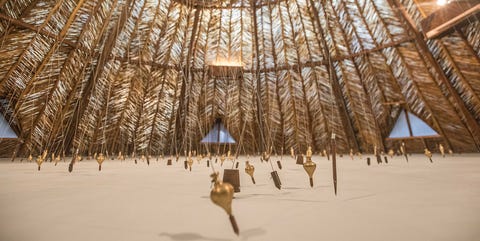 Last month in Tulum, backpackers rubbed elbows with billionaires, and egos were set aside for the love of art, music, food, and wellness—all tethered to a sustainable agenda. Art With Me*GNP united a melting pot of people to collectively raise awareness, devise solutions, and initiate action to protect the trending cultural enclave through one multi-faceted, funky arts festival. It was one hell of a mentally—and visually—stimulating week. Here, a glimpse inside the exclusive, inspiring event.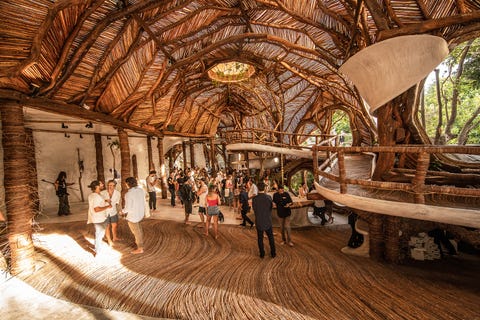 Treehouse Cocktail Party
Eco-hotel Azulik's imaginative treehouse-turned-art-gallery was the site of a VIP cocktail party hosted by Art With Me*GNP's Founder, David Graziano, and Santiago Guggenheim—great-grandson of Peggy Guggenheim.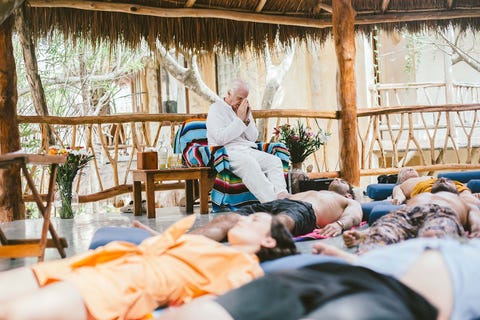 Mindful Moments
Clinical psychologist, intuitive spiritual guide and teacher, Bobby Klein, led an awe-inspiring introspective journey through the mind, body, and soul's archetype teaching attendees how to tap into and ground their intuition.
One Man's Trash
Brooklyn-based artist Alejandro Duran's visually striking environmental installation and photography project, Washed Up, showcased plastic waste from 58 nations across the globe along the Sian Ka'an Mexican coast. Duran's color-based sculptures and waste management advocacy earned him the festival's best social impact art award.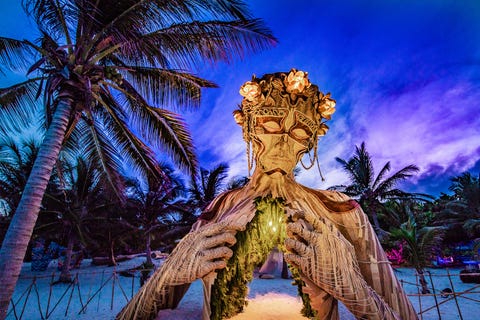 Heart Wide Open
Daniel Popper captured the expansive perspective of the festival through this larger-than-life whimsical female warrior art installation on the beach.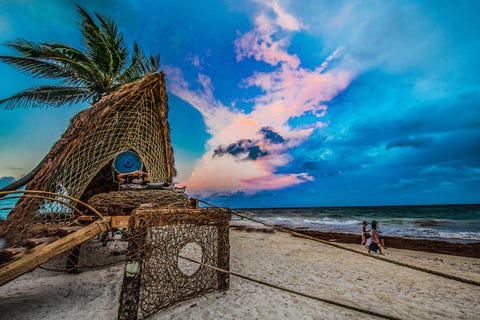 The Gamelatron
A 80-foot structure built by James Digiorgio and an elaborate sonic kinetic Gamelatron built by the visionary Aaron Taylor Kuffner was set beachside. Festival goers were transported on a bed from one end of the sculpture to the other as a makeshift orchestra of vibraphones, drums, chimes, and gongs (inspired by Indonesian Gamelan music) enveloped them—a fantastical sensory experience.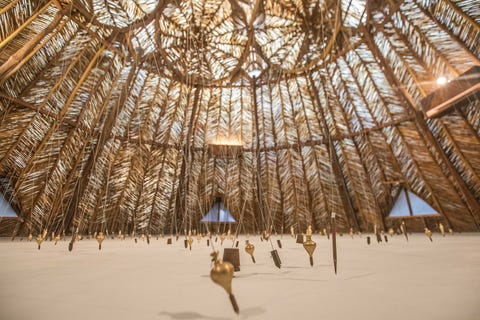 Energetic Dome
Tatiana Trouve built this creative vortex where 250 pendulums descend from the peaks of a wood dome frozen in time by magnets underneath the floor. Viewings and immersive live-music meditation sessions were held in the space throughout the weekend.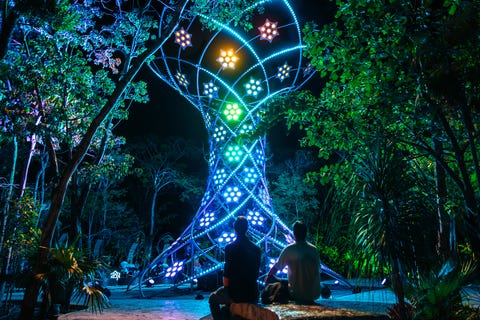 Light up Your Life
Straight from Burning Man, the 37-foot interactive art installation, Illumina, landed in the heart of Tulum, allowing visitors to take part in an immersive three-minute meditation. Each individual's unique energies merged together to activate a mesmerizing light show.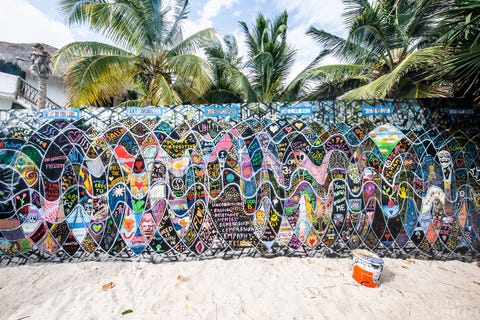 Community Art Love Wall
Festival attendees and locals channeled their inner artist to collectively create this multicolored mural centered on the theme of love.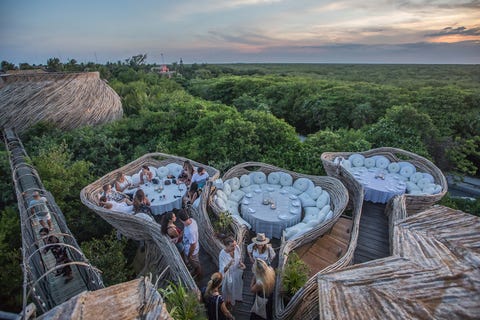 Birds Eye View
Guests dine in Azulik's bird nest bungalows with a sherbet sky sunset view.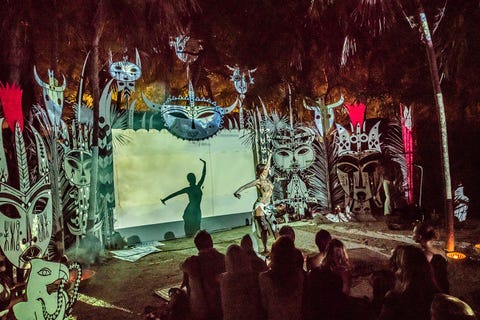 Just Dance
The Tulum Treehouse on the beach was transformed into an otherworldly art presentation where Guernica Mexicana and Carlito Dalceggio entranced the audience with a three hour art, music, and dance performance.
This content is created and maintained by a third party, and imported onto this page to help users provide their email addresses. You may be able to find more information about this and similar content at piano.io