Sh*t MC Girls Say: Live Coverage from the 2014 SAG Awards
Roll out the red carpet, top off your drinks, and join the MC girls for our live coverage of the 2014 SAG Awards.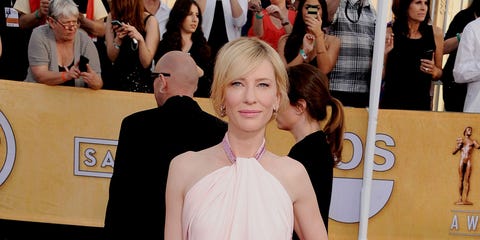 Roll out the red carpet, top off your drinks, and join the MC girls for our live coverage of the 2014 SAG Awards.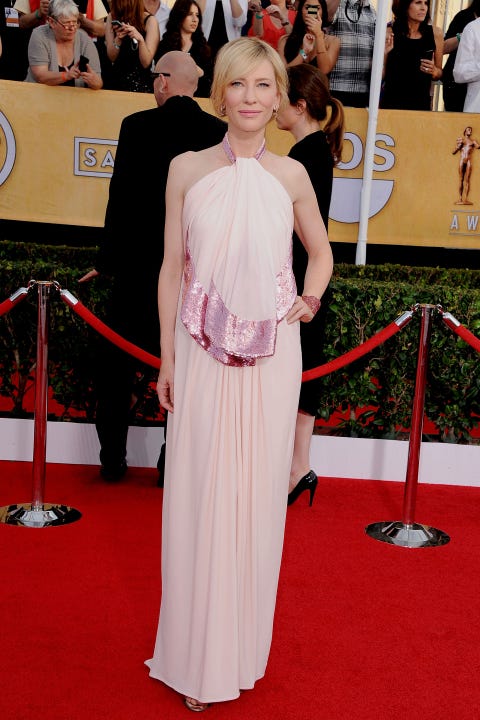 Cate Blanchett
Deanne, Digital Director: She is the epitome of perfection. Always. She is who Walt Disney described as every ethereal sprite. Yes, I went there.
Liana, Freelance Writer: Cate Blanchett is red-carpet catnip.
Rebecca, Senior Web Editor: She looks perfect.
Jennifer, Executive Assistant to the Editor-In-Chief: Breathtaking. Ethereal! That's exactly the word @Deanne.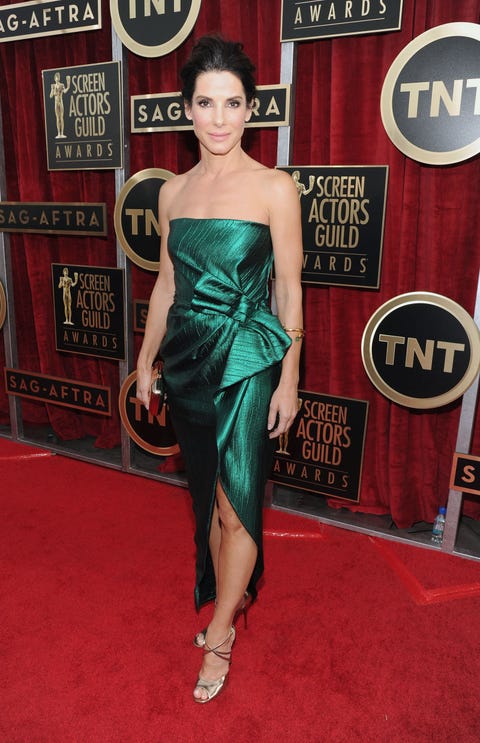 Sarah Bullock
Deanne: That color is great. That slit is damn sexy. It's like prom all over again...all dressed up and heading to Taco Bell.
Liana: Going with @Deanne on this one...too under the sea prom for me.
Rebecca: The color kind of reminds me of tacky Christmas decorations but she's my nominee for best beauty!
Jennifer: Just love her. I want to hang out with her. Dress is awesome on her - that color with her dark hair put back perfectly. Just cool, awesome, not trying too hard. And the slit? Amazing.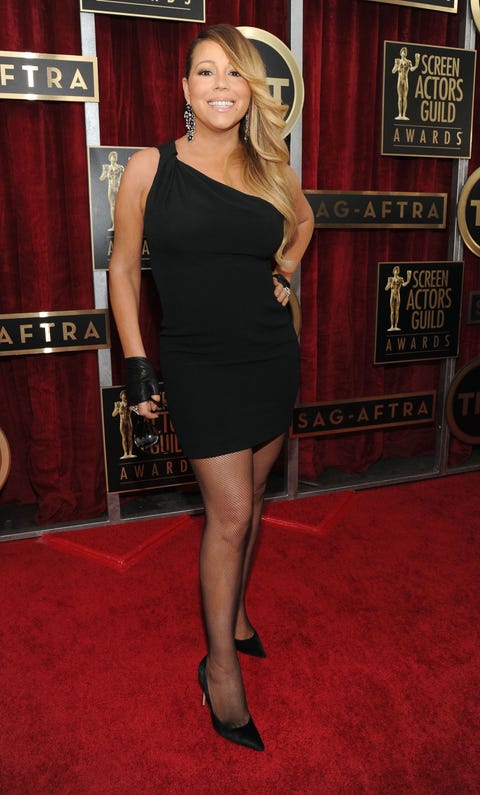 Mariah Carey
Deanne: Dear Mariah, No. Puffy hearts, Deanne
Liana: I went through a phase similar to this...and it wasn't pretty.
Rebecca: I just can't.
Jennifer: Ehh. You're a mom now - stop being so...trashy doesn't even describe it. @Deanne...and it's such a tragedy. Dreambox was my very first CD.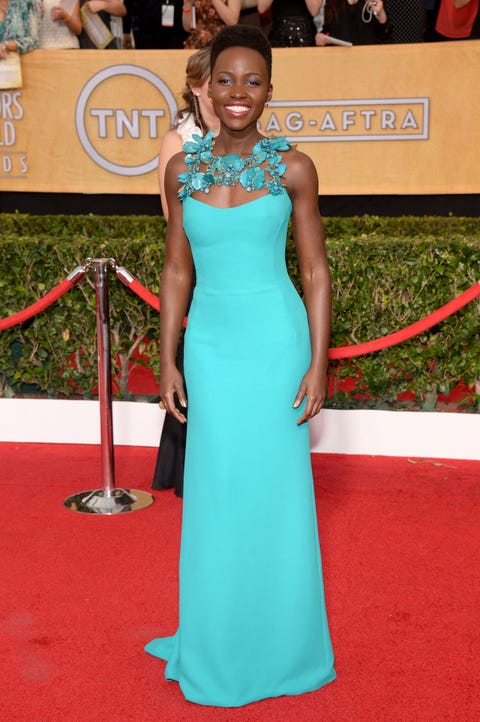 Lupita Nyong'o
Deanne: I want her skin. I want her lipstick. I want that color to look that amazing on me.
Liana: Looked amazing at the Golden Globes, looks amazing at the SAGs.
Rebecca: I'm a little bit speechless, at the moment. She looks exceptional!
Jennifer: Transfixed. I'm also speechless. She looks so regal in anything. Her skin and composure are flawless. That dress is just a beautiful accent to an insanely beautiful woman.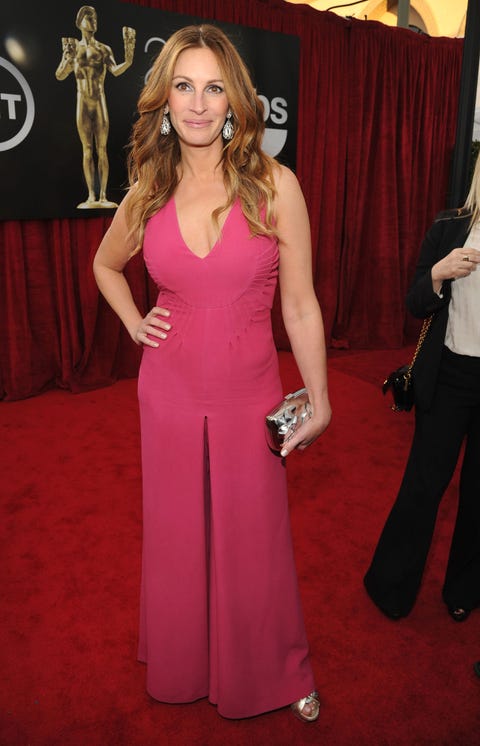 Julia Roberts
Deanne: Thank you, thank you, thank you for making up for the Golden Globes disaster dress.This is the Pretty Woman we all remember.
Liana: Warm tones, into it!
Rebecca: I am a jumpsuit supporter through and through. Thank you, Julia!
Jennifer: Well done. YOU'RE JULIA ROBERTS! Own it. Ditch the glasses, leave the white button-up bore at home and wear a friggin Valentino jumpsuit. Done.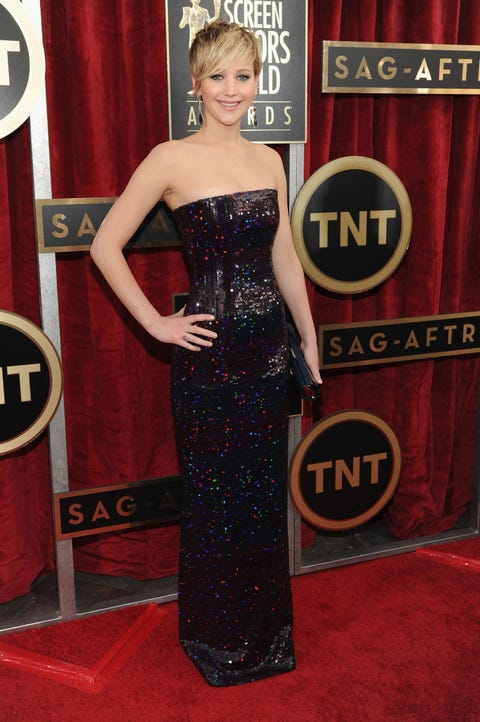 Jennifer Lawrence
Deanne: She is who Miley Cyrus wishes she could be. Jennifer Lawrence is badass. She looks phenomenal.

Liana: Elegant and young.
Rebecca: Muchhhhhh better! This is definitely my favorite J.Law look of the season.
Jennifer: WOW. Honestly, she just reminded me that she's in her 20s and can rock a kickass, bodycon, sequined black and maroon strapless. She's always elegant and reserved on the red carpet — effin love her in this. Get it girl.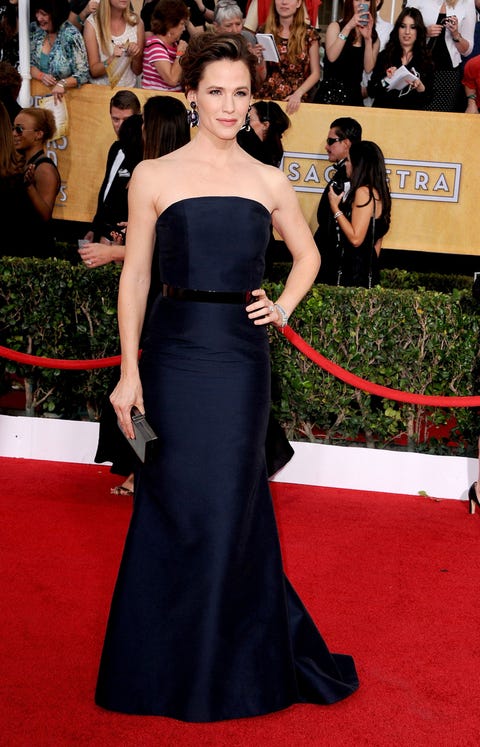 Jennifer Garner
Deanne: I want to look that good after three kids. Shit, I wanna look that good after one.
Liana:Her hair is a tousled updo, which I love!
Rebecca: I love the earrings but I don't think she's pulling them off.
Jennifer: She's a mother of 3? Damn.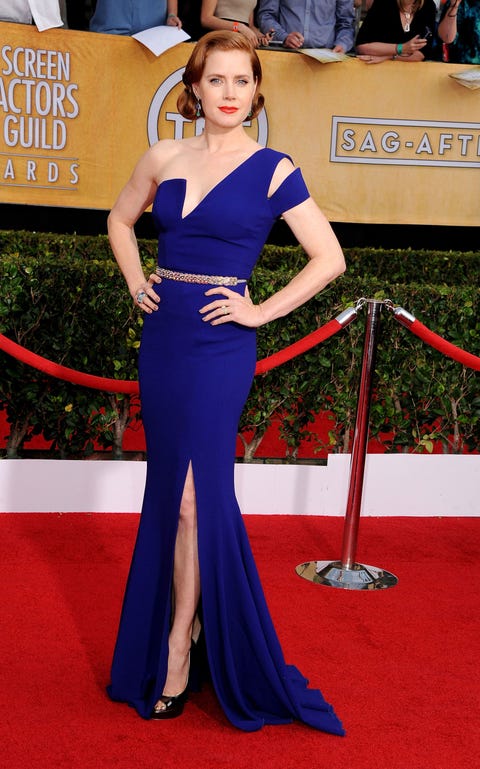 Amy Adams
Deanne: Her dress is KILLER. Great cut, color, and the shape is superb. I want her to have a pop of color for her clutch, though.
Liana: I love this. It is SO retro and it fits like a glove. Work it!
Rebecca: So I feel like I should like this dress, but I'm just not feeling it.
Jennifer: Ahh thank you for saying that @Rebecca. I just don't like - I so want to! I'm such a fan of her on the red carpet usually. But the long boob flap is distracting and the bejeweled belt cheapens it. Though she should always wear emeralds. Those were gorgeous against her hair and worked with the color of the dress.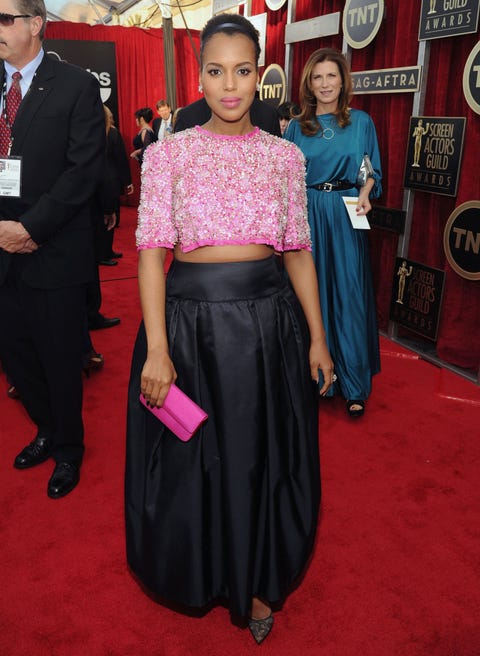 Kerry Washington
Deanne: I get she's preggers, but NO ON THE CROP TOP. I'm sorry, I was pregnant and I just don't think it looks right.
Liana:I like...the pink?
Rebecca: I'm still speechless a bit, but for entirely different reasons.
Jennifer: Olivia Pope NOOOOOOOOOoooo. Oh my gosh how terrible. She looked so SO good in Balenciaga last week. Why?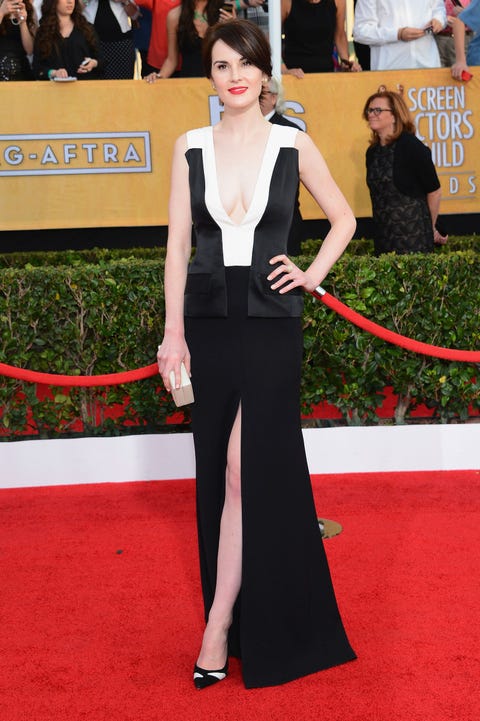 Michelle Dockery
Deanne: The hair is great, her lips are fab, her boobs look perky, but the tux dress is...it's just...meh. I wanted something better for her.
Liana:I love it! I love how it is architectural and shows some high thigh love with the slit.
Rebecca: Black and white with a red lip is probably my favorite combination ever.
Jennifer: Huge fan of the black white and menswear for women but I don't love how it's colorblocked. It makes her chest kind of disappear into the white. Obsessed with the red hair.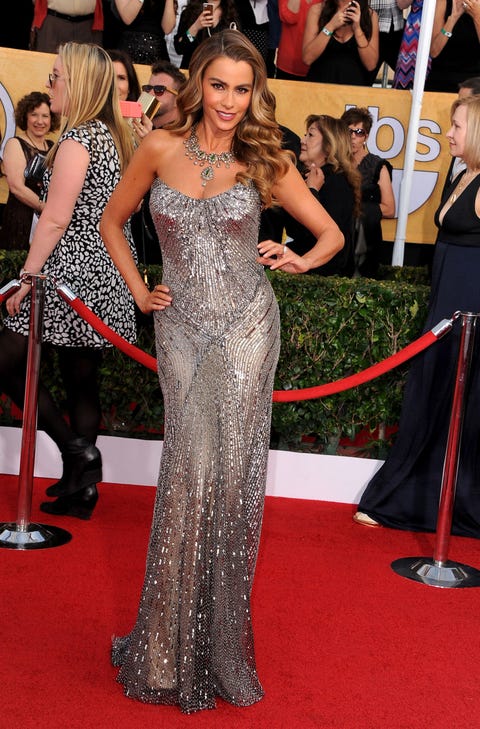 Sophia Vergara
Deanne: The bottom of her dress looks like a microchip. I just want her to wear something that doesn't scream: I'm so getting laid later. ;=)
Liana: Too much "shotgun wedding at a casino" going on for me here.
Rebecca: She just described herself as "an old Jessica Rabbit." So now I'm just thinking about Jessica Rabbit.
Jennifer: There's nothing that she can't wear. She just oozes sexiness. BUT I think it's aging her this one. Too much.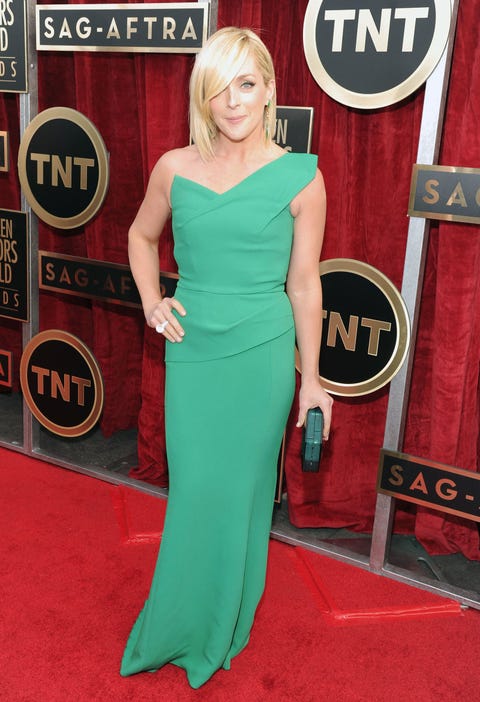 Jane Krakowski
Deanne: Top to bottom = Love. I'm getting her haircut ASAP.
Liana: Razor sharp 'do, razor sharp dress.
Rebecca: She needs to wear this particular shade of green always and forever.
Jennifer: All of a sudden my own hair feels long, dry and dumpy. Getting her 'do immediately.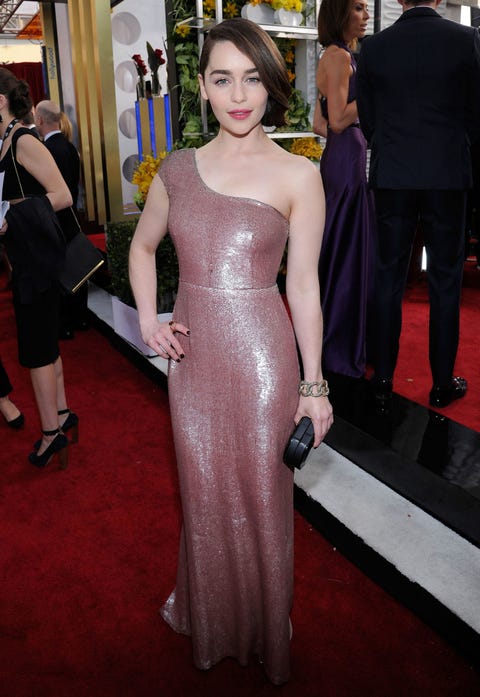 Emilia Clarke
Deanne: She's in the running with Sarah Hyland for best dressed. The dark blush color of her sequin gown and the side-swept 'do is just perfect.
Liana: Khaleesi, mother of sleekness.
Rebecca: I love her hair. Love love love her hair.
Jennifer: The hair. The hair. The hair. It was romantic and gorgeous and old world Hollywood-esq while being modern. Got to the learn the "do it yourself" for the that updo. I disagree on the dress though. Not my favorite. Sexy as hell but something isn't jiving for me. Maybe it's the one-shoulder.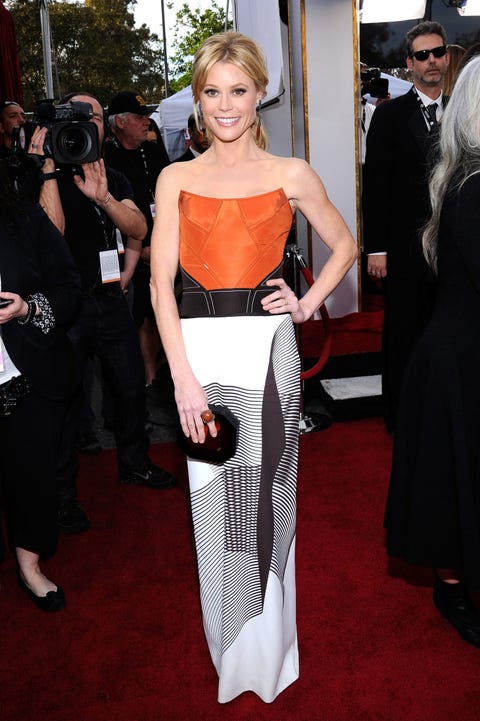 Julie Bowen
Deanne: It's a dress every woman should have in her wardrobe arsenal, but not really digging it for the red carpet...a dinner out in Paris, yes.

Liana: I feel like I'm looking at a slide in an art theory class — post-modernist?
Rebecca: I'm so impressed by the fit but am not loving the whole dress.
Jennifer: Can't believe that's Herrera! So super modern. Any other woman would not look good in it but her body is rocking that. Agreed though, maybe not the best red carpet choice.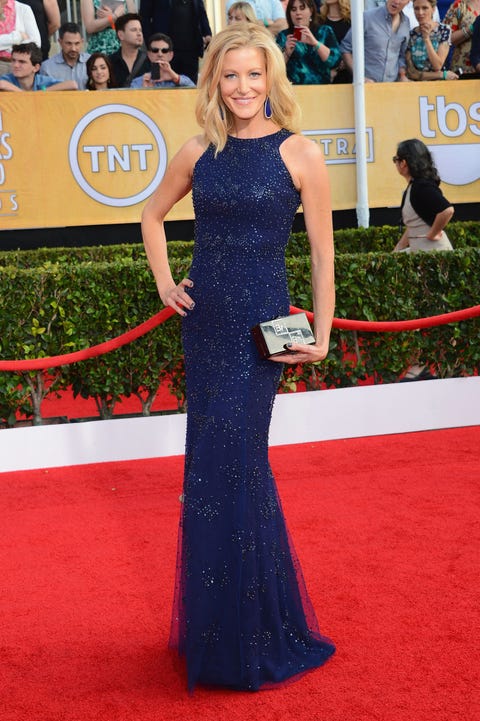 Anna Gunn
Deanne: *crickets*

Liana: Too Vanna White in Vegas for me.

Rebecca: Why the earrings? Why?

Jennifer: Still trying to decide how I feel about it. Minutes later. The hair was pretty. Dress was a little glitz overkill.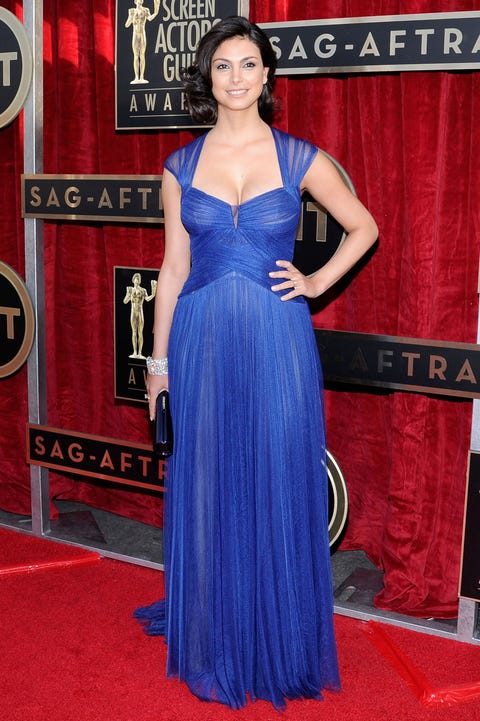 Morena Baccarin
Deanne: A mom who looks effing fabulous post pregnancy (read: does not look like she starved or did 5 billion sit ups for a bikini selfie)

Liana: This momma has got it going on! The contrast between the dark hair and blue Monique Lhuillier dress is stunning.

Rebecca: Okay I'm not kidding, my mom wore an extremely similar dress to my bat mitzvah. So obviously, I love it.
Jennifer: Seriously. I wouldn't have known she was post baby had she not said it. She looks healthy. And her hair is fab. She can skew very severe and flat with her hair, this time it's light and pretty.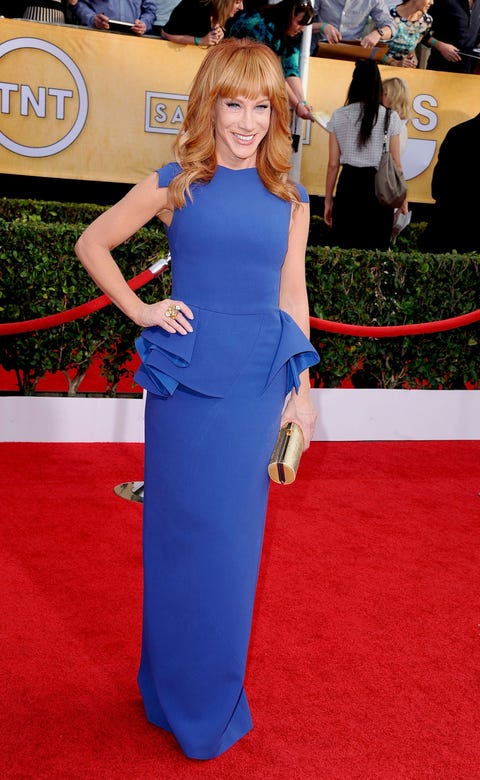 Kathy Griffin
Deanne: The most important thing about Kathy is that she sat next to Harry Styles. Oh, and her dress is sorta fetch.
Liana: I like how her hair meshes with the blue.
Rebecca: I still hate peplums.
Jennifer: She could rock a serious bodycon dress with a peplum (which agreed, not a fan of peplums but it could've been worse). Not many can do that.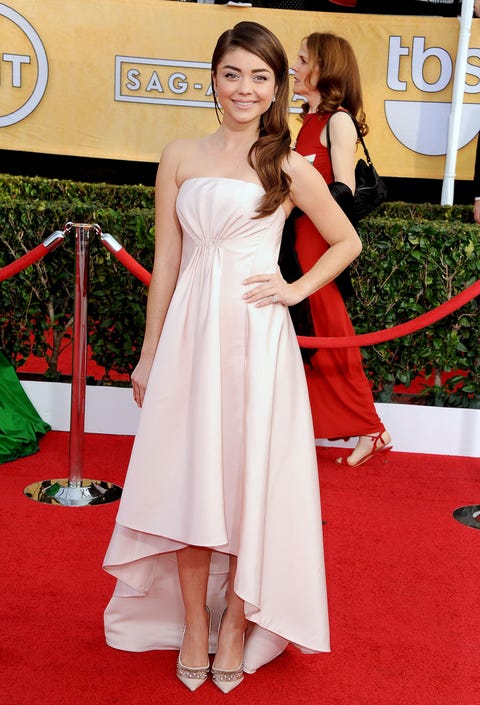 Sarah Hyland
Deanne: I love everything about this look. Her hair is great, the dress needs to be purchased and worn immediately, and her makeup (thank god and for once) is not overdone.
Liana: Simple, easy, and cinched — I like.
Rebecca: A plus on eyebrows. AND HER DRESS HAS POCKETS!
Jennifer: Gorge. The back was so sweet and billowy. Hair was perfect.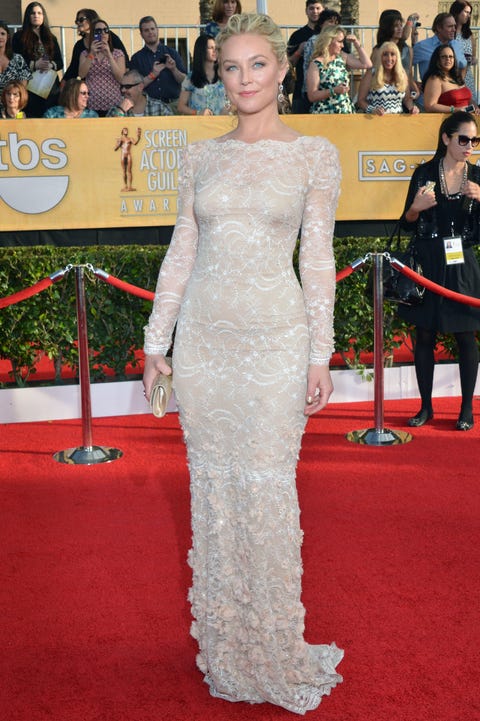 Elisabeth Rohm
Deanne: Channeling her inner-Charlize Theron. Girl looks great! The details on that dress are intense.
Liana: Put a modern twist on old Hollywood glam with the texturized details on the dress.
Rebecca: Love this blush look with her blonde hair — especially the few floral details she added to her updo. Gold star!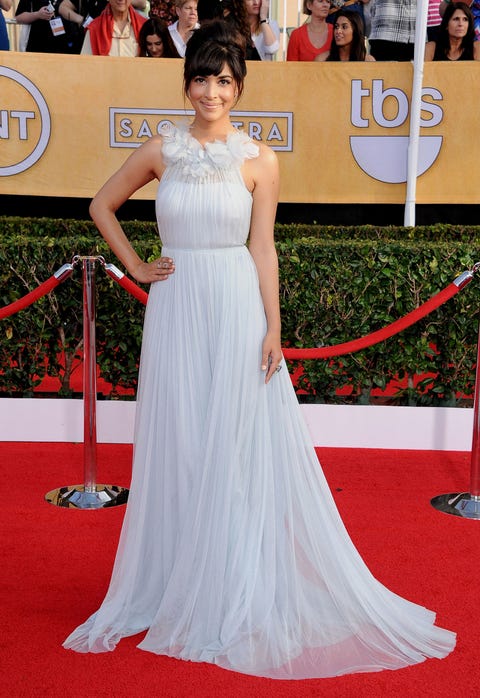 Hannah Simone
Deanne: She looks like the guest that showed up to a wedding wearing white.
Liana: That collar though...
Rebecca: I'm always confused by this shade of grey.
Jennifer: I think she was going for light and sweet, especially since she's such a sexpot on the show but, mmm, doesn't do it.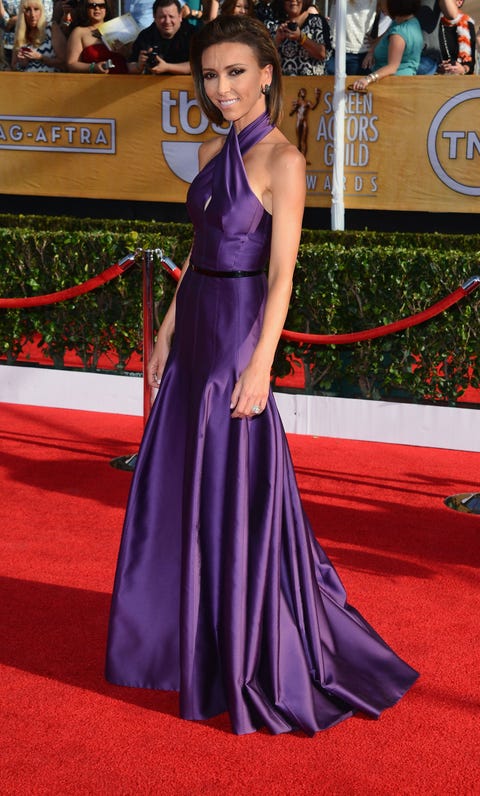 Giuliana Rancic
Deanne: No. All of it. She looks like she belongs on a Fruit of the Loom commercial.
Liana: This is what my cousin wore to her Miami prom in the early 2000s.
Rebecca: Maybe I just don't get the hairdo...
Jennifer: Agreed - a little deco. But the vertical ribbing does flatter her figure.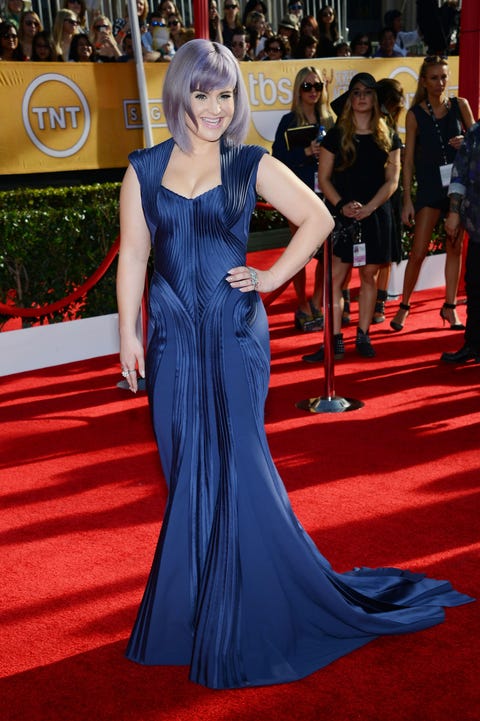 Kelly Osbourne
Deanne: The dress feels very modern, but her hairstyle is way too matronly for such a bad-ass babe.
Liana: I feel like I should like this, but I don't. Kind of deco-gone-sad.
Rebecca: There's just too much blue going on here.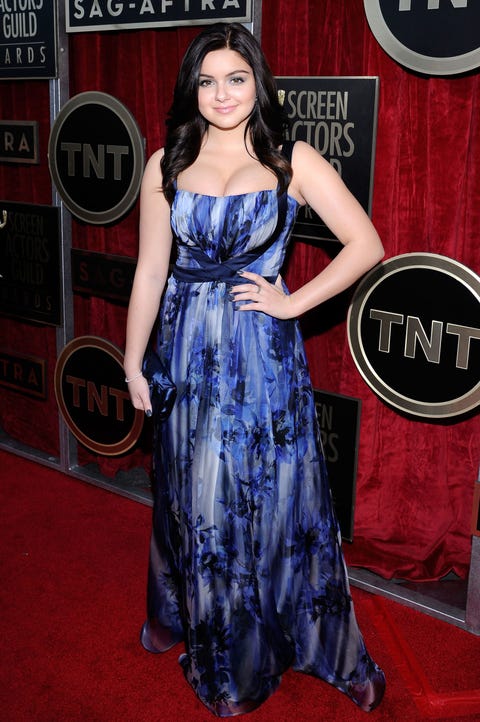 Ariel Winter
Deanne: She looks exactly as she should for a sophomore in high school. And we're going to help Ross start a campaign to get her voted Homecoming Queen.
Liana: I wish I looked this good in high school...
Rebecca: Homecoming Queen in the making!
Jennifer: She looks awesome! Her age, but glammed up. And it's flattering.
This content is created and maintained by a third party, and imported onto this page to help users provide their email addresses. You may be able to find more information about this and similar content at piano.io