The Craziest 'Game of Thrones' Fan Theories
When I say Jon, you say Snow! Jon! Snow! Jon! Snow!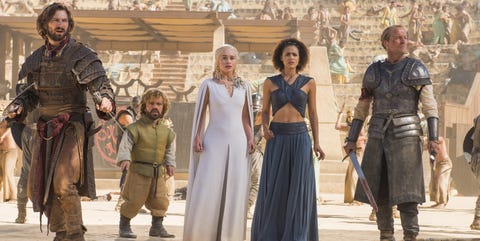 Game of Thrones: The show that kills off our favorite characters (Jon Snow, thank God you're back), layers hidden identities within a single person, draws no lines between love and incest, and shows more boobs than we thought were allowed without a triple-X rating. In between seasons, GoT fans cannot sit idly by, simply waiting until the next season reveals biological parents, unites obvious lovers, and uncovers hidden identities. No! They work harder than that. This show is a maze of word-play and secrets, and these dedicated fans are working their way through them constantly. We've scoured the sub-reddits and blogs and found the most noteworthy fan theories, which we've doled out, here, for your reading pleasure. Season 8 (airing on April 14), tell us something good.
This content is created and maintained by a third party, and imported onto this page to help users provide their email addresses. You may be able to find more information about this and similar content at piano.io