The Best Moments From the 2018 Emmy Awards
Wait—was that a genuinely entertaining awards show we just witnessed?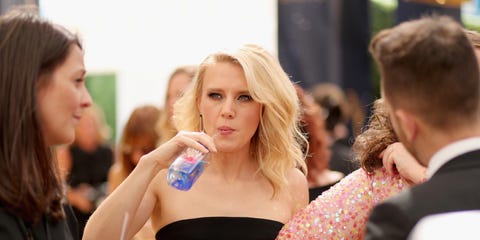 Christopher Polk/NBC
Getty Images
You get the sense that the 2018 Emmys came here to party. It was loose, it was funny, it was political, and they kept it snappy (god bless). Everyone was feeling rummy, getting honest (remember when Jeff Bridges thanked his horse, Apollo?) and a little political. And like all good TV, it struck just the right note of realistic about the whole 2018 situation and trying to distract you from the insanity of the current political climate. Maybe that's why The Marvelous Mrs. Maisel swept: It's realistic but spritely, thoughtful but not dour. It's the perfect show for right now, reminding us why we turn to TV without letting us get too lost in fantasy worlds.
All of it made for a wildly entertaining night of television. Was this, dare I say it, an extremely good awards show that was fun for the viewers at home to watch too? It can be done! Who knew it was even possible?!
Here were the best moments of the 2018 Emmy Awards:

The Opening "Diversity" Number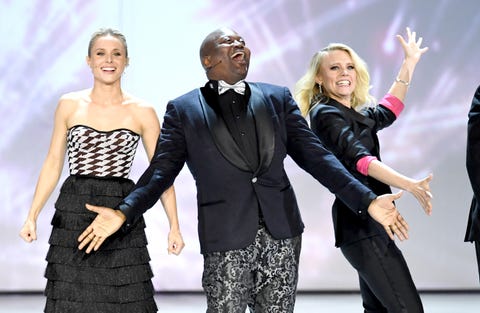 A true cavalcade of stars celebrating—jokingly—that the Emmys have finally gotten around to solving that whole diversity thing. It's a good awards show when the first people you see are Kate McKinnon and Kenan Thompson, and they didn't disappoint with a fantastic musical number featuring Kristen Bell, Sterling K. Brown, Ricky Martin, Titus Burgess, Andy Samberg and RuPaul. (Spoiler: We didn't actually solve diversity. Better luck next year.)
Chrissy Teigen and John Legend's Presenter Awards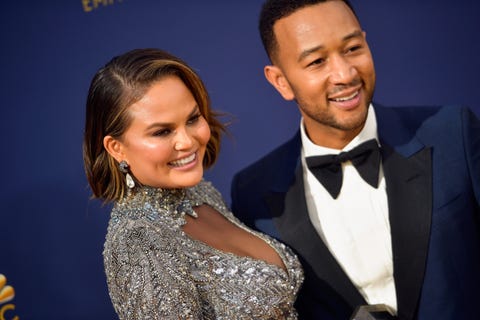 Matt Winkelmeyer
Getty Images
When John Legend went onstage to introduce Outstanding Actress in a Drama, he told the audience it was a big week. "We get it, you won the EGOT," were Chrissy's words of encouragement for husband John Legend, who completed his coveted Emmy-Grammy-Oscar-Tony award rounds. "Don't encourage this behavior," she joked. He revealed he meant their anniversary. Why are they perpetual couple goals?
Maya Rudolph and Fred Armisen, Emmy Experts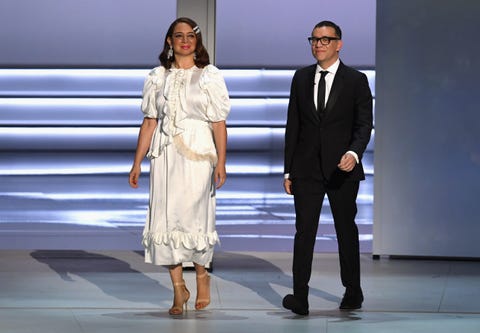 The two Forever stars were called on repeatedly by Colin Jost and Michael Che to act as recurring "Emmy experts," where they proceeded to not know things about Emmy history, the way votes are tallied, or why the statue is shaped like that. Who cares? This SNL reunion on the Emmys 2018 stage is very welcome. You good?
Sarah Paulson and Holland Taylor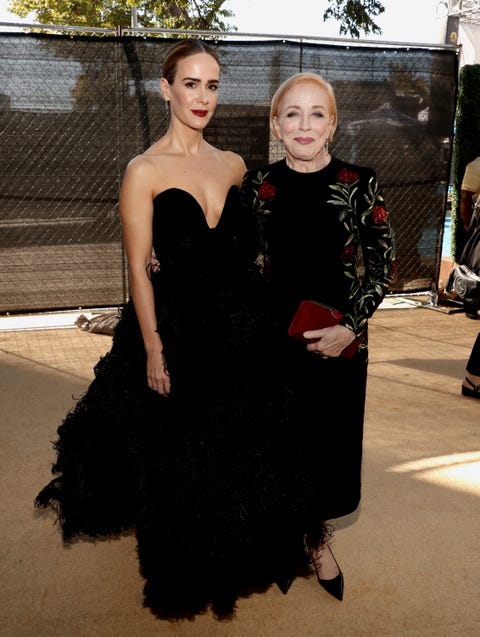 Todd Williamson/NBC
Getty Images
IDK, they're just the only celebrity couple I care about.
Leslie Jones Hyping Up Regina King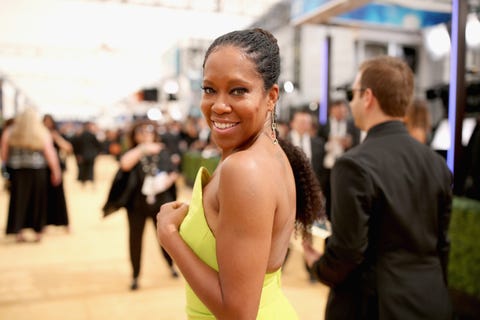 Christopher Polk/NBC
Getty Images
When she went out with RuPaul to award Lead Actress in a Limited Series, their intro was cute. But when the award went to Regina King for her work on Seven Seconds, she absolutely flipped. Her pumping up of Regina King— "Yes, baby! Yes, Regina!"—probably helped the actress, who seemed charmingly taken aback that she won. "I didn't expect...I dropped lipstick down my dress…" Been there.
Rachel Brosnahan and Larry David "Can't Do Banter"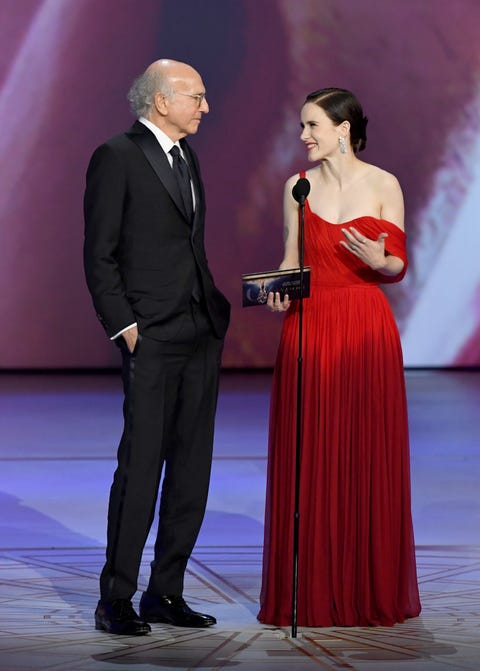 I ship 'em. The Mrs. Maisel star and Larry David joked about how they "got set up" to do some banter onstage to introduce Lead Actor in a Limited Series. The banter? Not so good. Larry King "can't do" it. But if it came to watching a show with the two of these jokesters? Yeah, OK I'd tune in.
Holy Shit, Was That An On-Stage Proposal?
God, this is good television. The director of the Oscars telecast, Glenn Weisswho won for Director of Best Variety Special, began his by commemorating his mother who passed away only two weeks ago. And then he proceeded to thank his girlfriend and explain why he didn't like calling her his girlfriend: "Because I want to call you my wife." The cut to Leslie Jones's shocked face made this moment worth it alone, but this sweet, heartfelt, frickin' onstage proposal was just the cherry on top of an incredible night of television celebrating television. All subsequent awards shows must be as good as this or better. "There's so many guys who didn't win with engagement rings in their pocket right now," Colin Jost joked later.
The Emmys Gave Aretha Franklin a Fitting Tribute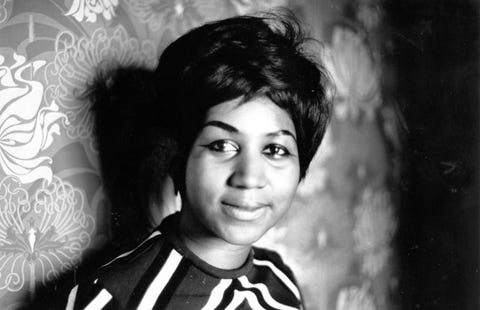 Express Newspapers
Getty Images
Where the VMAs couldn't deliver, the Emmys did. Introduced by a sweetly somber Tina Fey, the entire obituary tribute was as moving as it ever is, but with Aretha Franklin as the first tribute and the last, and her "Amazing Grace" playing throughout the obituaries, it was a lovely tribute to the stars we've lost this year.
Matthew Rhys Not Proposing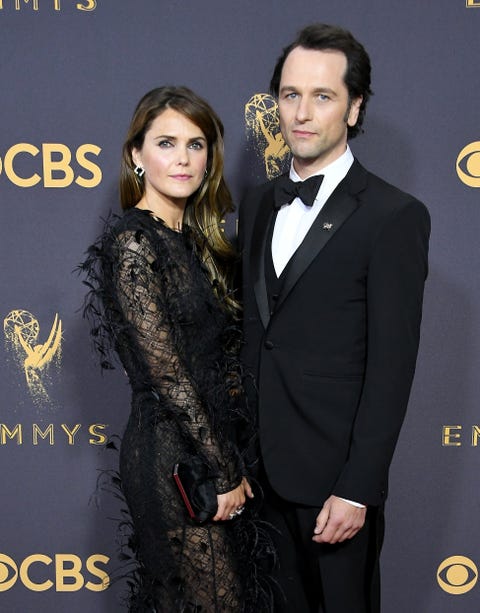 Steve Granitz
Getty Images
Matthew Rhys, who won Lead Actor in a Drama for his role on The Americans, thanked his onscreen and real-life paramour Keri Russell. "And she told me if I proposed to her onstage she was going to punch me in the mouth." Honestly, most relatable moment of the night. Like, Glenn was cute but I get it.
RuPaul's Message to the Fans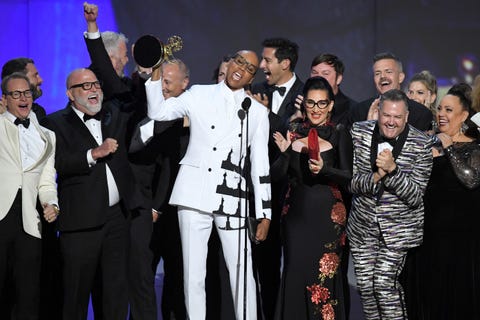 Upon winning the award for Outstanding Reality-Competition Show for Drag Race, RuPaul joked about the show's legacy of releasing hundreds of drag queens "into the wild" (amen) and then had a message to "all the dreamers out there" and told them, "If you can't love yourself, how the hell you gonna love somebody else?" Words of wisdom, Mama Ru.
Will Ferrell's Long Halftime Walk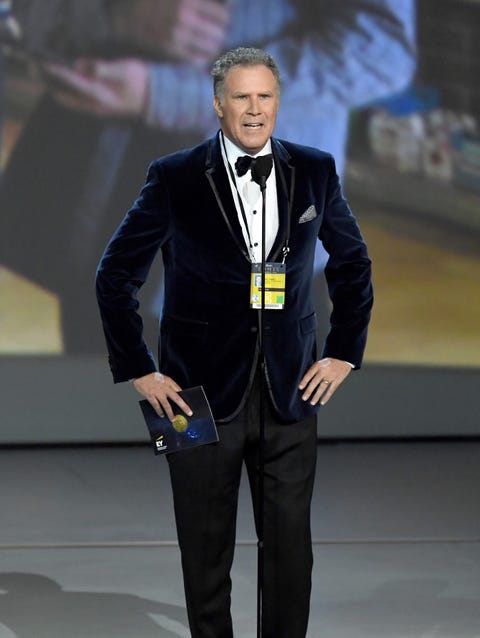 Will Ferrell is just a goofball, and his mega slow-walk to the microphone—which was "about a thousand yards," according to him (it looks much shorter on TV)—winded him. Fortunately, he caught his breath and he had his pass to get onstage. Why is he not just hosting the whole thing? SNL absolutely represented The Emmys this year. They should win next year for Best Hosting at a Televised Award Show.
This content is created and maintained by a third party, and imported onto this page to help users provide their email addresses. You may be able to find more information about this and similar content at piano.io