The Best Moments From Princess Eugenie's Wedding
If you need me, I'll be over here crying over the bridesmaids' little bouquets.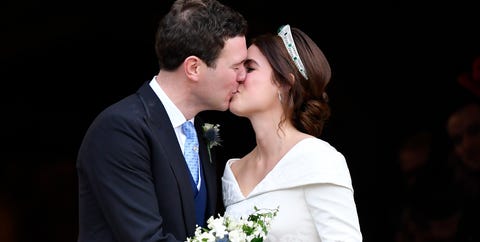 Another day, another royal wedding. Princess Eugenie and Jack Brooksbank's wedding has been a long time coming, and it looked like a blast. Even though the day seemed to be a wild and crazy event (for royalty, that is), there were still plenty of moments worth capturing. Here are some of the cutest, windiest, and most wonderful moments from the most recent royal wedding. We're swooning over here, too.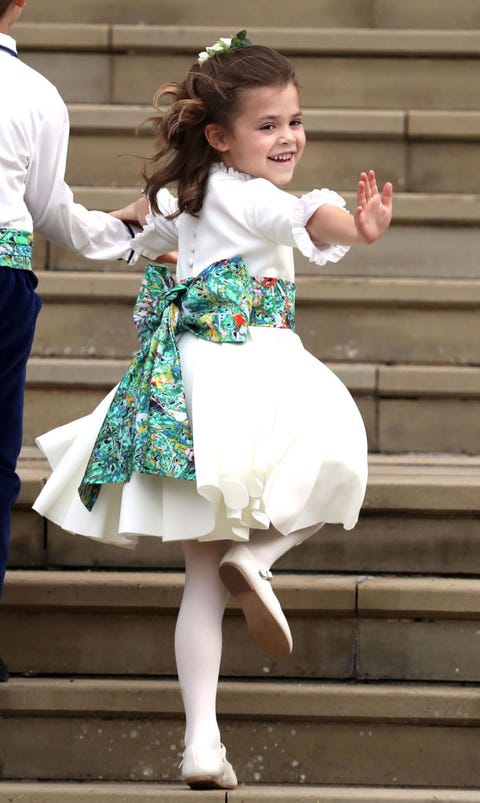 Theodora Williams is completely precious.
Honestly, this photo perfectly depicts the amount of joy I felt the entire time I watched Eugenie's wedding, my goodness. The daughter of Ayda Field and Robbie Williams stole the show (and people's hearts) at the wedding.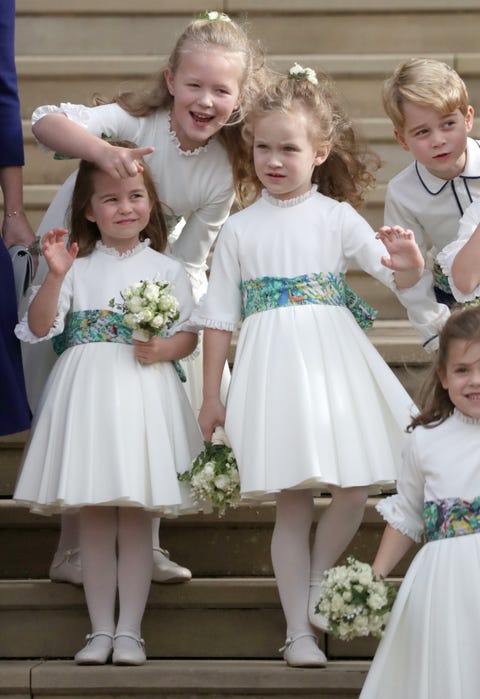 The kids schmoozed for the camera.
Princess Charlotte, Savannah Phillips, Maud Windsor and Prince George literally could not get enough of the cameras. Look at Prince George just peeking through back there on the right, so cute!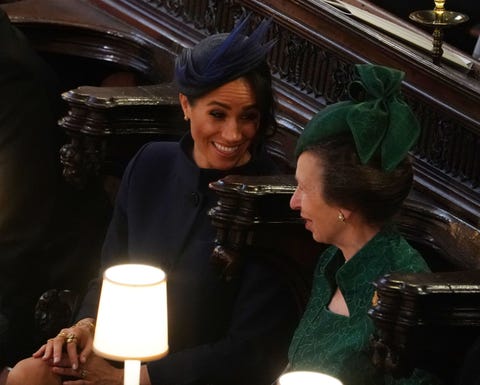 Meghan and Princess Anne!
Any inter-royal interactions we can get, I'm here for it all. I can literally hear Meghan's squee. Same, Meghan. Same.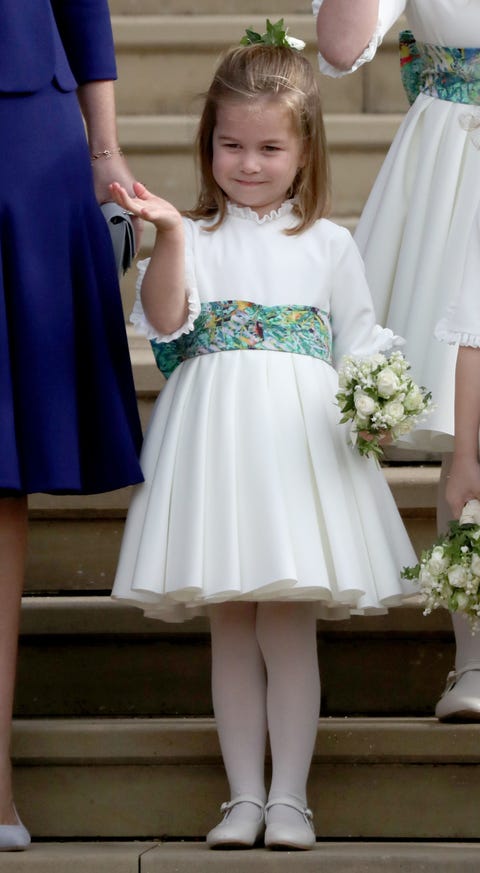 Princess Charlotte
Loving the emerald cummerbund to match with Princess Eugenie's tiara.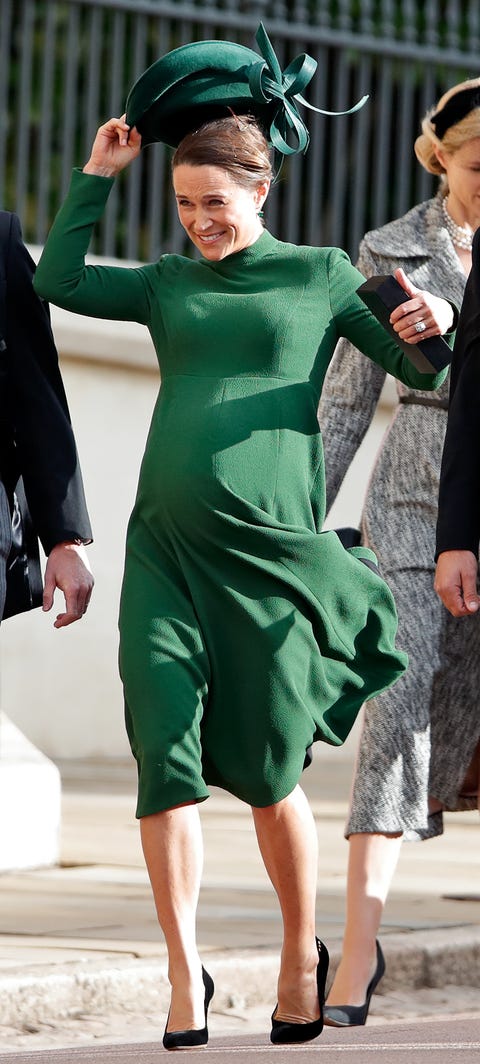 Pippa nearly blew away!
The wind was not joking around–so many of our favorite celebs found themselves holding onto their hats, literally.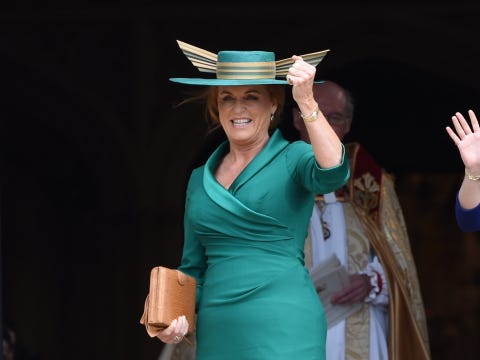 Fergie was beside herself with excitement.
Why wouldn't Sarah Ferguson be thrilled, it's her daughter's wedding day! She waved to the camera so many times.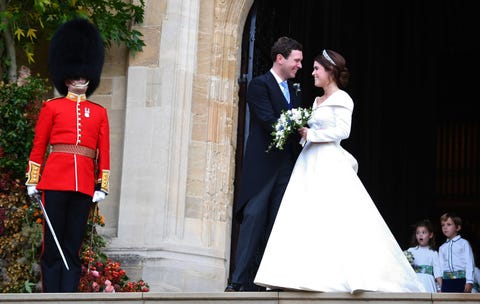 Spot the best part of this photo.
Theodora Williams in the back, what are you so shocked about?!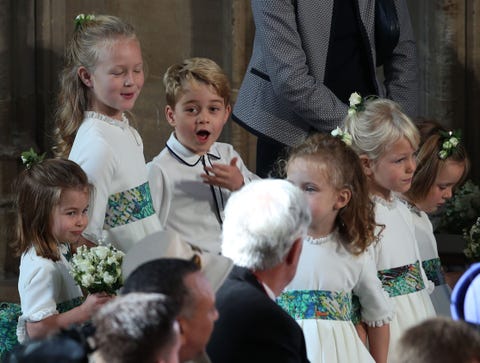 Prince George's FACE.
Is there a royal child that is this precious in the world? No. The answer is no.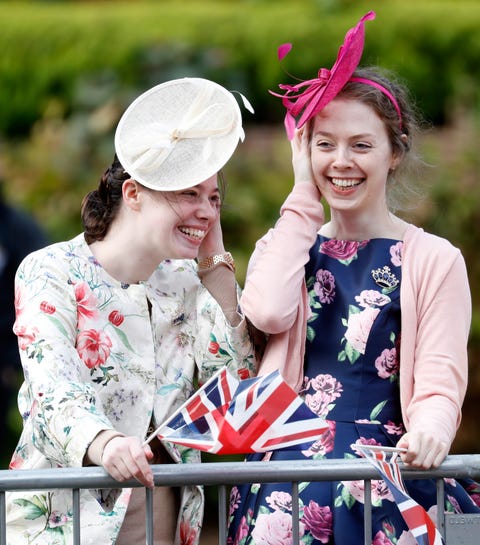 Look at the hats!
I love a full commitment from a fan, and these hats fit the bill perfectly.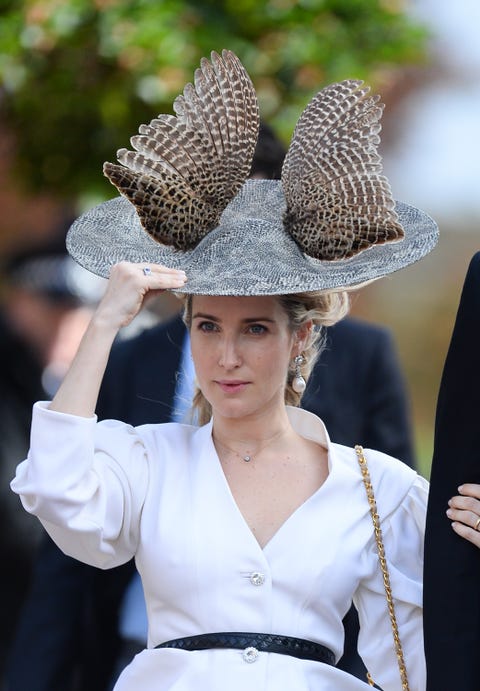 The hats were iconic.
Cara's top hat, Pixie Geldof's amazing hat-wear, and this hat from Princess Ekaterina of Hanover – the milliners came to slay for Princess Eugenie's wedding.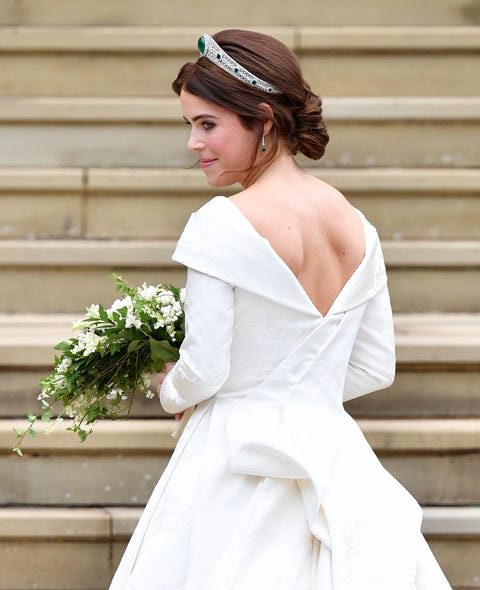 Princess Eugenie was stunning.
Look at the gorgeous makeup, and the back of the dress is a tribute to scoliosis issues she'd suffered from. She was a truly gorgeous bride.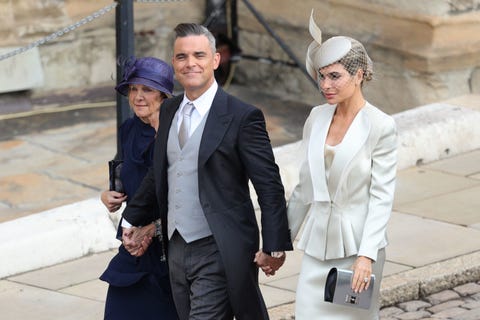 Robbie Williams holding hands with his wife and mother-in-law.
He looks so proud. His daughter's in the wedding, and he's there with his gorgeous wife and fabulous mother-in-law. Get it, Robbie!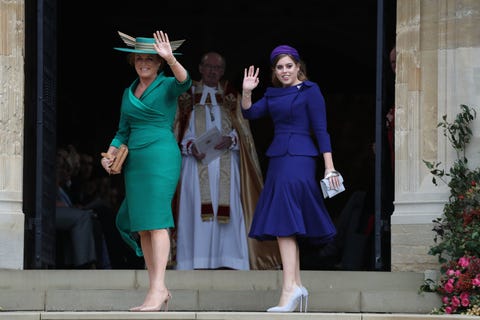 Like mother, like daughter.
Princess Beatrice was perfect today as a support system for her sister and her mom, but also those SHOES.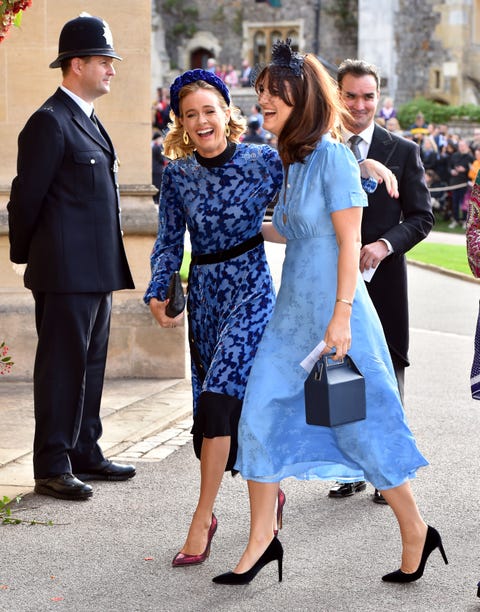 The guests looked like they had so much fun.
Cressida Bonas, can we be let in on the joke, too?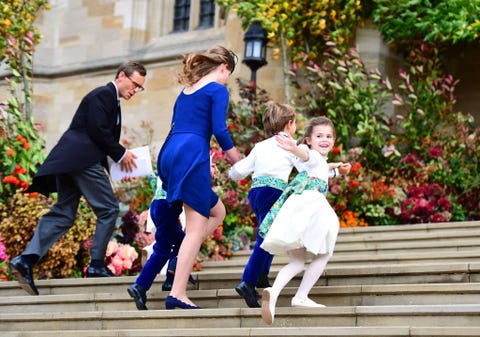 The kids nearly blew away!
It was so windy that nearly everyone had to hold onto their (literal) hats, and the kids almost blew away with the wind!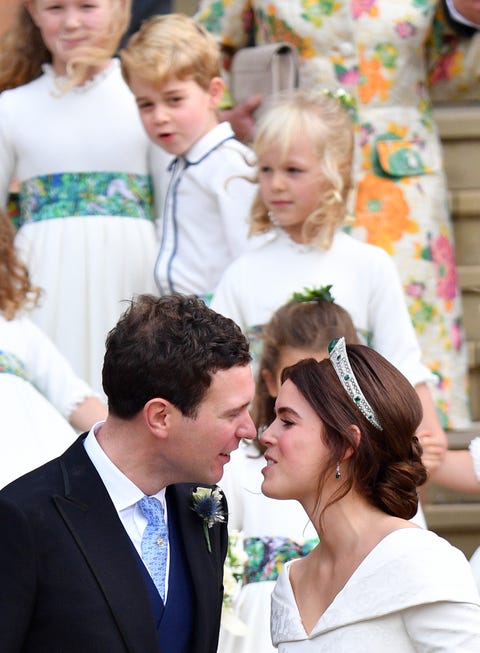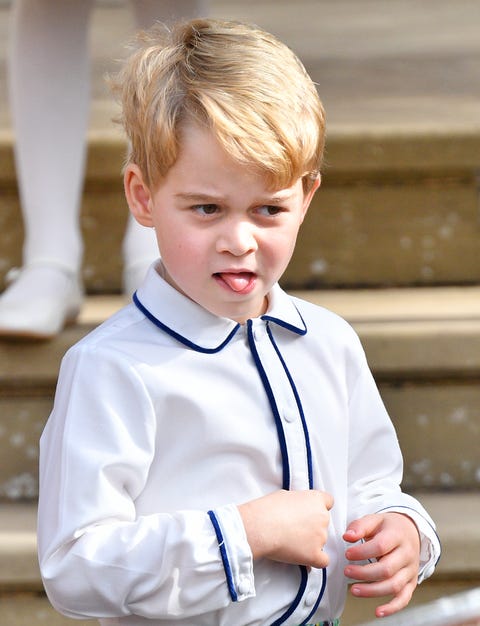 Prince George, stealing the show yet again.
We can only wonder what he was sticking his tongue out at this time.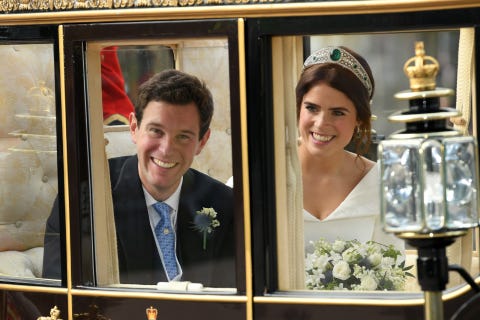 Eugenie and Jack looked amazing.
They were thrilled, you can tell. It's been a long time coming for these two.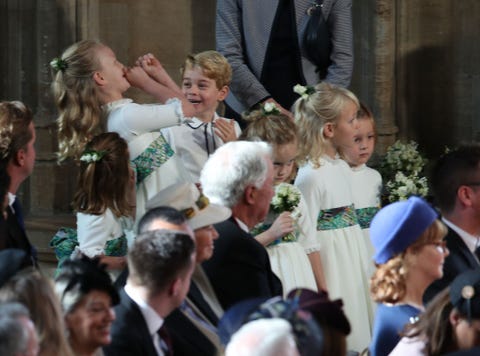 The kids were more than alright.
Look at the air-trumpet, and look how happy Prince George looks! This day isn't all serious business.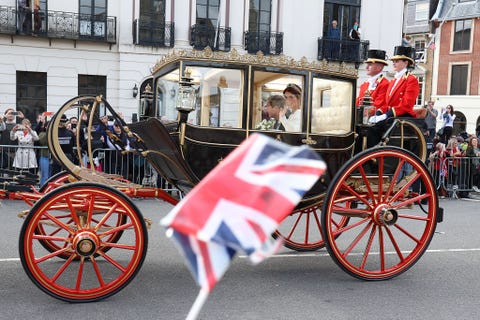 The carriage ride was a defining moment.
It was so gorgeous, this carriage, and the couple inside looked just as amazing.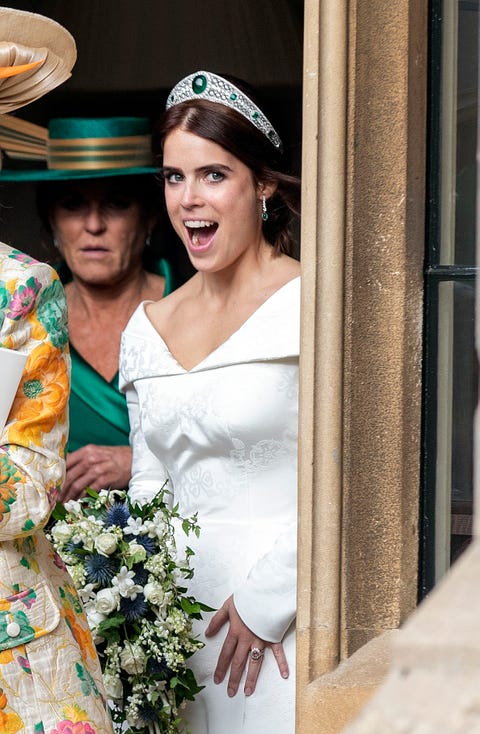 Eugenie's look of surprise.
Jack Brooksbank surprised Princess Eugenie with an extremely rare Aston Martin which was made especially for the James Bond film Spectre, and this was the fact she made when she first saw it. Same, Eugenie. Same.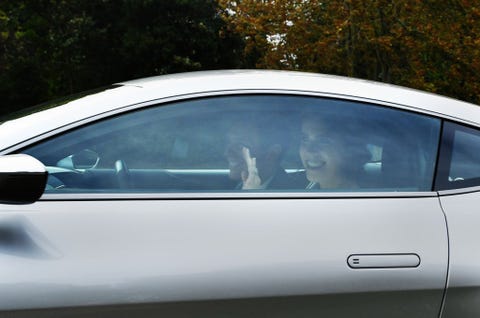 The royal send-off was perfect.
Princess Eugenie and Jack Brooksbank departed the lunch reception at Windsor Castle in an extremely rare Aston Martin which was made especially for the James Bond film Spectre. The couple left the castle following their afternoon reception and made their way to Windsor Lodge in a Aston Martin DB10, which was made especially for the Bond movie.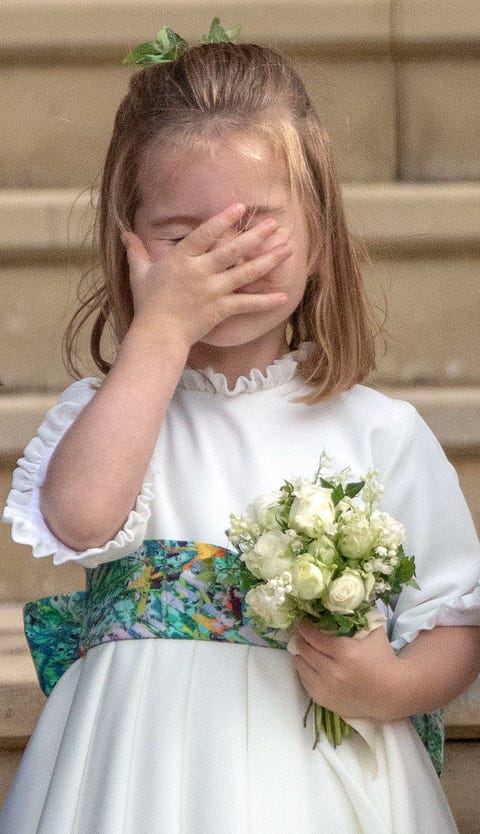 Princess Charlotte was us all.
A forever mood, we stan a legend.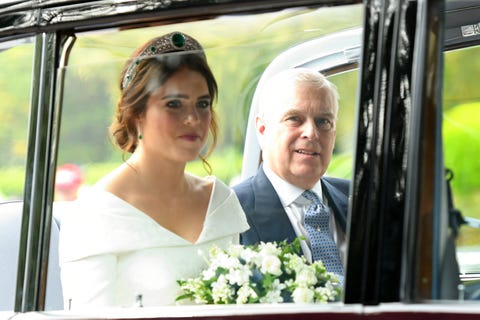 Eugenie was gasp-worthy.
That tiara, the light makeup, the bouquet – everything worked here. Everything.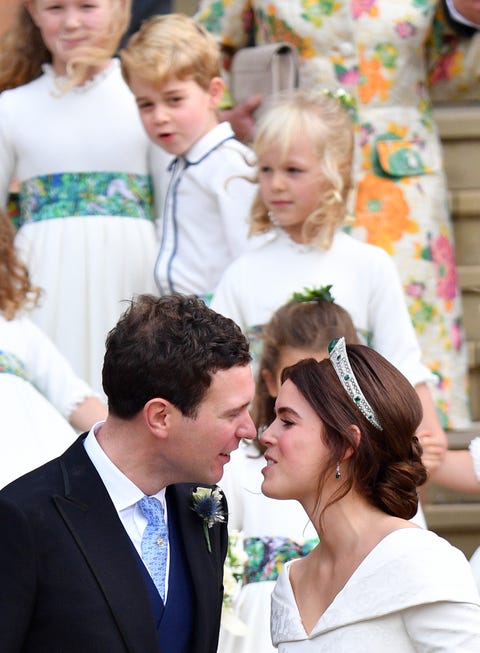 Princess Eugenie and Jack were #couplegoals.
Every time they were near each other they looked like they were sharing a secret just between the two of them. The swoon-worthy moments were in abundance.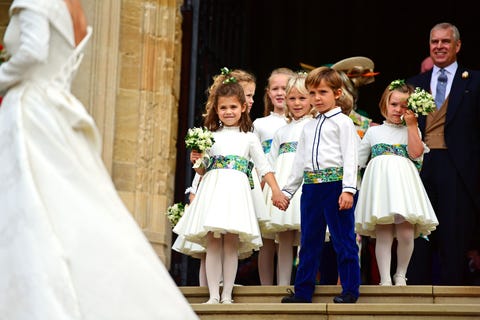 The kids were the best part of the day.
They're even cute as they just wait patiently. The little bouquets on the bridesmaids are a nice touch.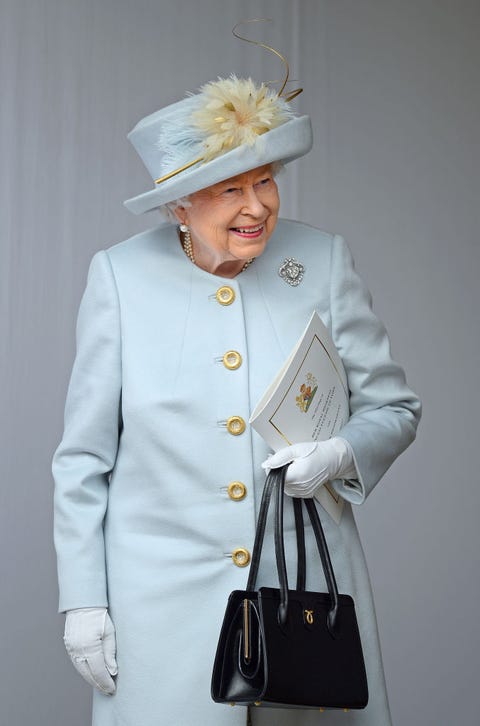 Queen Elizabeth was adorable.
My goodness, look at how happy she looks! Look at her pastel blue suit! Look at the coordination of the gold in her hat to the buttons! She's the absolute best.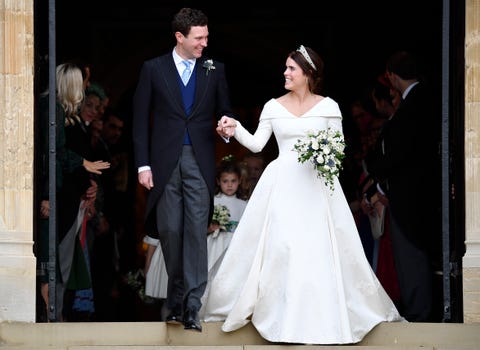 Congratulations, Eugenie and Jack!
This is what true love looks like. Take note, everyone.
This content is created and maintained by a third party, and imported onto this page to help users provide their email addresses. You may be able to find more information about this and similar content at piano.io