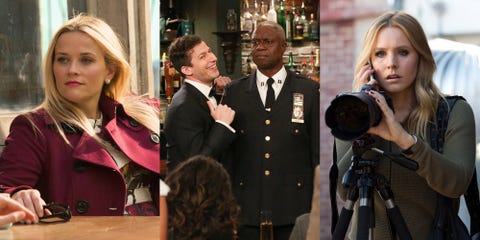 It feels like 2018 just started yesterday, but here we are: December. With the holiday season and the New Year upon us, it's time to start fresh and see what in the realm of culture we have to look forward to. And the answer is a ton of stellar television. From the First Wives' Club reboot to Brooklyn Nine-Nine's NBC premiere, 2019 is bringing in fresh and new television for the viewers—even if it means that a slew of old favorites have to go away in order to do it.
Here are some of the most anticipated new shows of 2019—and the ones we're the saddest to see go.
Anticipated Air Date: Unconfirmed, 2019
Check this one out, marshmallows: After three seasons, two books, and a movie, Veronica Mars is set to return to the small screen, this time on Hulu.
The reboot is described thusly: "Spring breakers are getting murdered in Neptune, thereby decimating the seaside town's lifeblood tourist industry. After Mars Investigations is hired by the parents of one of the victims to find their son's killer, Veronica is drawn into an epic, eight-episode mystery that pits the enclave's wealthy elites, who would rather put an end to the month-long bacchanalia, against a working class that relies on the cash influx that comes with being the West Coast's answer to Daytona Beach."
Anticipated Air Date: Unconfirmed, 2019
Sam Rockwell and Michelle Williams will star in Fosse/Verdon, an inside look at the romantic and creative partnership between influential choreographer/director Bob Fosse and Gwen Verdon, one of the greatest Broadway dancers of all time. (Don't believe me? Check this out.)
Pretty much everyone who is anyone in the showbiz world is involved in the series: Tony winner Steven Levenson is joining Lin-Manuel Miranda and Thomas Kail as producers; Norbert Leo Butz, Chita Rivera, Laura Osnes, Aya Cash (of You're the Worst), and Nate Corddry are all set to join the cast.
Anticipated Air Date: Unconfirmed, 2019
Like Bojack Horseman? Then you'll probably dig Undone, because they share the same creator: Rafael-Bob Waksberg. In Amazon's first adult animated series, Rosa Salazar (Parenthood) stars as Alma, who "after getting into a near fatal car accident, discovers she has a new relationship with time and uses this ability to find out the truth about her father's death."
Anticipated Air Date: Unconfirmed, 2019
Yes, this is based on the same movie from the 1990s you tried to recreate in your bedroom! This time it's being rebooted as a television series for BET, penned by Girls Trip co-writer Tracy Oliver, and starring Jill Scott, Michelle Buteau, and Ryan Michelle Bathe in the roles originated on screen by Diane Keaton, Bette Midler, and Goldie Hawn.
Brooklyn Nine-Nine, Season 6
Anticipated Air Date: January 10, 2019
Following a fan-led movement to get the show renewed (after it was cancelled by Fox in its fifth season), B99 will return in January on a new network: NBC. The Peacock saved the show from imminent demise and the original pickup of 13 episodes was recently increased to 18. We're welcoming as much of the 99 as we can get—they were almost gone!
Jane the Virgin, Season 5
Anticipated Air Date: January 2019
After the explosive, game-changing fourth season finale, JTV is expected to return in 2019 for a fifth and final season. They're keeping mum on the details about the finale, but we do know Gina Rodriguez is jumping into the director's chair again, and maybe, just maybe, we'll find out who's been narrating the entire tale.
Anticipated Air Date: Spring 2019
The Emmy Award-winning series is returning for its final season (it really does feel like everything is ending in 2019) and a seven-episode run to round out the series. Selina Meyer's consistent failure upwards will be dearly missed.
Big Little Lies, Season 2
Anticipated Air Date: Unconfirmed, 2019
After being the unexpected smash hit of 2017, HBO renewed Big Little Lies for a second season—even though the show was billed as a miniseries. We're still awaiting details on what's to come next, but we do know that Meryl freakin' Streep has joined the cast as Nicole Kidman's mother-in-law, and Liane Moriarty (who wrote the novel the series is based on) has written the story for the second season.