A New U.N. Report Says Gender Equality Won't Happen Unless Governments *Make* It Happen
Equal opportunity isn't enough to boost women around the world.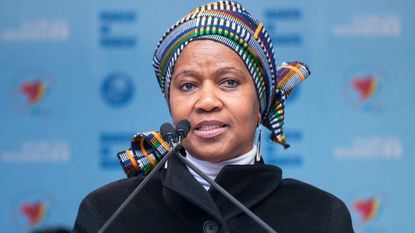 (Image credit: Archives)
A major new report from the United Nations called Progress of the World's Women 2015 - 2016 (opens in new tab) paints a pretty dismal picture of how women are treated in the global economy. On average, women are paid 24% less than men, and it's worse for women with children. What's more, women around the world are funneled into jobs that pay less, like domestic occupations, and often experience sexual harassment in the workplace. They're still vastly underrepresented in leadership positions in business and government.
In many countries around the world, resources aren't going into basic services like healthcare and childcare, placing the burden squarely on women. "This is a care penalty that unfairly punishes women for stepping in when the State does not provide resources and it affects billions of women the world over," UN Women Executive Director Phumzile Mlambo-Ngcuka said in a press release (opens in new tab). "We need policies that make it possible for both women and men to care for their loved ones without having to forego their own economic security and independence."
How can we fix this? Not by simply standing by. Time notes (opens in new tab) that this report is the first of its kind to make it clear that equal opportunity isn't enough to achieve true equality between men and women. Instead, the report argues that "different treatment" from governments may be necessary to bridge the wage gap for good.
The U.N. report calls for a major overhaul in government policies to push for gender equality. "Imagine an economy that works for women," the report implores. They want governments to create good jobs for women and men, and recognize the kind of unpaid work, like childcare, that keeps a society running. They also want countries to boost social services like health care and pensions in order for women to have a real shot at moving up the economic ladder.
You should also check out:
Mean Girls of the ER: The Alarming Nurse Culture of Bullying and Hazing (opens in new tab)
New Study Reveals Why It's So Damn Hard Out There for Female Filmmakers (opens in new tab)
More Women Won Pulitzer Prizes This Year Than in the Past Five (opens in new tab)
Megan Friedman is the former managing editor of the Newsroom at Hearst. She's worked at NBC and Time, and is a graduate of Northwestern's Medill School of Journalism.