Regina George's 'Mean Girls' Mansion Is on the Market for $14.8 Million
Let's all go in together and buy it, k?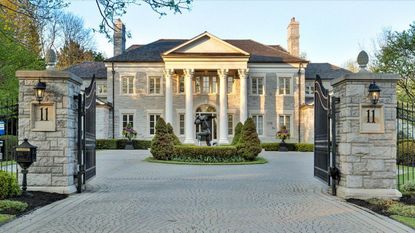 (Image credit: Sotheby's)
This is not a drill people. Regina George's mansion from Mean Girls is up for sale. We repeat: The house is for sale.
Remember that scene where the Plastics pull up to the house? The one where Cady exclaims, "Wow, you're house is really nice!" and in typical Mean Girl fashion, Regina replies, "I know right?!"? That house—*that* house could be yours.
The Toronto, Ontario home is even more magical than we could've imagined. The five bedroom, 12-bathroom estate (because that bathroom-to-bedroom ratio makes sense) sits across two acres of private property and sports a tennis court, six-car garage, and double staircase, according to Sotheby's International Reality.
*cries*
The listing price is high (like $14.8 million high), so we can all safely assume that whoever snatches it up has to be the inventor of Toaster Strudel or something.
Simedar Jackson is an esthetician, content creator, and lover of sci-fi fiction living in Brooklyn, New York. She is passionate about creating space for Black and Brown people in the beauty and wellness industries by providing access to culturally nuanced education and services that meet their needs. You can find them doing their skincare routine, reminding friends to reapply SPF, and watching reruns of Love Island.