A Conversation with the Natural Resources Defense Council About Our Commitment to Sustainability
NRDC president Rhea Suh interviews Marie Claire editor-in-chief Anne Fulenwider.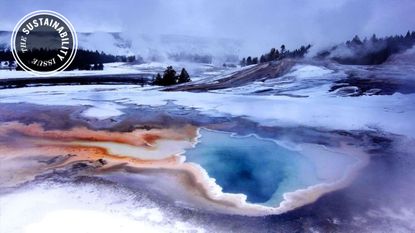 (Image credit: Archives)
For Marie Claire's first-ever sustainability issue, we've partnered with the Natural Resources Defense Council to raise funds to help protect our planet (donate here!). In a candid chat, NRDC president Rhea Suh and Marie Claire editor-in-chief Anne Fulenwider discuss the importance of the cause.
Rhea Suh: Why do a sustainability issue now?
Anne Fulenwider: Marie Claire has always spoken to a socially conscious reader who is invested in making the world a better place. We've always covered social issues. A little over a year ago I gathered our senior staff and contributing editors for dinner and asked them what was the most concerning social issue to them at this moment. The resounding answer was climate change. From there, we began to create our first-ever sustainability issue. We never dreamed that by the time we published this, the United States would have pulled out of the groundbreaking 2016 Paris Agreement ratified by 148 countries to battle climate change.
RELATED STORIES
Help the Env by Supporting the Right Businesses
RS: How did you decide on Miroslava Duma as your guest editor?
AF: Well first of all, Mira has a huge presence in the fashion world. With her most recent initiative, as founder and CEO of Fashion Tech Lab, she is a pioneer in bringing sustainable innovation to the fashion industry. FTL bridges fashion and technology to help take sustainable innovation from labs, studios, and garages and put it into the hands of consumers, making Mira a natural partner and an excellent voice to help bring this issue to life.
RS: In addition to NRDC, who did you work with to create the issue?
AF: In addition to NRDC, we created a sustainable-fashion advisory board of seven experts at the intersection of fashion and sustainability to advise on the eco-conscious content in the pages. The council includes Sara Kozlowski, Director of Education and Professional Development at the CFDA, Cara Smyth: VP, Glasgow Caledonian University (GCU) and Founding Director of the Fair Fashion Center at GCU, Burak Cakmak: Dean of the School Fashion at Parsons School of Design, Aurora James: Founder and Creative Director of the sustainable shoe brand, Brother Vellies, and more. [Click here for the complete list.]
RS: Besides supporting those change-makers, what else can we be doing as shoppers?
AF: We can all be mindful, now more than ever, of the impact we are each making on the environment. Did you know that more than 21 billion pounds of clothing gets thrown away annually and ends up in landfills? One solution is upcycling—turning discarded scrap fabric into new product. Our issue also features 40 sustainable items to shop for our readers to support sustainable fashion.
RS: What's next for Marie Claire and sustainability?
AF: Our advisory council will remain a part of our team and continue to consult on future issues. I have great aspirations for what Marie Claire can do to evolve the conversation around fashion and sustainability. Creating this issue of the magazine has really shown me the convening power of this topic–so many people want to help. I am so energized by the momentum around this. What I've learned most from this process is how effective and powerful the fashion industry can be. Stay tuned for more!