Where to Shop For Your Apartment *Besides* Ikea
We know, we know, those meatballs though...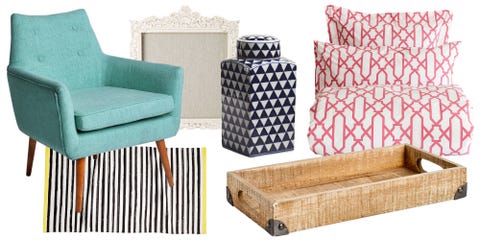 Making your place a cozy home typically takes some moolah and nesting motivation. And while we bow down to the Ikea gods (seriously, we owe you Swedes a lot), we are starting to notice that every apartment we visit is looking seriously familiar these days. "Hey I have that sofa! And TV stand…and headboard…wait a minute…" Here, a handy list of some other decor go-tos.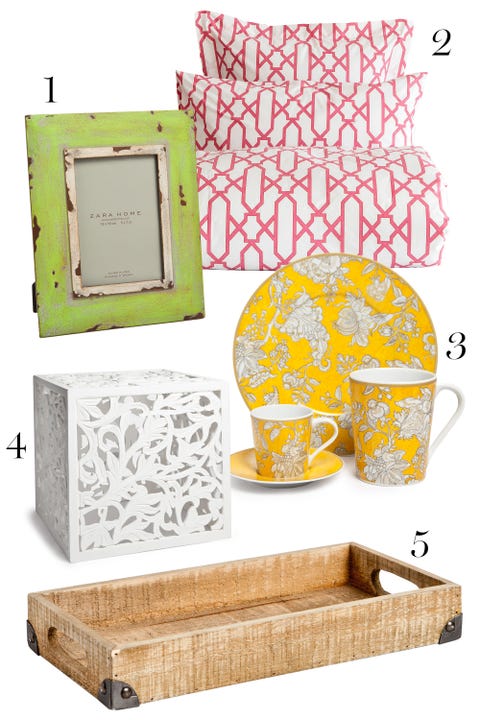 Zara Home
Zara is our first stop when looking for designer-like duds on a normal-person paycheck, so it's no wonder they're also a great find for designer-like home stuff at a more tolerable price point. Go for the linens and accents to really get the most bang for your buck. (Thread count and design, yo.)
1. Antique-finish wood picture frame, $30; zarahome.com
2. Raspberry percale bedding, $20 - $150; zarahome.com
3. Yellow lush dessert plate, coffee cup, and mug, $10 - $15; zarahome.com
4. Openwork cube-shaped small table, $160; zarahome.com
5. Tray with metallic edges, $36; zarahome.com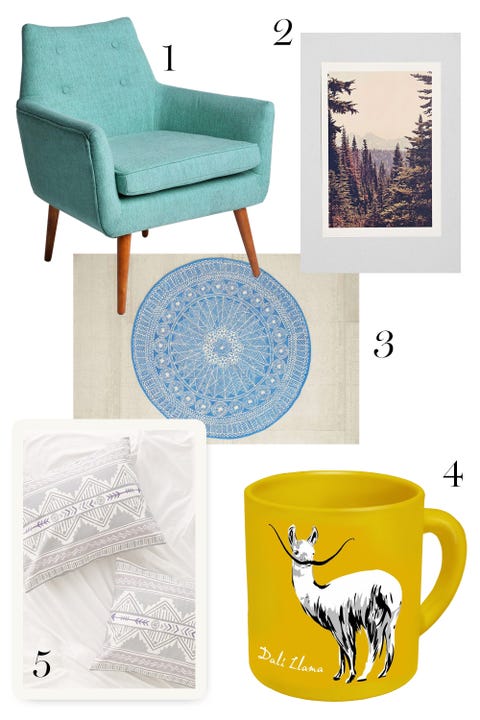 Urban Outfitters
Sure, it may be where 16 to 20-somethings scout for the perfect outfit for Coachella, but it's also where cute home stuff is hiding—ready to add some cool factor to your apartment. Think: fun knick-knacks, tapestries, record players, and even furniture. (Full disclaimer: My duvet and shams are both from Urban and I am not ashamed.)
1. Modern Chair, $279; urbanoutfitters.com
2. Kurt Rahn Mountains Through the Trees Print, $29; urbanoutfitters.com
3. Plum & Bow Florisse Printed Round Rug, $79; urbanoutfitters.com
4. Dali llama mug, $12; urbanoutfitters.com
5. Magical Thinking Soma Sham Set, $39; urbanoutfitters.com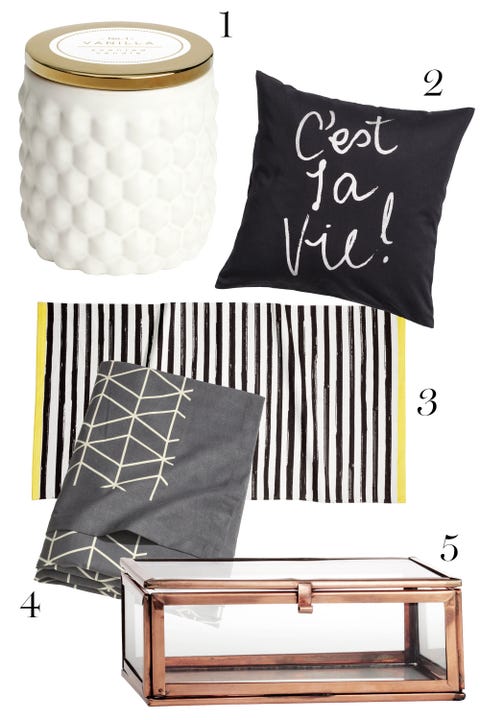 H&M
Your favorite store has now gone online—and so has its home goods section. Look here for awesome necessities like sheet sets and towels, and great, simplistic accessories, like picture frames and candles. (And be sure to check out their eco-conscious line.)
1. Vanilla scented candle, $18; hm.com
2. Cotton cushion cover, $10; hm.com
3. Cotton rug, $25; hm.com
4. Cotton tablecloth, $25; hm.com
5. Glass box, $15; hm.com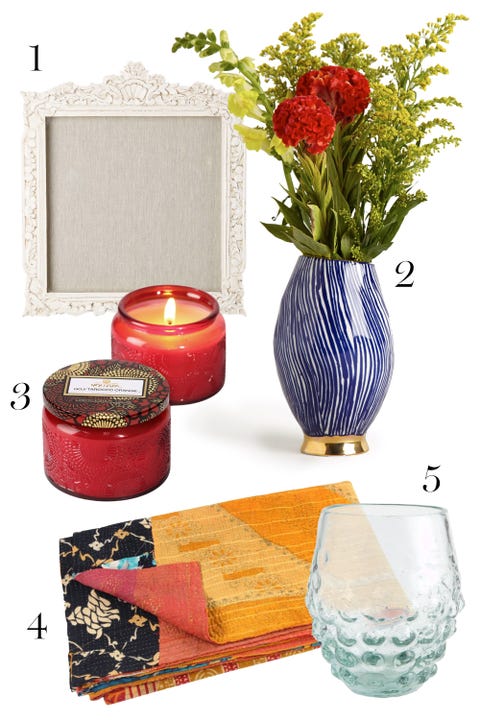 Anthropologie
Yes, admittedly, this place can be on the pricey side. (It is Anthropologie.) But sales here can score you some great cheap deals. (Especially on stuff for the kitchen, cookbooks, and knick-knacks.)
1. Essonne shadowbox, $128; anthropologie.com
2. Jardin de plantes vase, $28; anthropologie.com
3. Voluspa mini candle, $10; anthropologie.com
4. Hand-stitched Kantha throw, $128; anthropologie.com
5. Effervesce stemless wine glass, $8; anthropologie.com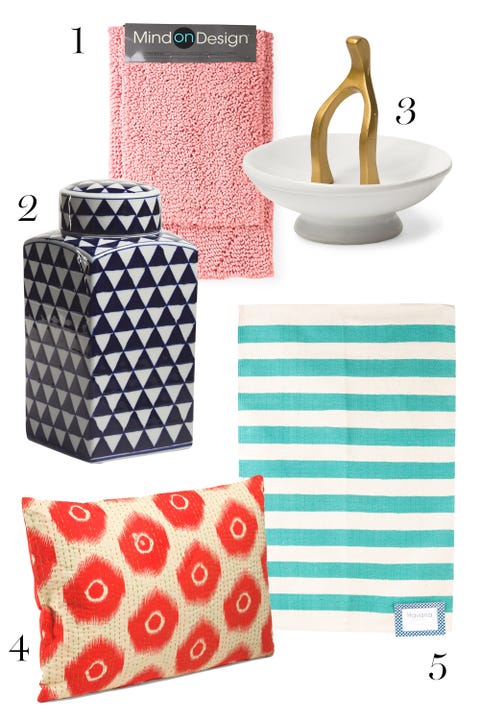 Marshall's/TJ Maxx
The two are owned by the same company—they also own HomeGoods—but if you don't have a HomeGoods in your neighborhood or are just browsing for an awesome handbag, head over to the home section of your local TJMaxx and Marshall's for awesome, marked-down items that will make you think you've hit the nesting jackpot. (Pssst...you can also buy online from TJMaxx. You're welcome.)
1. Chenelle loop bath rug set, $20; TJMaxx.com
2. Three hands geometric jar with lid, $30; TJMaxx.com
3. Wishbone ring holder, $5; TJMaxx.com
4. Karma living printed pillow, $13; TJMaxx.com
5. Havana stripe scatter rug, $10; TJMaxx.com
This content is created and maintained by a third party, and imported onto this page to help users provide their email addresses. You may be able to find more information about this and similar content at piano.io