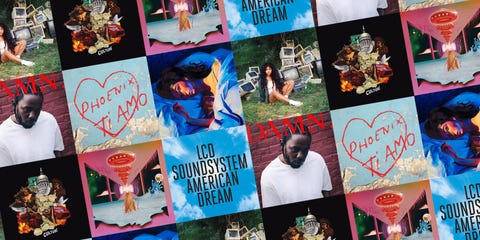 It's Friday night. You're sitting in the dark listening to music alone. Not everyone reading this will be able to relate, but in this political/generally sucky climate, it'd be understandable if you'd been having a few of those lately. So what do you listen to, in between Diana Ross and Justin Timberlake's early discography? Our nominees for 2017's best albums, of course.
"This came out in 2017?" you ask. "Yah!" I answer, but in Lil Yachty's voice. Like a kid on his gap year who comes home actually having learned something (rather than becoming even more of an ass), Drake collects grime and dancehall sounds (and an idiosyncratic slang dictionary) and mashes them together on a feely, generously long playlist. But you already knew that.
BUY IT: itunes.apple.com.
Father John Misty, 'Pure Comedy'
In a recent interview, the Artist Otherwise Known as Josh Tillman ducked praising a fellow musician's work for the fair-enough reason that it's hard to define why you like something. On our part, we're into how his third album pokes fun at politics, war, celebrity, and even FJM himself—all delivered in a voice that would be considered un-ironically beautiful in any universe.
BUY IT: itunes.apple.com.
If anything, this is the one where he says sorry for cheating on Beyoncé, a highly important cultural event. That he admits this in a highly vulnerable way we've never associated with his high-rolling, zero-problem-having persona is why it's made the list.
BUY IT: itunes.apple.com.
A rare effort that both appeals to the feel-the-bass-in-your-ribcage masses (the poppy "Love") and the thinking man ("Love" and "Pride" and we could go on). Seriously—here's an artist taking introspection and the definition of rap to new heights.
BUY IT: itunes.apple.com.
Deserves way more plays than it's probably been given, and not just because of everything that went into its making. Here's Kesha with a chip on her shoulder, more powerful than ever, but still the life of the party.
BUY IT: itunes.apple.com.
Laura Marling, 'Semper Femina'
Send this to every man in Washington, and maybe they'll understand women a bit better. Marling's voice may be soft, but her messages sure aren't.
BUY IT: itunes.apple.com.
LCD Soundsystem, 'American Dream'
When you get the band back together and do what you've always done—but even better, with all the old themes you want (getting old, partying, not being able to keep up with the youths) plus Bowie. And to anyone who might suggest that "black screen" is a downer way to go out, it is baroque in its intricacy, and that's what I'd want to be listening to if I only had 12 minutes left to live.
BUY IT: itunes.apple.com.
Sad but cute. By yourself but thinking about someone. Electronic sounds but pianos you don't plug in. Big ballads but small moments.
BUY IT: itunes.apple.com.
These three are the culture of 2017, so we had to include this super-tight dirty dozen.
BUY IT: itunes.apple.com.
On the surface, as sugary as an Italian holiday (lemon soda, melted gelato, late-night make-outs). But there's nothing simplistic about the sounds, captured on very specific equipment with very specific processes that are unique to the four childhood friends. A bit of escapism never hurt anyone, eh?
BUY IT: itunes.apple.com.
Listen for "(No One Knows Me) Like the Piano" alone, but keep listening for gorgeous, touching R&B that makes you want to find a car window to stare out of sadly.
BUY IT: itunes.apple.com.
So many sounds conveying so many emotions that everybody, but especially women, wrestle with. Shame, inadequacy, but also enough raging confidence to "bang your homeboy." A really nice one for those low Friday nights we talked about—and maybe even rousing enough to rally you for the after-party.
BUY IT: itunes.apple.com.
This album *is* lying on the floor in your room on a Friday night, basically, but with more atmosphere.
BUY IT: itunes.apple.com.