Are Chloe and Shayne From 'Perfect Match' Still Together?
Sparks immediately flew between the Netflix reality stars.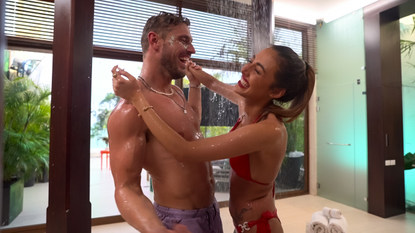 (Image credit: Courtesy of Netflix)
Who knew that sparks would instantly fly when you put Shayne Jansen from Love Is Blind and Chloe Veitch from Too Hot to Handle and The Circle in the same room? In Episode 6 of Netflix's latest dating show Perfect Match, the influencer and the realtor form an instant connection amid all of the villa's drama, becoming one of the strongest couples as soon as they match. Unfortunately, every romance needs to go through its trials (at least in the Netflix Reality Universe), but there's a strong chance that this pair might just make it past the series.
Read on for our breakdown of what happened between Chloe and Shayne on Perfect Match, and whether there's any chance that the couple reunited post-filming.
What happened between Chloe and Shayne on 'Perfect Match'?
Shayne was one of the original residents of the villa, and he had a tumultuous time at the start. He initially matched with Ines, but their mutual interest doesn't immediately turn into a deeper connection. He also matches with another Perfect Match cast member, Izzy, in a weird partner-swap with Nick, but when she matches with Bartise, he's left back in a reluctant match with Ines.
When Shayne gets matched with Chloe, sparks immediately fly as their energy matches up perfectly and they end up showering together (with swimsuits on, thankfully). They're instantly the strongest match on the show, but Perfect Match moves very fast. When Francesca and Damian get control of the board, they put Chloe on a date with her ex and The Circle season 2 castmate Mitchell.
It turns out that Chloe and Mitchell dated for eight months after they met on The Circle, and they left things unresolved. Chloe makes the difficult decision to see where things would have gone with Mitchell, and matches with him, leaving Shayne to leave the house. Shayne also gets a cold shower courtesy of the balcony pool, which overflows onto the terrace when Mitchell cannonballs in. (Rough.)
Though Chloe and Shayne seem over for now, things have already gone south with her new match. Two days after Chloe and Mitchell match, they win the compatibility challenge and get a romantic date...where Mitchell says that he's not looking for a relationship right now. Chloe immediately regrets sending Shayne home, and says that she would bring Shayne back if he shows up on the board.
So when Mitchell and Chloe walk into the Board Room the next day, guess who's on the board! Chloe matches herself back up with Shayne, and they have an emotional reunion where she confirms that Shayne wasn't her second choice, and that she had to make sure that she and Mitchell were over for good. After Chloe and Shayne are matched again and Mitchell is gone, Chloe decides to confess her adoration for Shayne with a rap. (It's okay if you fast-forwarded through this.)
Unfortunately, Shayne's still very insecure about himself and Chloe—he's still hurting from the balcony pool overflow incident—and it just takes one word of doubt to send him into a spiral. He's convinced that Chloe was celebrating that he was leaving, and when Chloe recognizes that she can't get through to him at the moment and says they should talk about it in the morning, he threatens to leave repeatedly. Chloe ends up spending the night with Dom and Georgia, and the next morning Shayne apologizes for self-sabotaging, meaning they're back on.
The rest of the season is a bit of a blur for Chloe and Shayne, who seem solid even with all of the chaos thrown around. They make it through the "bring everyone back" party, with Shayne on his best behavior even around Mitchell, and Chloe tells Shayne that she wants to make it work during their final date. Though Mitchell speaks up during the finale's Survivor-esque panel, claiming that he and Shayne are very similar, Chloe immediately shuts him down. She and Shayne confirm that they think they're each other's perfect match, and though they don't win the final prize, they seem smitten with each other.
Are Chloe and Shayne still together after 'Perfect Match'?
Now that the finale has aired, we have confirmation that Chloe and Shayne are...not still dating. In an interview with TODAY (opens in new tab), Chloe said that they broke up post-filming for a number of reasons, including distance. (She lives in the UK while Shayne's still based in Chicago.)
"We're not together unfortunately. Towards the end of the episodes in 'Perfect Match,' there were some bumpy roads, up and down," she told the outlet, referring to her and Shayne's fight in Episode 10.
"When I decided to make him my perfect match, I was feeling very hopeful. When we got outside of the villa, the bubble that we had around us just popped," she continued.
Chloe previously posted some updates on social media that could have been hints of her split with Shayne. In one clip, she pretends to cry while a caption reads, "When you pray to god for your perfect match but it's that long distance kind."
Chloe and Shayne both said their piece on their breakup in Netflix's special 'Where Are They Now' clip. Shayne started off strong, taking "full responsibility" that their relationship didn't last past the show, alluding to a stressful situation going on with his season of Love Is Blind: After the Altar. (More on that later.)
"It was definitely my fault that relationship didn't work," he said in the clip. "I had had a lot of stress going on with the show—my show still airing. It was mad chaos when I was back home. I was under so much stress, and you know, being so far away from each other after being so close for like two or three weeks straight. It was just very difficult."
Chloe also expanded a bit more on the dissolution of their relationship post-filming. Of course, the two live on different continents, with Chloe being based in the U.K. and Shayne in Chicago.
"I'd kind of come to my senses a tiny little bit when filming ended. I was in a bubble with Perfect Match. It was beautiful. We were in a villa, and Shayne was there, and I was just so like, hopeful," she explained. "And then as soon as filming stopped, it was like something inside of me was just like, 'Is this really going to work?' And the alarm bells started ringing a tiny bit louder."
"It's like me and Shayne were both queueing up to go on a rollercoaster," she continued. "And then we got on the rollercoaster. I threw up, he threw up, and then we got off it, and then it was like, I don't like that rollercoaster. That's basically mine and Shayne's relationship."
Shayne has also confirmed that he and Chloe are giving each other space right now. "Chloe and I have decided that it was probably best that we just give each other our space. We both have respect for each other. We both care about each other. But there's just no need right now to have that kind of friendship communication at this point," he said.
While Chloe stayed mum on whether or not she's now single in the Netflix clip, she has made an interesting post-Perfect Match friendship. She and Shayne's ex-fiancée Natalie filmed posted a handful of TikToks (opens in new tab) together last week, including a humorous clip where she, Natalie, and Ines bond over them all having dated Shayne. Though Chloe commented under the post, "*no hate we love Shayne - we all just have one thing in common!"
There's also a good amount of drama going on in Shayne's dating life off-camera. After Shayne's casting on Perfect Match was announced, Natalie revealed (opens in new tab) in an Instagram story that she and Shayne were both approached to apply for it while they were dating post Love Is Blind in September 2021. She claims that Shayne went through the casting process for the show while they were still together, and though they later broke up and stopped talking, the couple got back into contact after filming their Love Is Blind: After the Altar special in early 2022.
"He texted me numerous times he wanted to leave midway through filming because he still had feelings for me after we saw each other for [the] first time since our breakup at the [Love Is Blind] reunion show taping," Natalie wrote. She then went on to claim that Shayne also tried to meet up after Perfect Match finished filming.
Shayne responded to her post with his own, writing, "Obviously with the new show coming out I figured 'someone' would try to once again destroy my character for personal gain. I have tried to move on numerous times but this keeps resurfacing and I have boundaries." He also called the unnamed person a "clout chaser."
We'll likely hear more about Shayne's relationship status following the Perfect Match finale last week, but there is a possibility that he's spending some much-needed time to himself.
Contributing Culture Editor
Quinci LeGardye is a Contributing Culture Editor who covers TV, movies, Korean entertainment, books, and pop culture. When she isn't writing or checking Twitter, she's probably watching the latest K-drama or giving a concert performance in her car.