Get the Look: Celeb Gym-Style
Somehow, celebrities leave the gym looking perfectly put-together. With the Ray and the Ro's picks, so can you.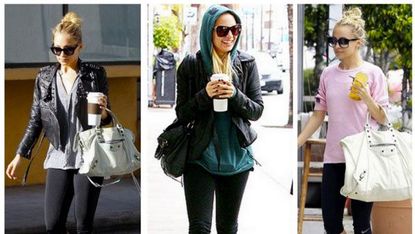 (Image credit: Archives)
Admittedly, we have a hard time getting motivated to get our sweat on, but these six athletic-chic pieces make those workouts a little more manageable. We took cues from frequently-photographed gym-goer Nicole Richie, whose huge Balenciaga bag and Ray-Ban sunglasses turn frumpy leggings urban-glam.
To recreate her look, pair black capri leggings with a hoodie, leather jacket, shades, and your post-workout beverage of choice. Nicole favors Pressed Juicery's fresh-squeezed juice (opens in new tab), while we love James Duigan's beauty-boosting supplements (opens in new tab), a blend of fiber and protein that wards off post-gym cravings.
1. American Rag Obey – Vicious Rose Tank (opens in new tab), $33 2. Nike Pro Core Compression Training Tights (opens in new tab), $32 3.Ray-Ban New Wayfarer Sunglasses (opens in new tab), $125 4. Patagonia Sunshade Hoody (opens in new tab), $59 5. 3.1 Phillip Lim Motocross Jacket (opens in new tab), $1,450 6. Nike Lunarfly Sneakers (opens in new tab), $85
Best friends and blogging partners Roberta Oglakchya and Rachel Hurn-Maloney founded The Ray and the Ro (opens in new tab) to show off stylish looks, share their wishlists, and break down runway fashion.