Meghan Markle and Kate Middleton Both Wore Gigantic, Sparkly Earrings to Charles' 70th
Go big or go home, right?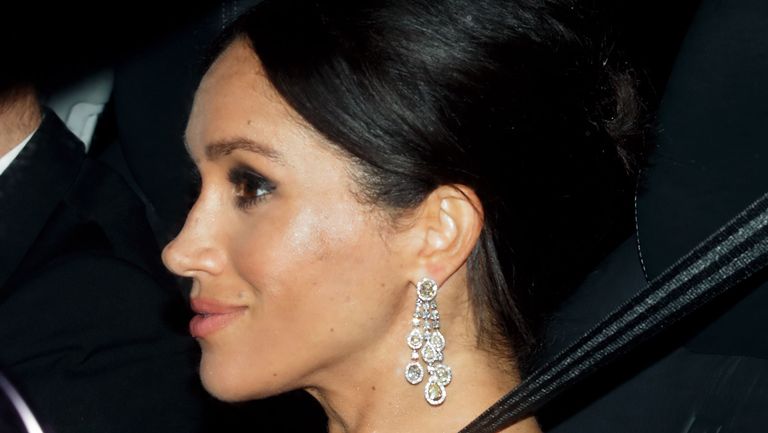 (Image credit: Getty Images)
Tonight, Prince Charles is celebrating his 70th birthday at Buckingham Palace in London with his family. Prince William and Kate Middleton arrived in one car for the party, while Prince Harry and Meghan Markle drove together in a second vehicle. Though photos from their arrival don't clearly show what Kate is wearing, she appears to have chosen a ruffled one-shoulder pink gown for the party. The Duchess of Cambridge, who usually wears small, dainty earrings, decided to go for a ginormous teardrop chandelier earrings. The oversize style glittered and shone even through the windshield.
The Duchess of Sussex seems to have followed Kate's lead (or vice versa) because she, too, wore a pair of large silver earrings featuring small concentric circles. Meghan's dress was not visible in the car, however, since the very private event is closed off to the press and paparazzi. So you'll just have to imagine her gown, which no doubt will be even more exquisite than her recent dresses on the royal tour. (If you recall, Meghan wore this blue caped gown by Safiyaa in addition to a stunning Oscar de la Renta bird motif dress.) Though the two Duchesses wore different dresses, both pairs of giant earrings will sparkle all night long on the dance floor. (Can someone confirm there will be a dance floor?)
Shop similar earrings to Kate's:
Shop similar earrings to Meghan's:
Meghan Markle Earrings
RELATED STORIES