Autumn Adeigbo Debuts First Full Collection...And I Love It!
Amanda Hearst's crazy about Autumn Adeigbo's debut collection of colorful dresses, printed tops, jodhpur-style pants, and sleek blazers.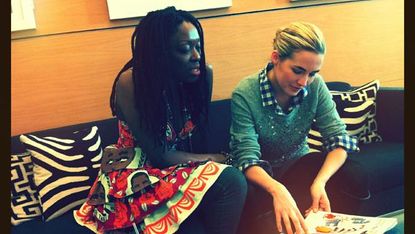 (Image credit: Archives)
I've been a big fan of Autumn Adeigbo's (opens in new tab) dresses for a while, so I was super-excited when she told me that she finally created a full collection!
Accompanying Autumn's trademark, colorfully printed dresses are flirty, mixed print tops, jodhpurs-style pants, and streamlined blazers infused with shots of orange on the lapels.
The textiles, shapes, and colors of her newest pieces definitely reflect Autumn's Nigerian roots. (She even donates a percentage of each sale to Women for Women International's work in Africa (opens in new tab)). But as a whole, the collection is decidedly contemporary and sleek, a vision that is 100 percent Autumn's own. Keep an eye on this designer; she is one to watch!