The Big Fur Ban Hits Your Favorite Retailers
It makes you think...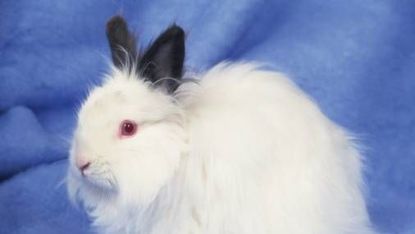 (Image credit: Archive)
One time I was riding the subway home in my second hand, hand-me-down fur jacket that my mom bought at a yard sale ages ago. As I got up to detrain, some little punk stuck a sticker on the back of it that read, "I'm An A**hole, I Wear Fur."
First off thank you for the newsflash: I know I'm both of those things (the fur thing sometimes, the a**hole thing, all the time). But I'd like to clear the air: I do not condone buying new fur. SORRY little man, it was cold out and I can't just go out and buy a new winter jacket — some of us don't still live in our mother's basements (but we do take their clothes) —I take what I can get!
So what I am getting at: Since we are on the topic of fur, Forever 21 is taking action against angora products, according to our friends across the pond, Marie Claire UK (opens in new tab). Brands like Calvin Klein, ASOS, and H&M have already stopped their angora production after PETA released a video of rabbits being plucked for their fur, instead of sheared. According to PETA's Yvonne Taylor, "Shoppers are horrified to discover that an 'angora' label means that live rabbits had the fur ripped from their bodies, and they're relieved when their favorite shops refuse to support this abuse." I have to agree with Taylor and consumers, the videos are quite horrifying and will give you nightmares/second thoughts about wearing fur.
On that note, not because some random put a sticker on me, but because the videos are quite heart-wrenching (I think of my cat, a lot), I believe that maybe it is time to put the fur down. Old or new, perhaps the fact that I'm wearing a dead animal does stand for something — and not that I'm just an a**hole.
Related:

The History of Tattoos (opens in new tab)


5 Iconic Bobs That Have Made History (opens in new tab)


The 5 Sexiest Hairstyles Ever (opens in new tab)



The History of Lingerie (opens in new tab)