Why Does This Skin Cream Cost $650?
The Royale Treatment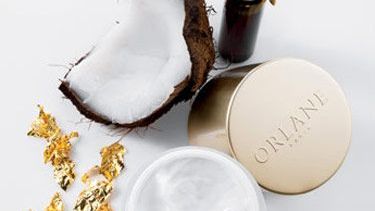 (Image credit: Jeff Harris)
WHEN THE ALCHEMISTS at Orlane Paris set out to concoct the ultimate moisturizer-the crème de la crème-they liberally mixed cutting-edge technology with ancient Chinese and Egyptian medicinal traditions: Natural royal jelly from bees, acacia senegal, and pure-gold extract-long prized as antiaging remedies-have been filtered through the lab, where they're rendered dermatologically viable. Dubbed Crème Royale, it can be used every day if you want to play the princess.
COCO PUFFER Coco-glycerides, derived from coconut and fruit sugar, energize skin cells and increase production of collagen, which plumps skin and minimizes wrinkles.
WHAT'S THE BUZZ The Chinese believe royal-jelly supplements boost longevity. Queen bees who eat it live seven years, while worker bees who don't indulge live but six weeks. Royal jelly is kept in sealed vials to retain its natural amino acids and B vitamins that brighten and hydrate skin.
SPECIAL ACACIA Ancient Egyptians applied the gum of the rare African acacia senegal shrub to open wounds. Supremely calming, it reduces inflammation and redness - ideal for rosacea and eczema.
MIDAS TOUCHED Injected into the skin tissue, pure-gold extract (valued at $700 an ounce) attracts collagen and promotes healing. In a cream, it prevents sagging and imparts radiance.
Celebrity news, beauty, fashion advice, and fascinating features, delivered straight to your inbox!