Fashion Bloggers Are Making More Than Ever Before
Blogging is no longer just a hobby.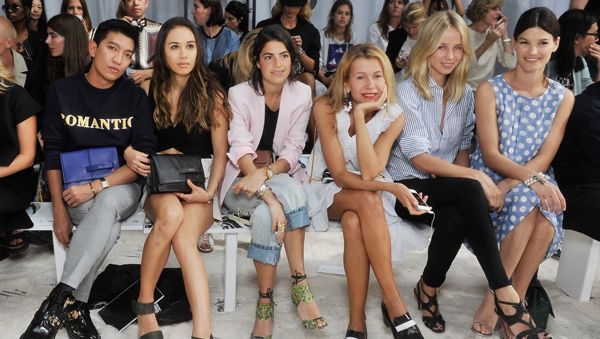 (Image credit: Archives)
Fashion blogging used to be seen as a fun way to share one's personal interests, and maybe gain a small following — now, it has become it's own seven-figure industry. A WWD (opens in new tab) article noted Thursday that top bloggers' are earning big from affiliate sales, brand collaborations, and appearances fees.
These bloggers are invited to (and sometimes paid to attend) fashion week shows and flagship opening parties, which can potentially be featured on their site or Instagram. Bryan Grey-Yambao of Bryanboy (opens in new tab) admitted his net worth is steadily rising on an annual basis. Appearance fees just a few years ago were around $5,000 - now, it's a minimum of $10,000 or $15,000, while top-tier bloggers can command close to $50,000 for a high-profile brand event.
Fashion bloggers bridge the gap between the shopper and the fashion house, providing their readers with insider tips and info on a personal level. These bloggers have gained a huge following on social media with highly engaged audiences, making them "influencers," and therefore valuable to any sort of fashion promotion. Amber Venz, president of performance-based digital management agency RewardStyle, told WWD that the average blogger conversion rate — a measure of how many users click a link and make a purchase — is one percent, a typical number for content-based or native advertising. It's the retail sales these bloggers drive, however, that the firm focuses on.
Rachel Parcall of Pink Peonies (opens in new tab) remains one of the top earners. Based on RewardStyle's data, she will make at least $960,000 from affiliate programs alone this year. She still makes additional income on top of that, through partnerships with brands like TRESemmé or J. Crew. She started her site two and a half years ago as an online journal that she intended to be more personal than Facebook so her friends and family could keep up with what she was doing. Today, her conversion rates range from three to 12 percent, depending on the month. In April, she said she drove 100,000 clicks to Nordstrom.com, one of her highest converting affiliate retail partners.
Fashion bloggers are seen as brand stars with powerful voices on what they do and do not like. Recently, more designers have been contacting bloggers for "dedicated posts." According to an internal e-mail obtained by WWD, Rebecca Minkoff was in negotiations to pay Fashiontoast (opens in new tab)'s Rumi Neely $3,000 to Instagram herself wearing the designer's denim line when it launched last summer, although the deal was never completed. It's also rumored that Rebecca Minkoff did pay Song of Style' (opens in new tab)s Song $5,000 to publish a photo wearing a pair of bandana print shorts from that collection, although the brand still denies doing so.
Calvin Klein enlisted bloggers, including Leandra Medine of Man Repeller (opens in new tab), to help break its #mycalvins campaign on Instagram in February. The throwback to the Calvin Klein logo waistband included bloggers and celebrities posting photos on Instagram of themselves in their Calvins. Since it began, the campaign has engaged more than 200 influencers from 25 countries, with a combined 300 posts reaching almost 200 million fans and generating more than six million fan interactions.
The bloggers, though, are developing the way in which they share this content, adding their own personal touches. This is important to many of them, including Grey-Yambao. He doesn't just participate in everything thrown his way — he said that last year he turned down a six-figure salary to be an editor-at-large at a major publication. He's also denied opportunities to design three bags for $75,000 for a mass brand. But, he is moving forward in a collabation with Adrienne Landau and is in discussions with Linda Farrow. Earlier this month, he hosted a meet and greet at the Just Cavalli store in SoHo.
One thing is clear: Just as much as the fashion bloggers feature their favorite brands, the bloggers are brands themselves. It's now a two-way-street between the blogger and the fashion world.
Related:
Women CEOs Experience Less Pay Gap (opens in new tab)
25 Most Iconic Film Looks of All Time (opens in new tab)
How to Score a Job at Birchbox (opens in new tab)
Photo Credit: Getty Images