10 Cool Winter Accessories to Help You Brave the Cold
Wait until you see the puffer leg warmers.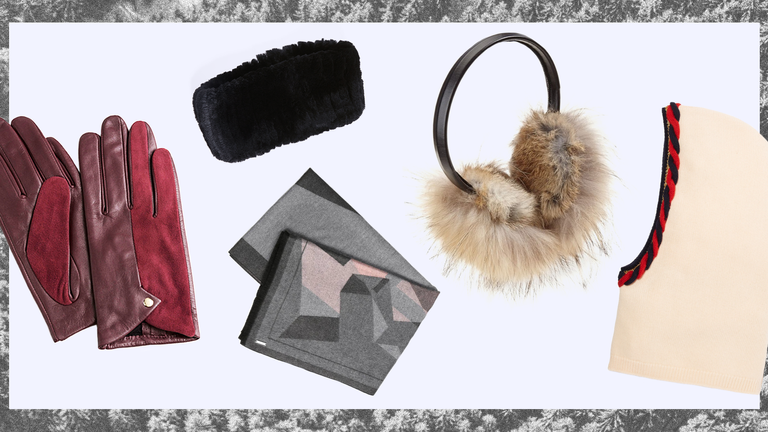 (Image credit: & Other Stories/Shopbop/Nordstrom/Saks Fifth Avenue/Net-a-Porter)
Your winter wardrobe doesn't stop at sweaters and coats. You need proper accessories too. When the wind's blowing from all sides, a knitted hat or wool scarf is the difference between a brutal day and a winter wonderland. This season, make sure your winter accessories drawer is stocked with all the goods 2018 has to offer. When the time comes, your (super chic) armor will protect you from the hail, snow, or slush.
1. A Cheeky Knit Beanie
Kate Spade beanie, $58
Fight off the chills in this playful Kate Spade hat. Wear it with your favorite black sweater and jeans for a date to the ice rink or use it to dress down your velvet NYE dress. My suggestion: Order two just in case your sister decides to steal yours when you're both home for the holidays.
2. A Pair of Cashmere Gloves
Aritzia cashmere mitten, $38
Last season, you gifted your family cashmere sweaters. This season, gift them these cashmere mittens. They come in two other colors (black and pink), but my favorite is the beige for its versatility. The snug accessory will provide you—and everyone on your list—warmth all winter long.
3. A Puffer Scarf
Think Royln puffer scarf, $178
This season's It jacket is the puffer, but why stop there? For all my trendsetters, this metallic puffy accessory is the statement piece your closet is missing—warm and cool at the same time.
4. A Pair of Puffer Leg Warmers
Think Royln leg warmers, $98
If you're fully on-board with the puffer jacket and the puffer scarf, go one step further and layer on these metallic leg warmers, unlike any other accessories I've seen this season. Don't worry about looking like the Michelin Man, you're way cooler.
5. A Furry Earmuff
Bari Lynn rabbit ear muffs, $60
I've accepted the fact that I don't have the face or head for hats. Therefore, I swear by earmuffs in the winter. These cozy ones from Bari Lynn are soft, fluffy, and slightly oversized (very on-trend). Once you give these a try, you'll ditch your trapper hat for good.
6. A Snood
Gucci cashmere-blend hood, $590
Is your coat missing a hood? This Gucci snood is the answer. Made from a soft wool and cashmere blend, the super cozy makeshift hood is the definition of functional and fashionable. Pull it on before you grab your coat and head out the door. Blizzards have nothing on you or your wardrobe.
7. A Pair of Tights
Alexander Wang logo tights, $125
The branded tights' super-subtle lettering is hardly noticeable, which means you can rock them with everyday dresses and skirts. They add just a dash of style to your ensemble without overpowering it.
8. A Fancy Pair of Gloves
& Other Stories suede gloves, $69
The combination of leather and suede give these gloves an ultra luxurious feel. Sure, the fingerless knit number you've been wearing for years offers edgy street style cred, but this classy pair goes much better with power-lady suits and date-night cocktail dresses.
9. A Furry Headband
Adrienne Landau fur headband, $85
Same cozy feel and temperature modulation as a beanie but without the hat hair. It comes in black and taupe, so take your pick, then, pull on your favorite chunky sweater and snow boots.
10. A Printed Scarf
Soia & Kyo geometric scarf, $75
This oversized geometric print scarf can double as a blanket for frigid offices or arctic planes. And splashes of light pink, gray, and black mean it will match well with pretty much any coat. I'm ready to snuggle up under this now.